Fall Guys is a popular platforming battle royale where players compete against each other to be the number one Bean. One of the best ways to display your skill and stand out against other players is by equipping your favorite costumes. Mediatonic has added numerous skins and costumes from various series and franchises, including Doraemon. This may leave you wondering how to get Doraemon costumes in Fall Guys.
How to Unlock Doraemon Skin in Fall Guys
The only way to get the Doraemon costume in Fall Guys is to purchase it. The bundle costs 800 Show-Bucks and will give you the costume, a nickname, and a nameplate. Here is what is included in the Doraemon Delights Time-Traveling Treasures bundle in Fall Guys.
Related: When is the next Fall Guys season? Dates, leaks, skins & more!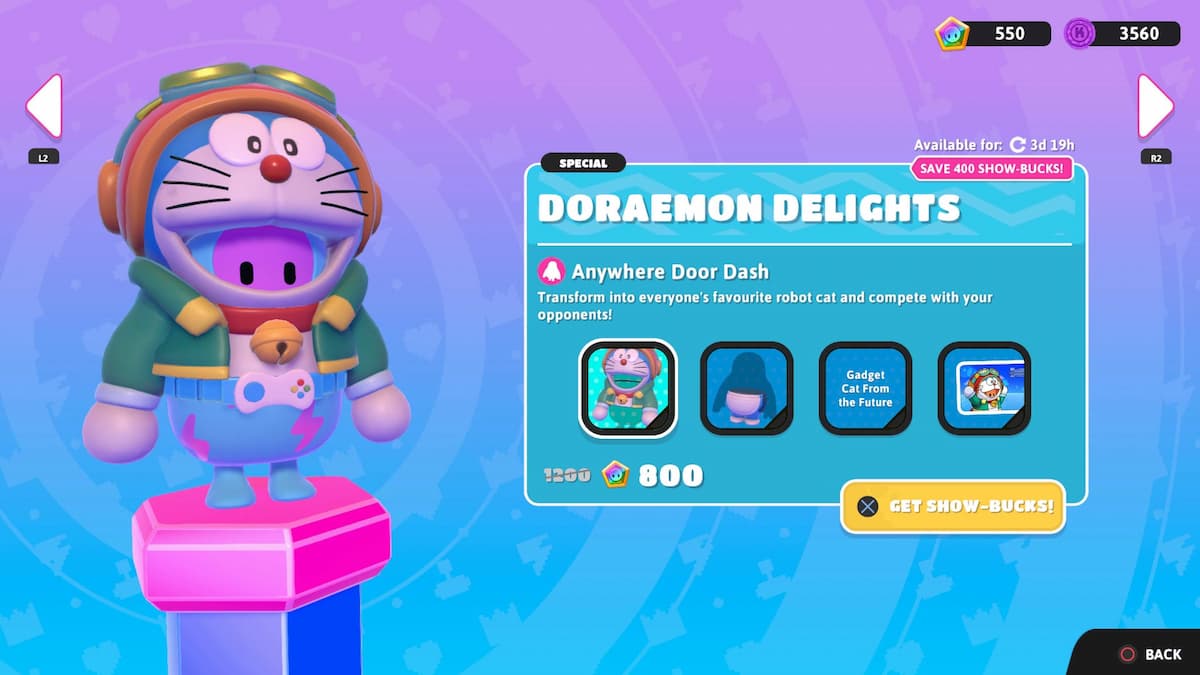 Doraemon Delights - 800 Show-Bucks

Doraemon Costume (Top)
Doraemon Costume (Bottom)
Gadget Cat From the Future Nickname
Doraemon Nameplate
How long is Doraemon in the Fall Guys Shop?
The Doraemon Delights Time-Traveling Treasures bundle was added to the Fall Guys shop on May 10, 2023, when Season 4 Creative Construction launched. It will remain in the shop until May 14, 2023, and then it will be removed. Bundles vary with how long they are in the shop, with some being longer or shorter.
Will Doraemon return to the Fall Guys Shop?
The Doraemon bundle will likely return to the Fall Guys shop, but it is impossible to say when this will happen. Mediatonic often rotates bundles into the shop, allowing players multiple chances to purchase them. However, since there is no set schedule, I recommend purchasing this bundle when it is available; otherwise, you are at the mercy of randomness.
For more information on Fall Guys, check out All New Maps in Fall Guys Season 4 and How many Fall Guys maps are there? on Pro Game Guides.