Star Wars Jedi: Fallen Order allows you to customize your lightsaber in numerous different ways, including changing the color of the blade, and the design of its emitter, switch, sleeve, and material. These customizations don't actually have any gameplay value though, as they're purely cosmetic in nature. In this guide, we're going to help you customize your lightsaber by detailing how to do it and where to get the various different customization parts.
Star Wars Jedi: Fallen Order: Why Customize Your Lightsaber?
Customizing your lightsaber allows you to put your own individual stamp on your version of Cal, Jedi: Fallen Order's hero. Along with tweaking his poncho and clothing materials, it allows you to completely change his appearance.
It's important to note that lightsaber customizations don't actually have any gameplay value though, as it's strictly cosmetic. It doesn't improve your damage or combat abilities in any way.
Which Parts of the Lightsaber Can You Customize?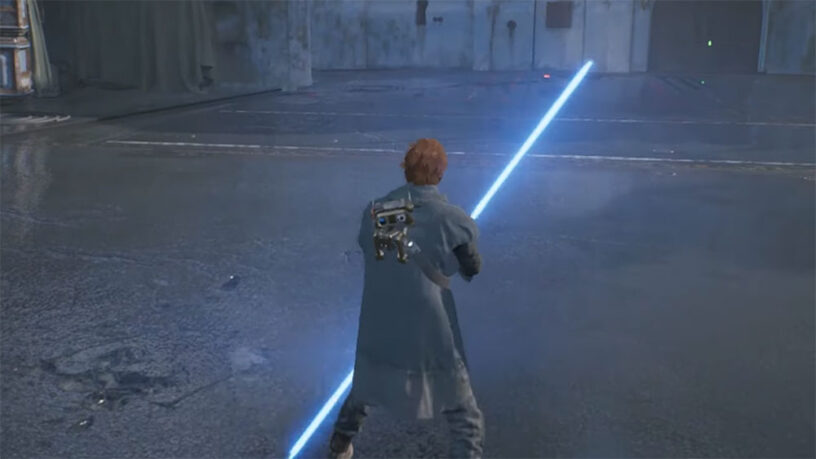 You can customize the following components of your lightsaber:
Color: The color of your lightsaber's blade. Right now, this seems to be limited to green and blue.
Emitter: The part of your lightsaber that emits the light.
Switch: Sits between the emitter and the sleeve (or hilt). It's the part that the Jedi presses to emit the light.
Sleeve: Basically the hilt. This is the part of the lightsaber that the Jedi holds.
Material: This determines the color of all of the customizable parts aside from the color of the blade itself.
How do I Get Lightsaber Parts?
Lightsaber parts are kept in the Chests that you'll find as you explore every nook and cranny of the various different planets. There are numerous different chests that provide different upgrades. We've found that golden chests typically house Stimpak upgrades while the white standard chests contain lightsaber parts.
If customizing your lightsaber is a priority for you, we would strongly recommend exploring as much of the planets as you're able. It's important to note that you unlock new abilities as you play, which allow you to explore previously inaccessible areas, so you might want to revisit planets you've already visited each time you get a new ability to try and uncover new chests.
How do I Customize My Lightsaber?
Customizing your poncho is very easy, as the option appears as soon as you open your main menu. What isn't immediately obvious though is how to customize your lightsaber. You can't do it from the main menu, or even look at your lightsaber parts, which is kind of mean. Instead, you have to find a workshop.
Workshops are where you can apply all of your unlocked lightsaber parts to your lightsaber. You can find these occasionally dotted around the various planets you visit, but the most reliable workshop is the one found on your ship. To reach it, enter through the front door (which is, coincidentally, on the side of your ship) and take a right, walking past Cere and up the stairs then through the doors into your room.
Here, you can meditate or customize your lightsaber by walking over to the table at the far end and pressing R3 (or the equivalent button if you're not playing on PS4) to begin customizing. You can then move right and left with your right analogue to select the part of your lightsaber you want to customize and hit X to do so. All unlocked parts will then show up, and you can simply select them and press X again to equip them. Once you're finished, hit O to back out and Cal will whip out the lightsaber and show it off.