Collecting all of the Silver Dragon Blades is essentially the main objective of the Vaas: Insanity DLC. You play as Vaas, the fan-favorite antagonist from Far Cry 3, and progress through the storyline while completing various challenges scattered across the map.
The three Silver Dragon Blade pieces can be collected by completing the Memory challenges. You can find the exact locations for these on the map shown below, depicted by the red symbol with a dagger.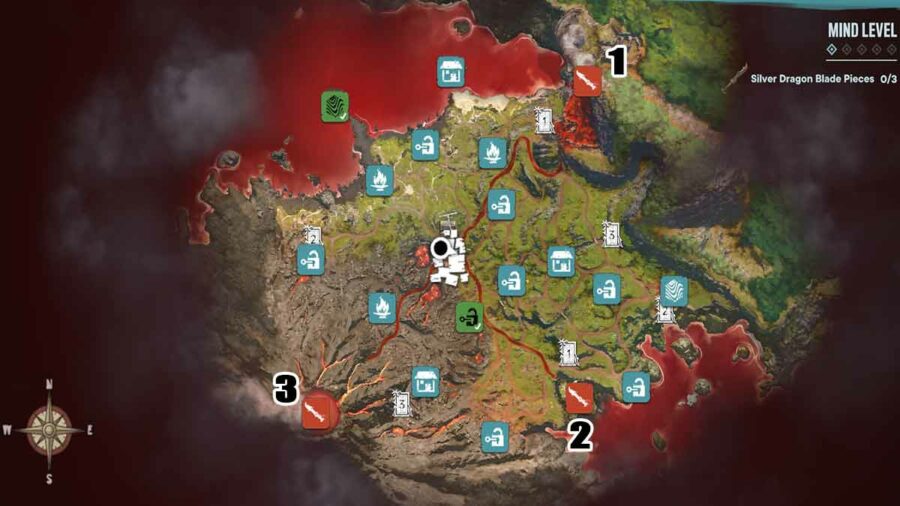 Here's a list of all three Memory missions and their locations as shown in the Vaas: Insanity DLC map:
Birthright - Citra's Temple
You Hit The Ground - The Prison Camp
Radio Play - The Volcano
You can complete these Silver Blade missions in no specific order whatsoever. In order to travel to said locations, you can simply follow the red trail or fast travel to the nearest area via Memory Link doors. Red trails originate from the safehouse at the center of the map and lead you to the three main missions.
Have a look at what the three Silver Blade mission locations look like in the images below.
Keep in mind that these challenges have the hardest difficulty levels in the Vass DLC i.e., Difficulty Five. Therefore, it's advisable to go prepared with upgraded weapons, carry little to no cash, and equip powers such as 1UP which lets you cheat death.
Furthermore, once you exit the game even after saving it, any Blades collected will be lost. In order to complete the Far Cry 6 DLC story, you'll have to collect all three Silver Blades in one go.
Stay tuned to Pro Game Guides for more Far Cry 6 and Vaas: Insanity DLC content. In the meantime, head over to our article – How to get the MBP .50 Sniper Rifle in Far Cry 6?