The Vaas: Insanity DLC for Far Cry 6 brings a new story along with several new challenges and unlockable rewards. The rewards include a brand new weapon and other body gear which can be accessed in the main game inventory.
This guide showcases the list of all weapons and armor in the Vaas DLC and how to get them.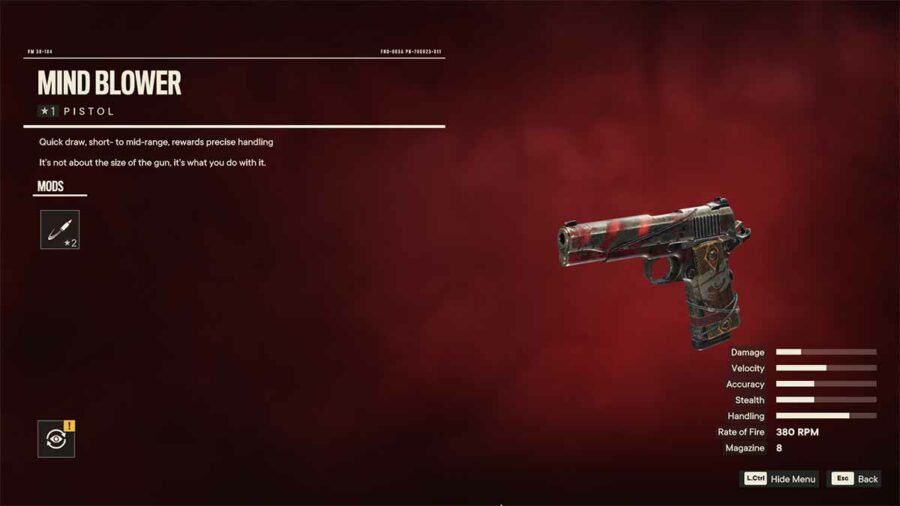 Mind Blower Pistol

Automatically added to the inventory when you first log in to the game.
Mod - Rack 'Em Up: Fire magnetic curved shots.

Vaas Mohawk Head Gear

Perk - Large Catch Your Breath: Greatly improves stamina recovery.
Unlock Criteria - Escape Vaas' mind with at least 25,000 points. You can access the scoreboard via the in-game menu.

Vaas Tank Chest Gear

Perk - Why Won't You Die: Improves health regeneration.
Unlock Criteria - Successfully escape Vaas' mind. Collect all three Silver Blade pieces and complete the quest.

Vaas Pants Leg Gear

Perk - Marathon Runner: Improves maximum stamina.

Unlock Criteria - Hold at least 8,000 Cash at once. Instead of spending the Cash for Weapon Crates and Traits, hold it until it reaches 8,000.

Vaas Boots Foot Gear

Perk - Mutikill Rush: Improves move speed after quickly killing three enemies.

Unlock Criteria - Discover every location in Vaas' mind. Simply explore every corner of the map to locate all the Safe Houses, Trials, Silver Blade locations, Mindfuck missions, and more.

Vaas Wraps Wrist Gear

Perk - Insanity: Improves weapon damage, reduces general defense.

Unlock Criteria - Unlock all the weapons in Vaas' Armory. There are nine weapons and each of these can be accessed by completing the Armory Challenges.

Lil Vaas Dashboard Prop

Unlock Criteria - Collect every Vaas Chibi. There are 10 of these Vaas figures spread across the map.
Related: Best Weapons to use in Far Cry 6 Vaas: Insanity DLC
Furthermore, Far Cry 6 has added some other rewards with the Vaas: Insanity DLC. These rewards that can be accessed for Units via Ubisoft Connect.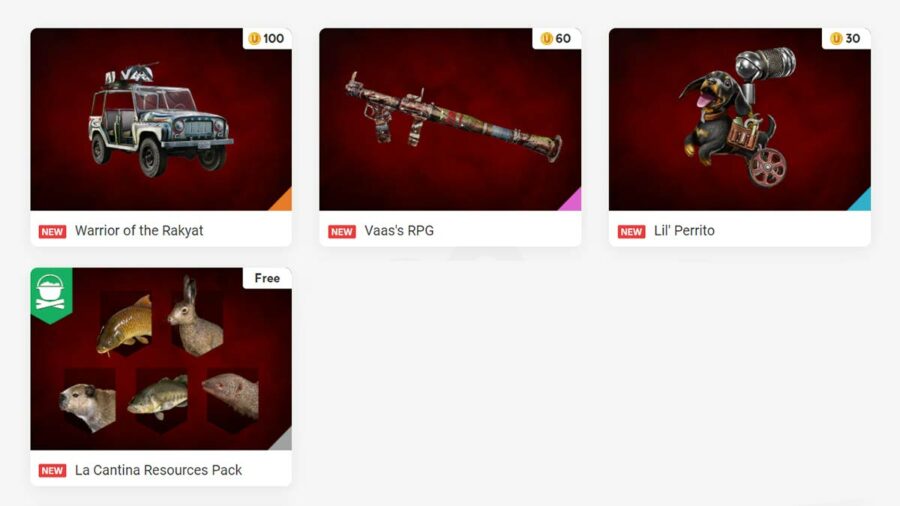 Warrior of the Rakyat Vehicle Skin - 100 Units
Vaas's RPG Weapon Blueprint - 60 Units
Lil' Perrito Amigo Skin - 30 Units
Chef Recipes Pack - Free
Stay tuned to Pro Game Guides for more Far Cry 6 and Vaas: Insanity DLC content. In the meantime, head over to our article – Best Mirror Skills and Traits in Far Cry 6 Vaas: Insantiy DLC.