The Mirror is located inside every Safe House and lets you select and upgrade five different Permanent Trait categories—Pride, Greed, Vaas' Wrath, Sloth, and Envy. These Traits are further branched and expanded into numerous skills which players can acquire for Cash.
To access a Trait from the lower end of the skill tree, you need to acquire the perks before it. Since skipping isn't possible, it's important to select the right Traits. We have listed the best Mirror Skills and Traits that you should buy first and in the order shown below:
Pride

Receive Healing Syringes that replenish over time
Increase Health slightly
Increase Health

Sloth

Increase Health Syringe carrying capacity by two
Gain access to the Camera and show silhouettes of tagged enemies while behind cover
Gain access to the Wingsuit, Parachute, and Grapple

Greed

Keep up to 500 Cash after dying
Keep up to 1000 Cash after dying

Envy

Add a Gadget Socket to the Weapon Wheel
Add a second Gadget Socket to the Weapon Wheel

Vaas' Wrath

Gain a temporary speed boost after performing takedowns
Increase enemy detection time
You can also hop from one Trait category to another in the above list based on your preference. Furthermore, the most important Permanent Traits have been bolded. After equipping the aforementioned Traits, feel free to equip the rest in any order that you want.
Related: Best Weapons to use in Far Cry 6 Vaas: Insanity DLC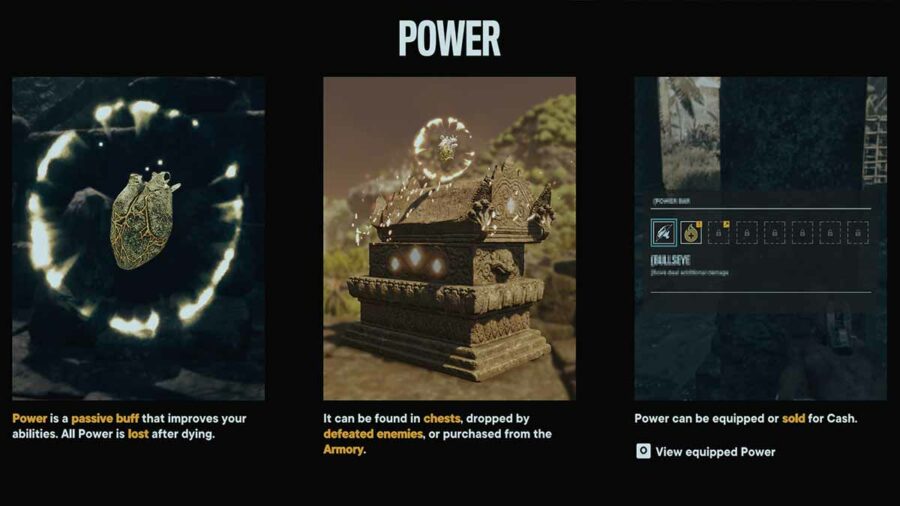 Besides the Permanent Traits, players can earn various perks while exploring the map. These perks are called Power and you get them by opening chests, from dead bodies, within missions, and from the golden rats.
However, it should be noted that you lose all the Powers once you die unlike Traits. Some of the most powerful Power Traits include—Still Standing (1UP), Silent Killer, Fire Protection, and Silent Sprint.
To equip a Power, you need to unlock a slot for Cash. If you don't have enough to buy a slot or you are running out of available slots, the game gives you an option to replace Powers. This way you can swap a more essential power for a less relevant one.
Stay tuned to Pro Game Guides for more Far Cry 6 and Vaas: Insanity DLC content. In the meantime, head over to our article – All Safe House locations in Far Cry 6 Vaas: Inanity DLC.