Final Fantasy XIV hasn't stayed at the top of the MMORPG charts for a decade by standing still. Whether battling, crafting, or gathering, it has continued introducing systems to keep players returning. It's always hard to make gathering skills interesting, but I enjoy it in FF14 thanks to ideas such as Levequests and the Treasure system, which gives those concentrating more on crafting and gathering a chance at finding some really nice items. Here we'll talk about how to unlock Treasure Hunts in Final Fantasy XIV and how Timeworn Maps, the Dig action, and more work.
How do you unlock Treasure Hunts in Final Fantasy XIV?
To unlock Treasure Hunts in Final Fantasy XIV, you must complete a Treasures and Tribulations quest. It is a level 36 quest acquired from NPC H'loonh in Eastern La Noscea (X21.0, Y21.0). The quest itself walks you through the basics of treasure hunts and unlocks two new actions, Decipher and Dig. There are no class or job restrictions on either of the new actions.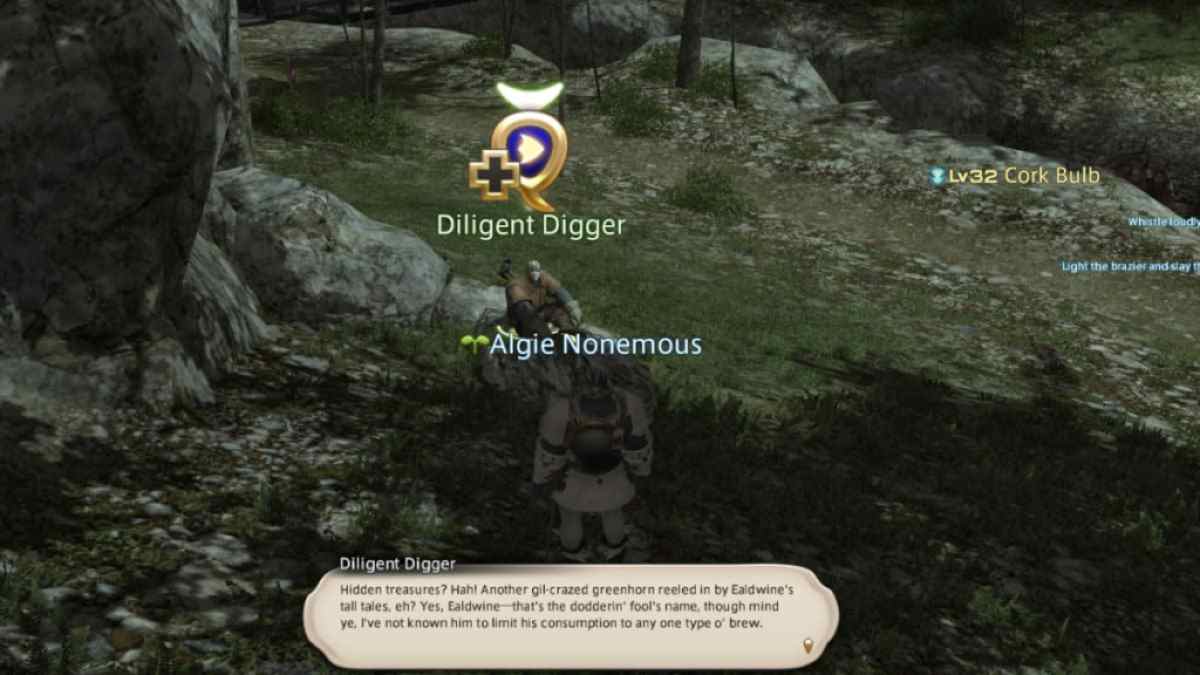 After starting Treasures and Tribulations, you'll need to speak to the Diligent Digger. He can be found a little way south of where you pick up the quest in Raincatcher Gully (X20.0, Y25.0). He then sends you north to speak to a would-be treasure hunter, Ealdwine, east of Camp Bronze Lake (33.9, 24.7). He'll ask you to open a Shabby Casket a few feet away, triggering an attack from two pairs of mobs (levels 32 and 36). Once dealt with, you can take the Treasure and return it to Ealdwine. As your reward, you'll get 4275XP, plus the Decipher and Dig actions.
How to get Timeworn Maps for Treasure Hunts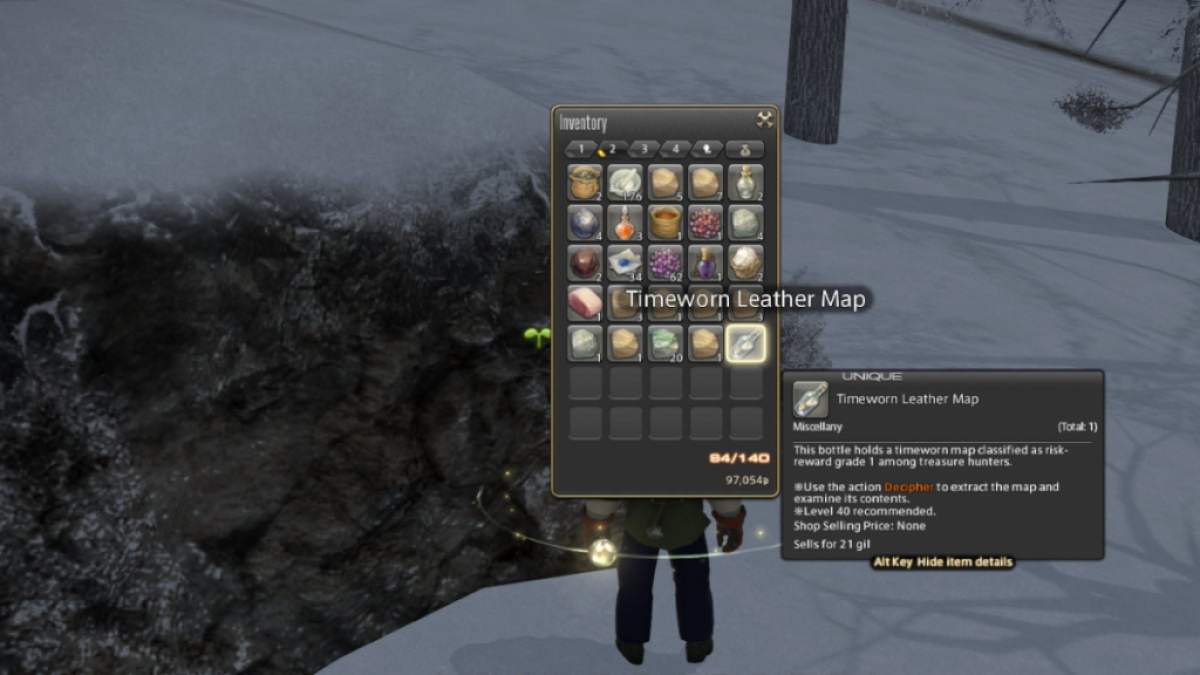 Timeworn Maps are a rare random drop that can be found when gathering. You can find them as a Botanist, Fisher, or Miner, as long as the gathering node is level 40 or above. If playing as a Fisher, you'll either need to have the Snagging action or Salvage action (if Spearfishing) active to have a chance of finding any Timeworn Maps.
I found that when Mining, for example, the Timeworn Map will show in the list of possible resources to mine on the node, so as with other rare finds, you'll need to be sharp to spot, select, and mine it. Once collected, it will appear in your Inventory as a bottle, with the map tucked inside (see above).
Note that a player can only get one map from gathering (of any kind) every 18 hours. However, as long as a map hasn't been deciphered, it can be bought and sold, and there is no time limit on the number of maps you can decipher.
How to Decipher a Timeworn Map and then dig for Treasure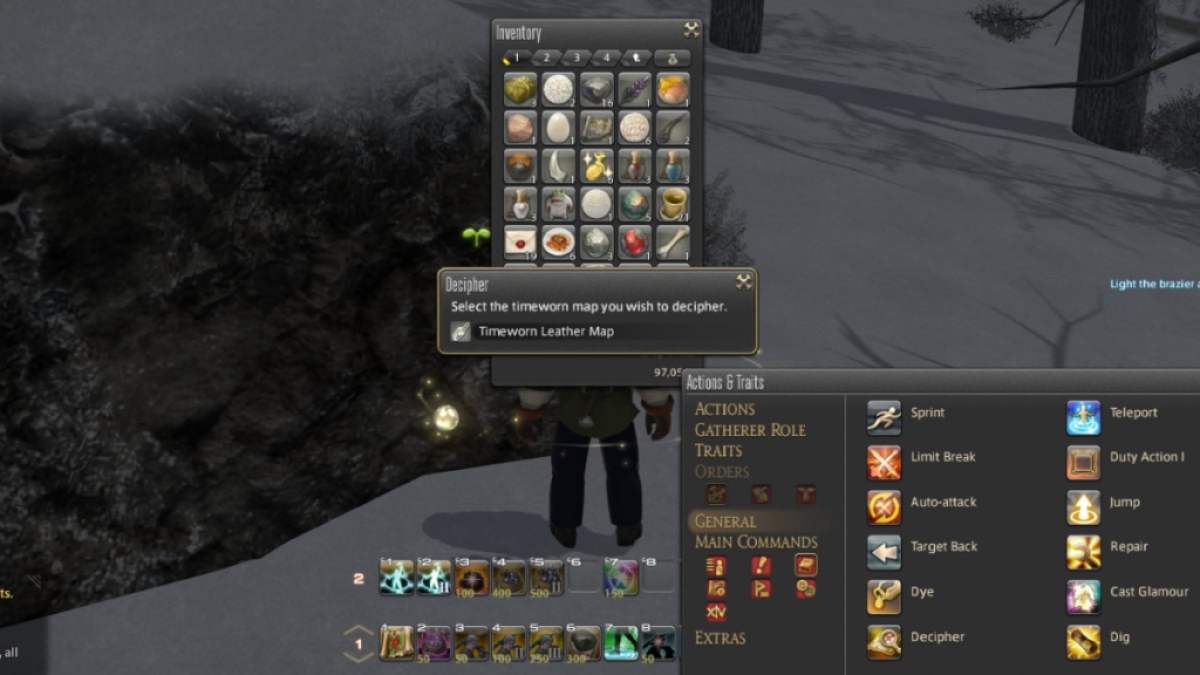 Once you have a map, you can use the Decipher action on it. You'll find Decipher in the General section of the Actions and Traits menu, and it can either be used directly from there or from your quick bars, as with other actions.
Doing so will reveal the location of a Treasure by turning the map into a Treasure Map. While you can have multiple Timeworn Maps, you can only have one Treasure Map at a time. A Treasure Map can either be discarded or disappear once you find the Hidden Cache.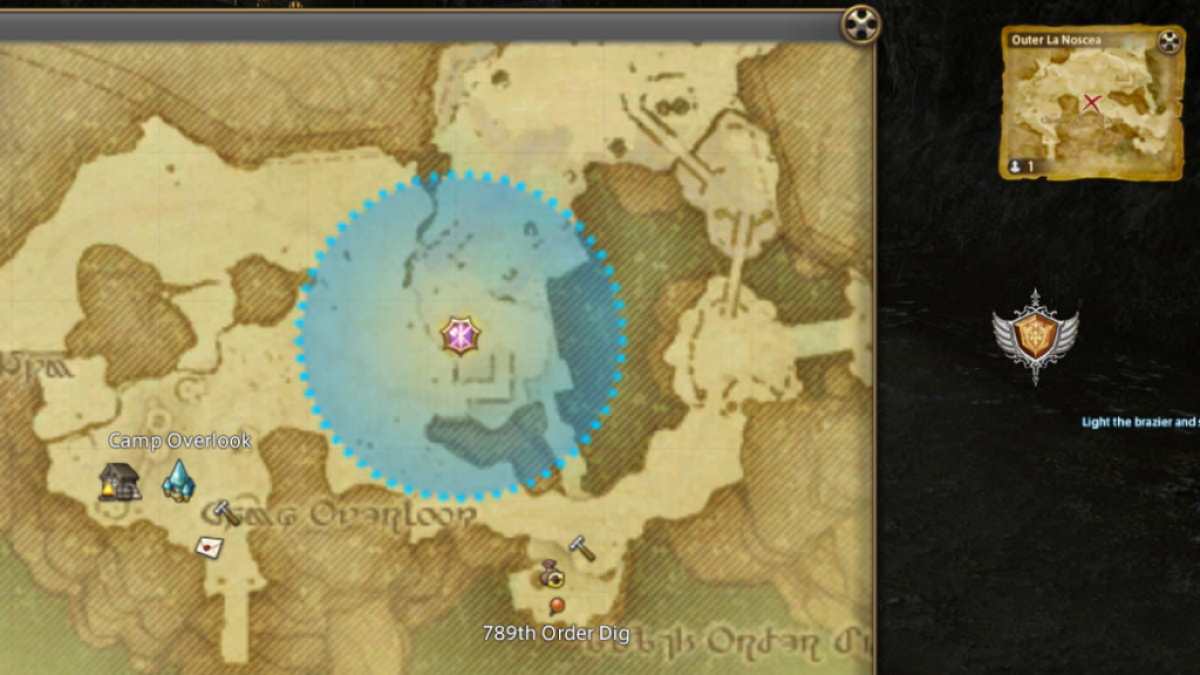 Examining the Treasure Map in your Inventory will bring up a Map Window, giving you a rough location for the Treasure. While you can only have one Treasure Map at a time, it won't time out, so you can take your time with it. Once it is a Treasure Map, it will move to the Key Items section of your Inventory.
Cross-reference this with your area map to find the exact location, and use the Dig action once there. This can be a little tricky, but once I spot it, I can't believe I didn't see it sooner. If you're in the right spot, a Chest will spawn.
As in the quest, using the Chest will attract one or more mobs to defend it. You'll have a limited time to defeat the mobs and then claim the Chest. These battles can be challenging, so be well prepared (don't turn up in your crafting gear!). You'll want an adventure level roughly equivalent to the map quality (see below).
Types of Treasure Chest Rewards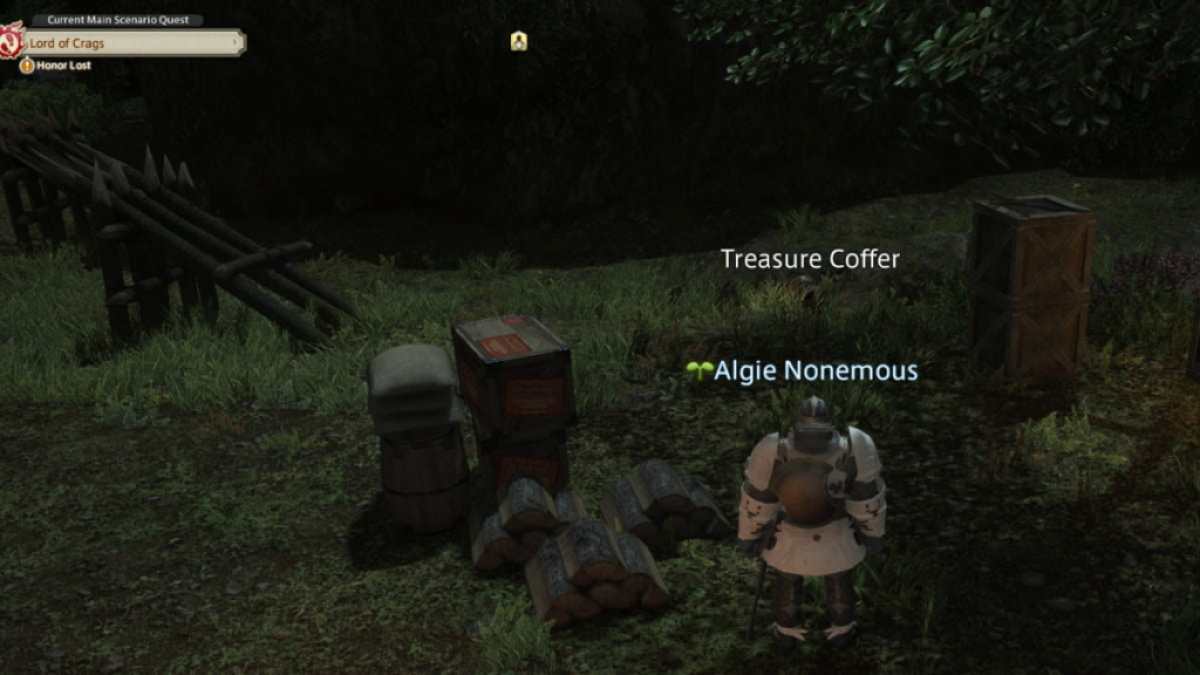 Treasure Chest rewards can vary widely and will, of course, also be dependent on level. EXP and Gil are common rewards, alongside aetherial gear, Allagan Tomestones, crafting ingredients, elemental items, housing items, medicine, minions, and more. Perhaps the best finds, though, are Unhidden Maps, as these lead to even better Treasure in another Chest location.
All Treasure Map grades and levels
If you intend to buy maps outside your current level, remember that you'll be facing mobs around the map level once you open the Chest, so don't be too ambitious.
| | | |
| --- | --- | --- |
| Standard | Name | Resource level |
| Grade 1 | Timeworn Leather Maps | Level 40 crafting node |
| Grade 2 | Timeworn Goatskin Maps | Level 45 crafting node |
| Grade 3 | Timeworn Toadskin Maps | Level 50 crafting node |
| Grade 4 | Timeworn Boarskin Maps | Level 50 crafting node |
| Grade 5 | Timeworn Peisteskin Maps | Level 50 crafting node * |
| Grade 6 | Timeworn Archaeoskin Maps | Level 55 crafting node |
| Grade 7 | Timeworn Wyvernskin Maps | Level 60 crafting nodes |
| Grade 8 | Timeworn Dragonskin Maps | Level 60 crafting nodes * |
| Grade 9 | Timeworn Gaganaskin Maps | Level 70 crafting nodes |
| Grade 10 | Timeworn Gazelleskin Maps | Level 70 crafting nodes * |
| Grade 11 | Timeworn Gliderskin Maps | Level 80 crafting nodes |
| Grade 12 | Timeworn Zonureskin Maps | Level 80 crafting nodes * |
| Grade 13 | Timeworn Saigaskin Maps | Level 90 crafting nodes |
| Grade 14 | Timeworn Kumbhiraskin Maps | Level 90 crafting nodes * |
| Grade 15 | Timeworn Ophiotauroskin Maps | Level 90 crafting nodes * |
Maps in Bold above that are marked with an asterisk (*) are recommended for large groups, not individuals.
For more on Final Fantasy XIV, check out How to change the UI theme in Final Fantasy XIV and How to get the Sil'dihn Throne mount in FFXIV here at Pro Game Guides.