With the new season of Fortnite, we've been introduced to a new mechanic for an object that has been in the game for a long time: the Payphone! In this new season, we can use Payphones to receive quests from various NPCs and complete them for Gold Bars and XP. In our map and directions below, we explain where you'll find the Payphones throughout the map.
The one important thing you'll notice is that Payphones appear at all Bus Stops on the map. So, if you find yourself bored and looking for quests, just head to the Bus Stop closest to you (in the game).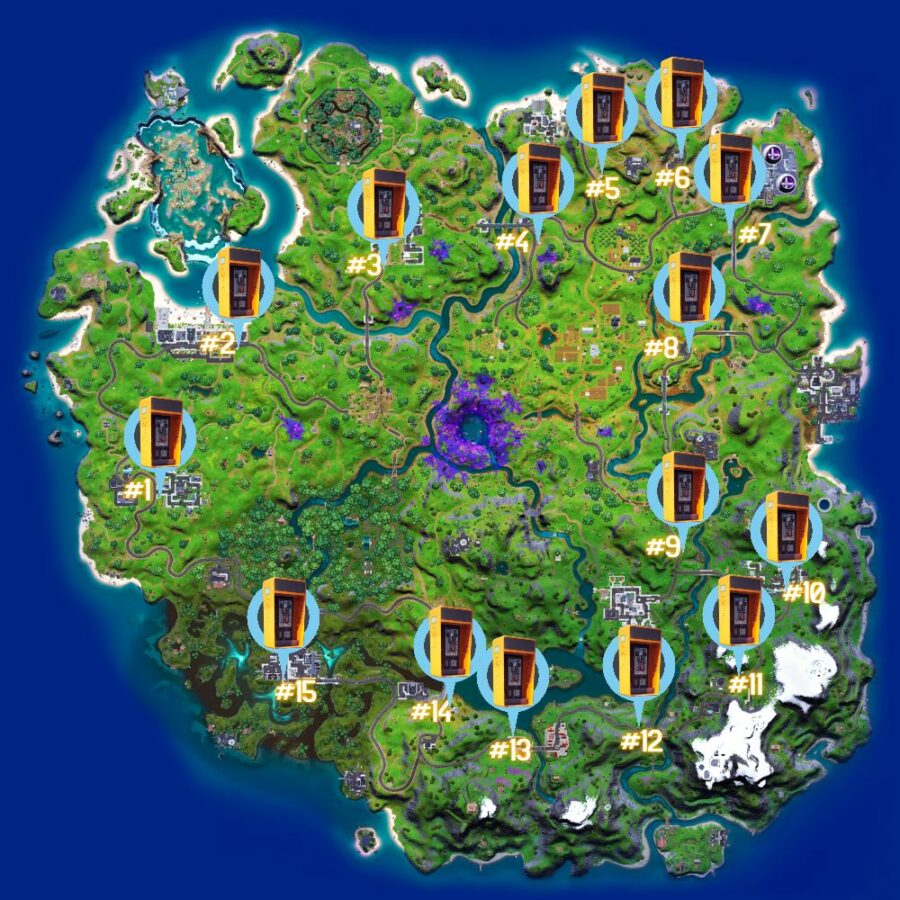 Related: All Upgrade Bench Locations in Fortnite Chapter 2 Season 7 - Pro Game Guides
The directions below tell you where the Payphones are that are shown above.
Next to the road west of Holly Hedges.
In the southeast corner of Believer Beach.
In the southwest corner of Pleasant Park.
Next to the road halfway between Blue Steel Bridge and Scenic Spot.
Next to the road west of Dinky Dish.
North of the gas station at Y (Landmark).
On the northern end of the bridge south of Steamy Stacks.
Across the road from the gas station south of Steel Farm.
Across from the gas station northeast of Lazy Lake.
On the southeast edge of Retail Row.
Next to the road northeast of Catty Corner.
On the western side of Yellow Steel Bridge.
In the northwest corner of Misty Meadows.
South of the dam near Hyrdo 16.
At the intersection in Slurpy Swamp.
Those are all the Payphones currently on the map for Chapter 2 Season 7. When you're done calling your NPC friends, don't forget to check out our Fortnite Homepage for more great content, news, and guides!
For all of our guides to the new season, be sure to check out our Complete Guide to Fortnite Chapter 2 Season 7. Or, if you'd like to see our newest news and content, you can head over to our Fortnite Homepage!