Fortnitemares 2022 update has bought a lot of new gameplay features and game items to the base game. Along with these official updates, the game is also experiencing an influx of custom map designs based on the Halloween season. So, if you are looking for a fun time in one of these custom Halloween Island maps with an entertaining interactive story or design, you can start with the xxx island and explore other Islands from the list.
Best Fortnite Nightmares Island
Horde Survival: Isle of Malvoria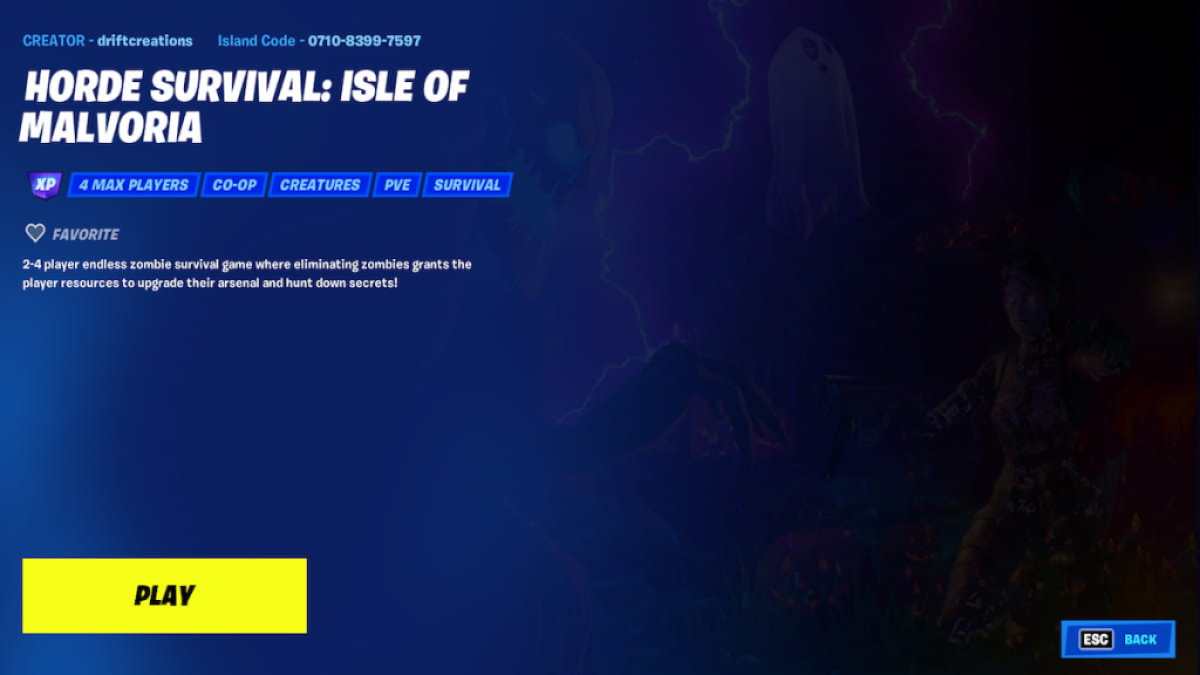 To kick off the list, we have the Horde Survival: Isle of Malvoria. The entire theme of the map is to unravel the hidden mystery on the haunted island. Players can achieve this by exploring and eliminating zombies in a horde/wave-style format. Clearing zombies allows players to earn coins and upgrade their kits on their arduous journey. You can either go on a solo adventure or take a maximum of four players for its co-op mode.
Horde Survival: Isle of Malvoria Map Code: 0710-8399-7597
Creator: Driftcreations
Related: How to acquire the Zero Point Pretzel effect in Fortnite
Infinite Night At Frankmoles
Infinite Night At Frankmoles is a loosely adapted mode based on the Five Nights at Freddy's video game series. Similar to its inspiration, the map has various utility items like surveillance cameras and doors that players can use to their advantage to stop the attack of the animatronic dolls. If you are a fan of the original games, you should give a shot at the eerie dark world of Infinite Night At Frankmoles. The only downside is that the map is a single-player experience.
Infinite Night At Frankmoles Map Code: 2449-5155-7557
Creator: GioGio on 144hz
Halls of Madness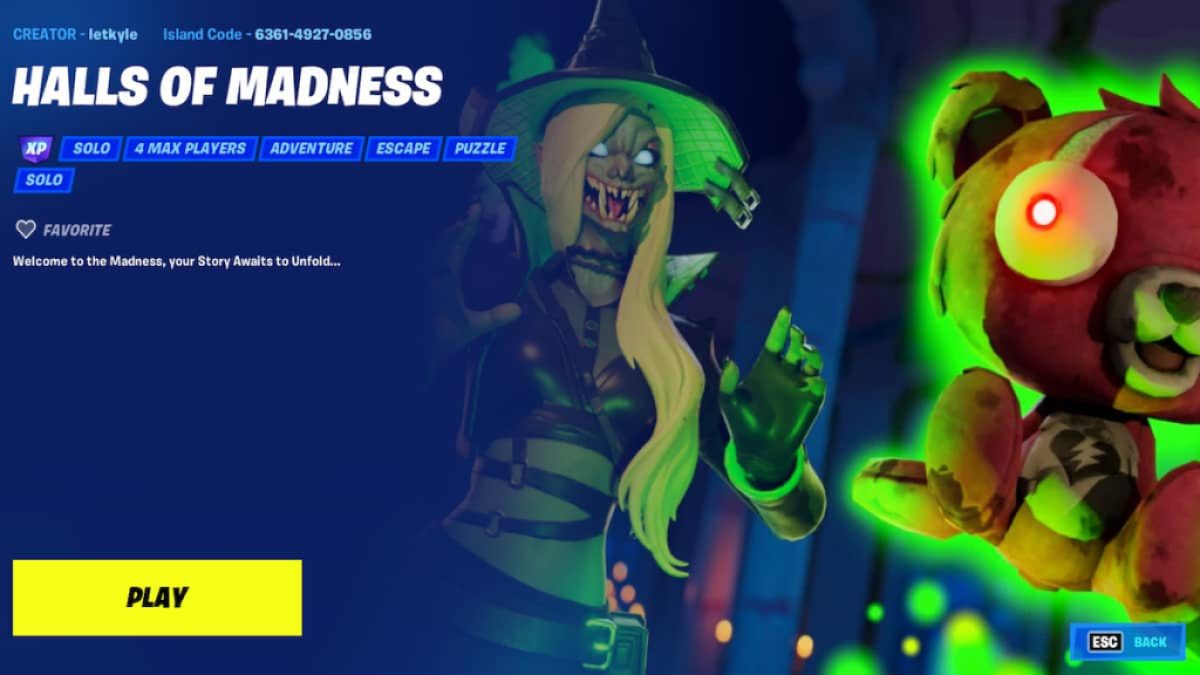 Halls of Madness is one of those maps that will remind you of the over-the-top Halloween decorations that were popular in the late 1990s and early 2000s. It is an escape room-style island where you must solve one puzzle after the other to solve the mystery and get out of the area. The map is best suited for young kids who may want less gore or horror elements. The island supports up to four players for a group experience.
Halls of Madness Map Code: 6361-4927-0856
Creator: letkyle
Crabby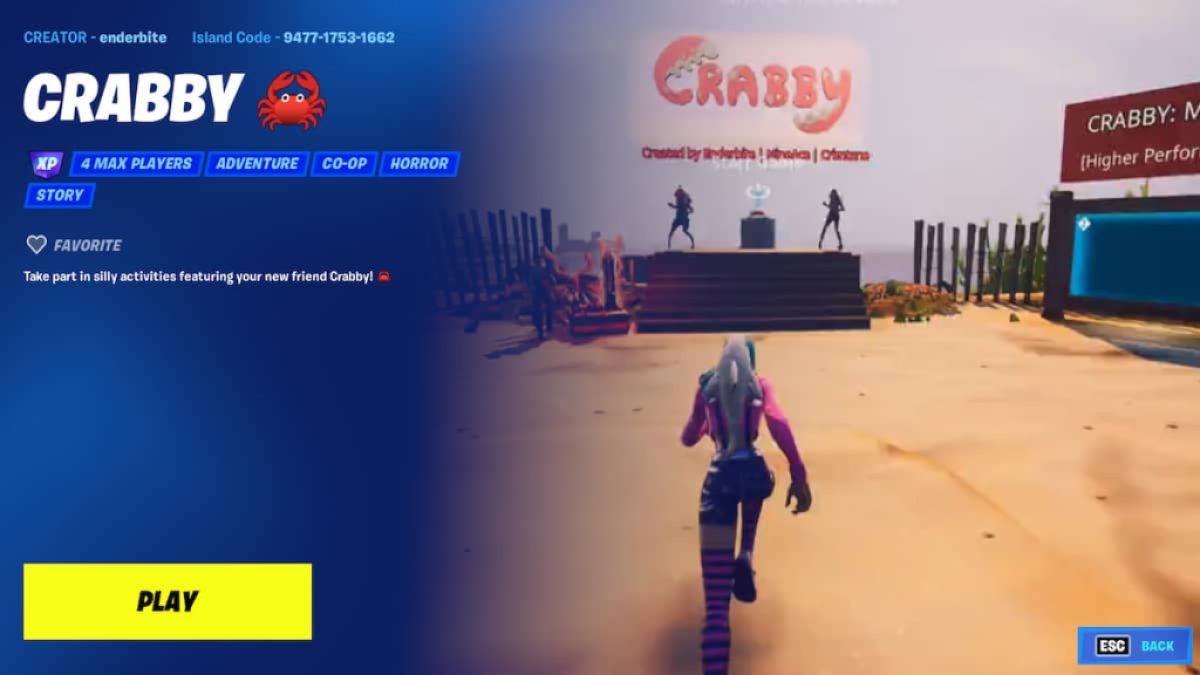 Crabby is also an island experience much similar to the previous map, except that it is more of a scavenger hunt rather than puzzle solving. You start with a simple task like collecting food for the unknown entity called Crabby before finally escaping from the evil crux of it. The main highlight of the map is the lighting which perfectly reflects the mood of the task at hand. Crabby is both a solo and co-op experience.
Crabby Map Code: 9477-1753-1662
Creator: enderbite
Related: How to get Howler Claws In Fortnite
Spooky Delivery
If you are looking for an engaging combat-style experience over a story-driven map, Spooky Delivery should be on your playlist. The objective of the game is to escort a payload to a secure location while eliminating all the horror elements in your way. To add more to the thrill element, you will only have one life, and the mission resets once you die. You can play the custom map with four other players.
Spooky Delivery Map Code:1657-9788-6321
Creator: Wiskstars
For more on Fortnite, check out Where is the Driftwood in Fortnite? or Where to find the Explosive Goo Gun in Fortnite? on Pro Game Guides.