Fortnite is one of the most popular battle royale games available for free today, with everchanging and improving content brought to the game regularly. Jump in with friends or go solo as you compete to be the last one standing, complete challenges, join other player-made modes, and style your very own character. There are so many unique skins to choose from, and you can stand out by combining them together and creating your own style. If you're looking to keep it simple but sleek with an all-white set, here are some of the best skins to use!
Ghost Enforcer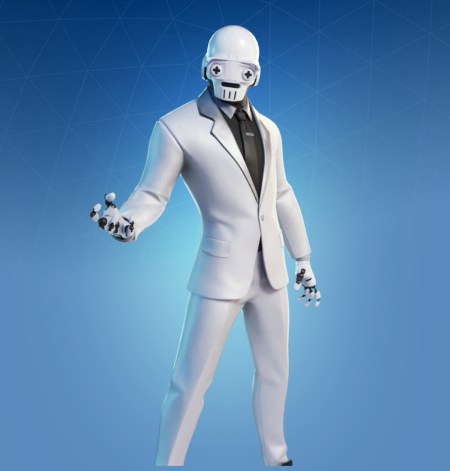 The Ghost Enforcer skin is almost entirely white with bits of black intertwined, giving your character the perfect sleek and simple look. It was first introduced around the Ghost vs. Shadow season in Fortnite, which is why it dons a clean suit and will combine well with various back-blings and pickaxes of either black or white color. Although it's only a rare skin, it still remains one of the more popular ones to utilize because of its simple but smooth design.
Imperial Stormtrooper
The Imperial Stormtrooper is not only an awesome Star Wars skin available in Fortnite but another excellent white skin option. Despite seeming a little bulky with the armor, it actually pairs nicely with most back-blings. Additionally, it has subtle hints of black, allowing for various pickaxe and accessory options. The skin is part of the Original Trilogy Star Wars Set and occasionally makes appearances in the shop for 1,500 V-Bucks. If you're a Star Wars fan––you can get the best of both worlds!
Related: Fortnite Best Dances & Emotes – Top Rated Emotes in the Game!
Double Agent Hush
Hush is one of the more unique skins available on Fortnite, with varying features that differ from the standard Fortnite female skin templates––which is why it's such a great skin choice for any style. Double Agent Hush specifically is the perfect white skin style with a clean white outfit and matching hair. The hint of gold only makes this skin that much more adaptable, giving you more choices of accessories to pair with it––such as the Golden Crow, Golden King, and more stunning pickaxes.
Marshmello
Marshmello is a part of the Icon Series Fortnite skins, based on the popular DJ Marshmello with his iconic marshmallow helmet and matching outfit. This is another excellent option, especially if you decide to buy it with the Marshmello set, which comes with great white and black pickaxes and gliders. The reactive features on this skin make it even more remarkable, giving off pops of colors, like a dance floor, at nightfall.
Skull Trooper (White)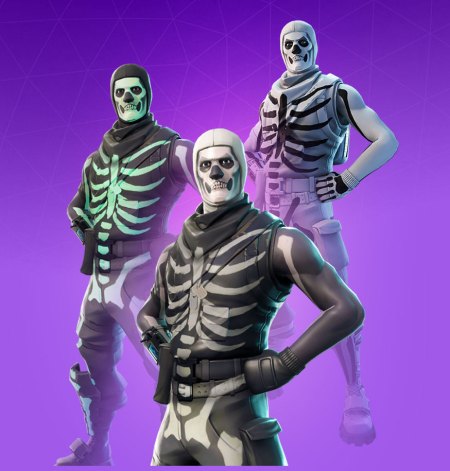 Although the Skull Trooper skin is originally more black than white, it has alternative styles that allow you to switch that up, reversing the blacks and whites on the outfit and creating an even more sleek look. Despite being styled in a Jonesy template, this skin is epic and is perfect for Halloween or any time of play with its spooky, scary skeleton design.
Whiteout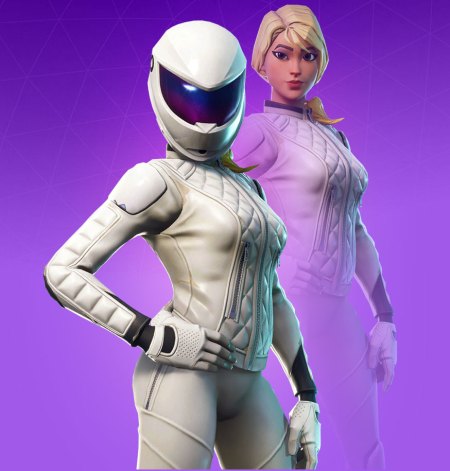 Whiteout is an OG-style skin that offers a clean design and blank slate for whatever other color pop you want to mix with accessories. This motorcyclist skin is similar to the Burnout and Redline skins but in a great white color alternative. Choose to wear the helmet or go without with its style options, and equip the Ignition back-bling that features a matching white katana as a great addition to your white look. However, you can easily pair it with other black and white options as well.
8-Ball (Scratch)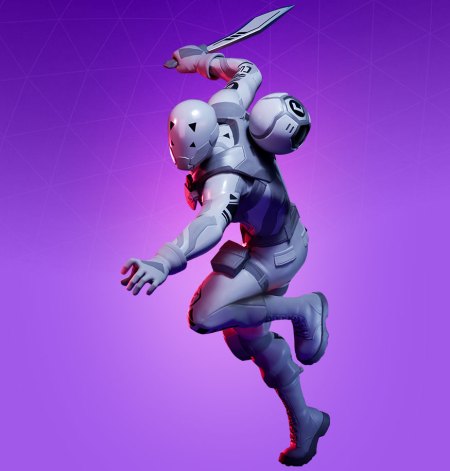 Scratch is an alternative style for the skin 8-Ball during Season 1, Chapter 2, and allowed players to switch up the usual black 8-Ball skin to a white color instead, representing the white ball in Pool. Scratch is a popular choice with its ninja-esque design and conveniently allows players to change up all set items to match as well. However, if you aren't a fan of the chunky ball back-bling, you can easily substitute other options such as the Ignition back-bling to replace it.
Zadie (Arctic)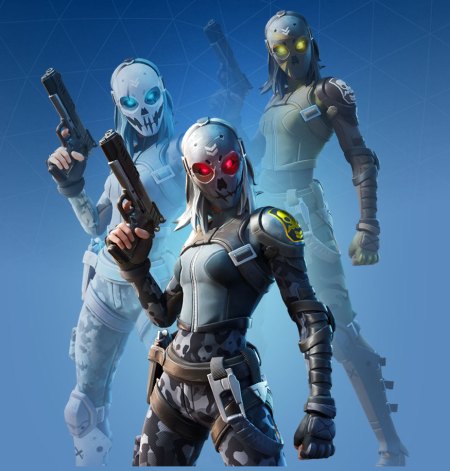 Zadie is another unique skin design featuring tactical equipment and a mask that exuberates an air of mystery to the character. Although it is only a rare skin, it features two other unlockable styles, both adaptable with various color accessories, such as the white option––Arctic. Arctic Zadie still flaunts that tactical camo in bright whites, greys, and an icy pop of blue.
Related: Fortnite Best Pickaxes – Top Rated Harvesting Tools in the Game!
Wild Card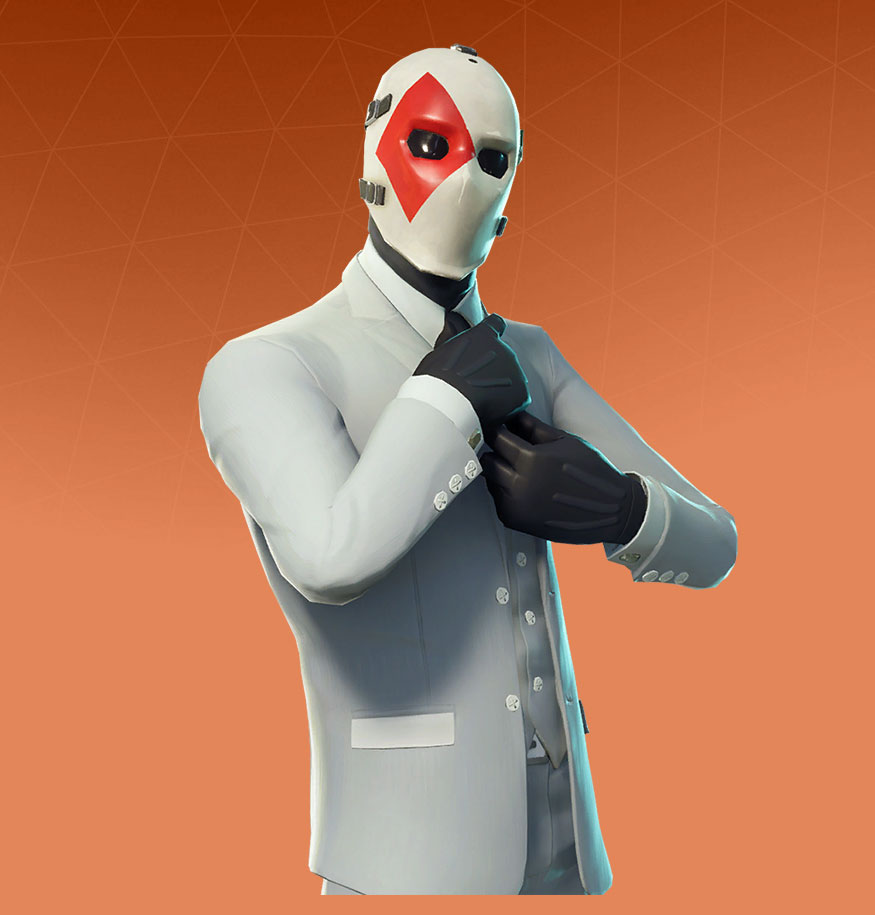 Wild Card quickly became a very popular skin choice for players when it was first introduced during the High Stakes event in 2018. Similar to the Ghost Enforcer, he is suited up in formal attire but with a unique heist mask hiding his facial features. This is a tremendous white skin pairs nicely with most back-blings and accessories. Its pop of red allows you to expand your color palette to add contrast in other aspects. Wild Card also has an alternative skin featured in the Double Agent set that works great for a white design as well, except with hints of gold.
Boundless Set
The Boundless set includes several different superhero skins, but all of them allow you to customize them into white colors and make for some of the best white options for that reason. Head to the locker to change up any outfits and make them your own, whether all white or with pops of other little colors, like Firebrand's starting design. These skins make for the best blank canvases because of their adaptability and slim frames that look great with most other items you might add.
Fortnite has many great skin designs and options for you to choose from, featured and rotated in the shop daily. These are just a small portion of the white skins that we think are some of the best if you're looking for a clean, sleek look. Let your creativity run free as you mix and match back-blings and pickaxes to spice up your blank canvas and create your own bright look.
Looking for more Pro Game Guides Fortnite content? Check out our guides on Fortnite Best Gliders – Top Rated Umbrellas & Gliders! or Fortnite Best Skins Ranked (August 2022) – Best Outfits Ever!