Since Epic has seemingly stopped giving out full update details, we've compiled our own Fortnite 13.00 Patch Notes! We're attempting to collect all of the changes, updates, and bug fixes from the most recent patch. This update will bring in Season 3 for Chapter 2, which brings in a brand new Battle Pass and some pretty huge changes to the game!
This is going to be a major patch, so expect quite a bit of downtime, plus it will likely be pretty large! Make sure you've got room on your device for it, or you'll be stuck looking to delete some other stuff rather than getting to play. You can also likely expect some bugs, and the possibility of server issues. I generally like to wait until Epic has a good handle on things before attempting to really play.
Patch Release Date & Time
The Fortnite Season 3 Patch has been officially announced, it will be released on Wednesday, June 17th at 2 AM ET (0600 UTC)! Due to this being a huge new season patch, you can expect downtime to be at least three to four hours and could be even longer if they run into any issues.
Unofficial 13.00 Patch Notes
Here's where we will be detailing all of the updates and changes that have been added to the game and haven't been covered by Epic. If you're looking for leaked skins, we will have a full look at them right here. If you want to check information on the battle pass, we have a Fortnite Season 3 Battle Pass Skins post where we have the new skins.
How-tos
I'm compiling additional details on some of the new things that were added in the patch via these guides:
P90 Nerfed Already
Looks like there was a hotfix added to the game that reduced the effectiveness of the epic and legendary SMG. Here's how the stats were changed:
Increased reload time by 1.4 seconds.
Decreased fire rate by 20%
Increased magazine clip from 30 to 40.
Produce Boxes
There's new green produce boxes that can be opened that spawn around the map. You will get a random amount of consumable produce that will heal, buff, or give you shields. These are going to be very helpful if you're running low on health and shield while engaging in battle!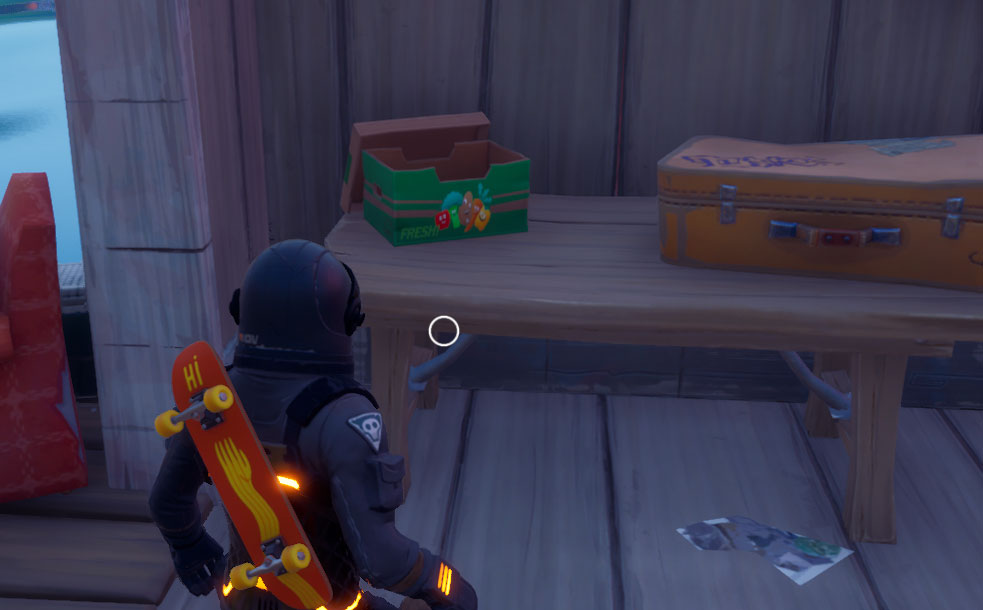 PC Aim Assist was Nerfed
It looks like percentage for aim assist on the PC were nerfed slightly. If you use a controller on the PC, then you'll find that your aim will not snap as easily to the target. Here's a look at the counts:
Pull Inner Strength Hip: 0;0.45 -> 0;0.3
Pull Outer Strength Hip: 0;0.375 -> 0;0.25
Pull Inner Strength Ads: 0;0.525 -> 0;0.35
Pull Outer Strength Ads: 0;0.3 -> 0;0.2
Tactical Shotgun Damage Reduced
It appears that the Tactical Shotgun has had its damage reduced.
Some Weapons Have Been Unvaulted!
I'm seeing reports of various weapons having returned to the game. These including the Hunting Rifle, Bolt-Action Sniper, P90, and Stink Bombs!
Some Items Vaulted
There's been a few items that have been sent to the vault:
Pump Shotgun
Heavy Sniper Rifle
Remote Explosives
Suppressed Assault Rifle
Heavy Assault Rifle
Rocket Launchers can only drop from Marauders, which means they aren't in Team Rumble anymore.
Quick Challenges
Quick Challenges have now been added that are pretty simple things you can complete. Stuff like eliminating henchmen, hitting weak points, searching chests, harvesting, and getting eliminations. Each of these rewards 14,000 XP when you complete them.
Punch Cards weren't completely replaced, they represent things you can complete over the course of the season. You can find out more about these in our Fortnite Season 3 Punch Cards post!
Sharks & Marauders
You can latch onto a shark and use it to get around the water like in the trailer. You'll have to be careful as well, because they will bite you if you get too close! Marauders will land on the island and attack, which is similar to the henchman in season 2.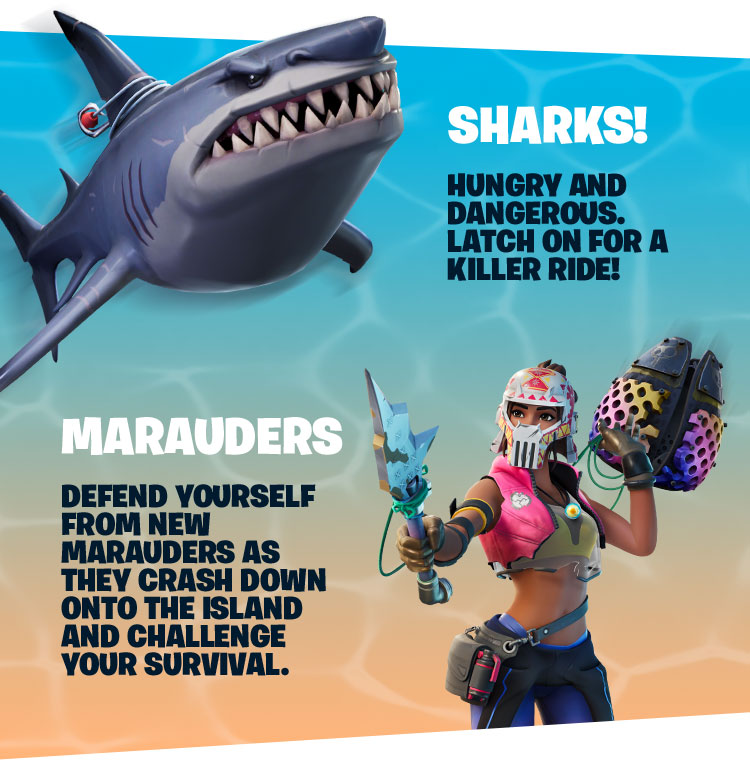 Some Dual Handed Pickaxes Now Have a Single-Hand Version
You can now use some dual-wielding pickaxes as a single-handed version. Click on the pickaxe that you want to check and check for a style!
Chug Splash & Chug Jug Returns!
The Chug Splash healing item that you can throw on the ground at your or your teammates feet to get healing and shield is back in the game. The Chug Jug is also back, but in Mythic form that allows you to use it multiple times!
New Throwable Item
Looks like a kind of Molotov cocktail type weapon that will set things on fire when thrown.
New Weapons
Here's a look at some of the new weapons that were added to the game. Jules also has the mythic Drum Gun which was found on Midas in the past. Each of the bosses has two different mythic items/weapons they can drop.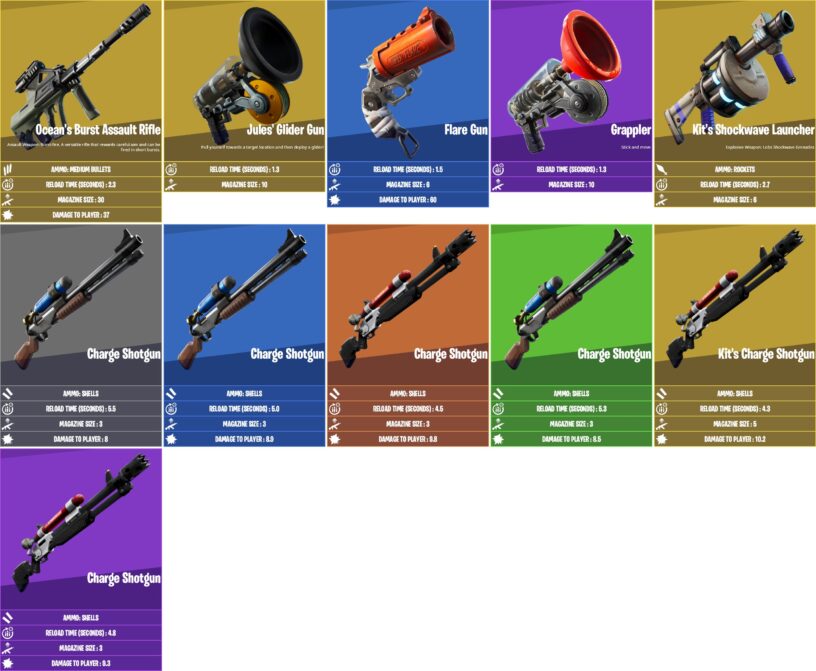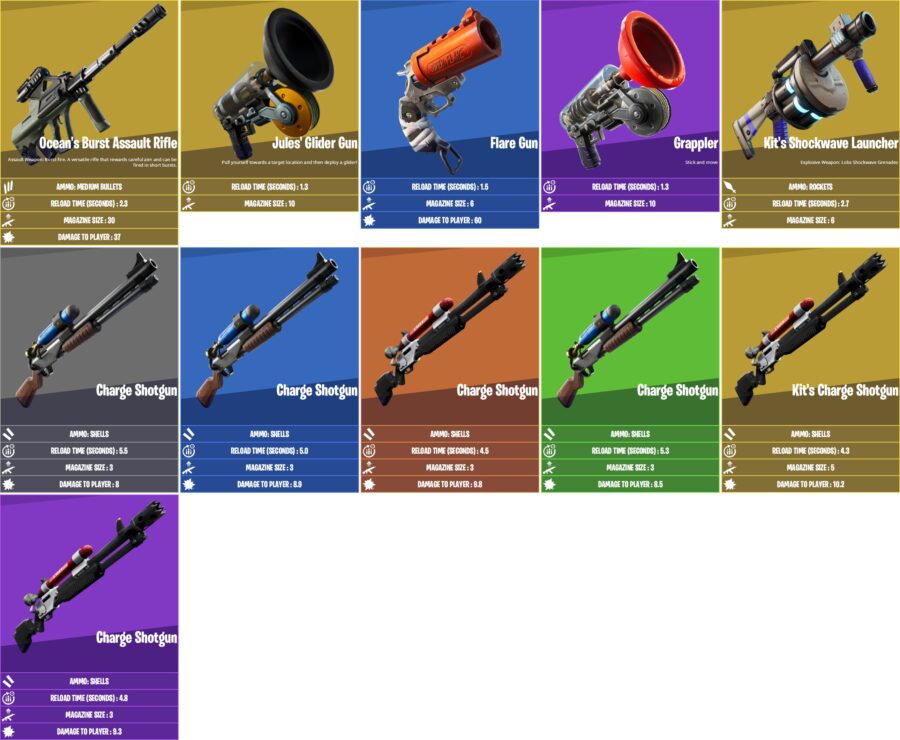 Mythic Chug Jug
If you take out Ocean, who is a new boss, you can get the mythic Bottomless Chug Jug! It recharges after you use it, so you can use it again after a cooldown period!
Vehicles
Looks like you'll be able to drive a bunch of new vehicles, including cars, trucks, and quite a few others! These aren't in the game yet, it appears that they will likely be added once the water levels on the map drop.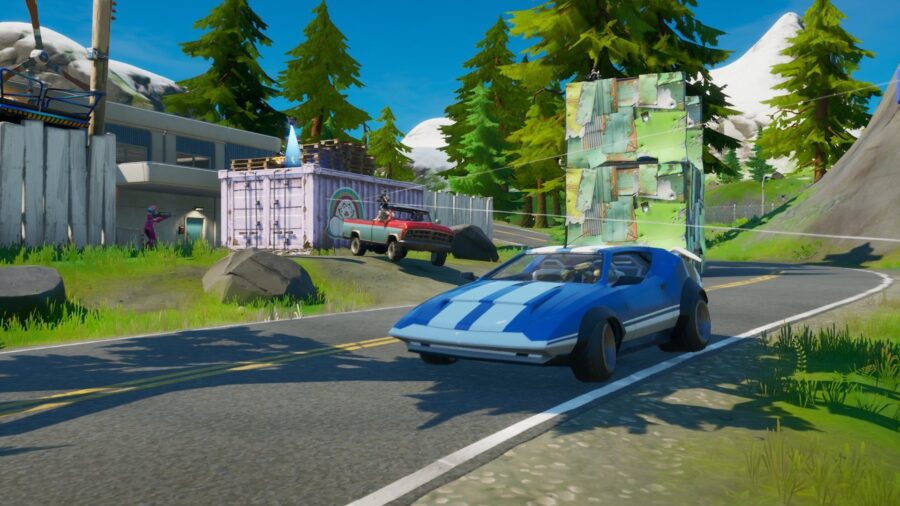 Fortnite Season 3 Map
Here's a look at the new map with all of the labeled POIs. You'll notice the southwestern side of the map in particular has the most new areas.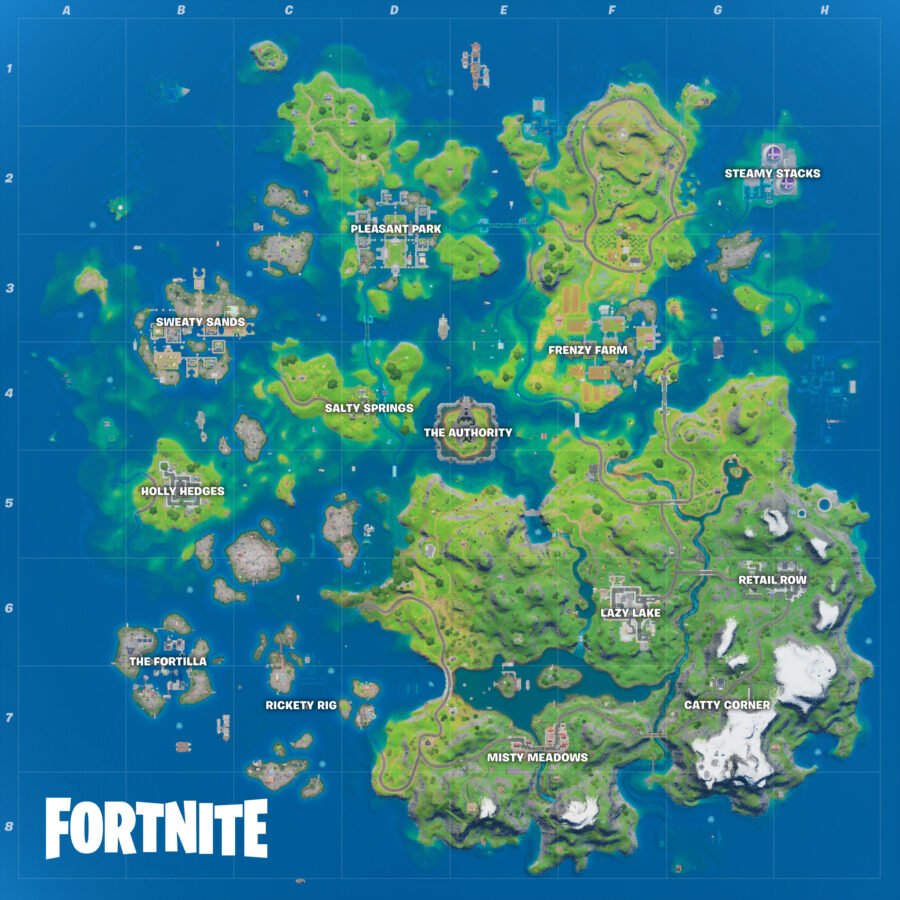 Battle Pass Trailer
Battle Pass trailer pic.twitter.com/e4OT5vQD2U

— FireMonkey • Fortnite Intel 🎄 (@iFireMonkey) June 17, 2020
Season 3 Battle Pass Skins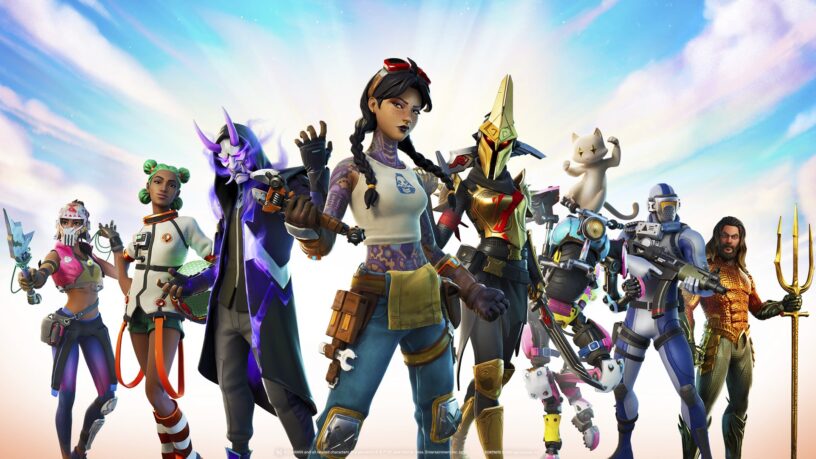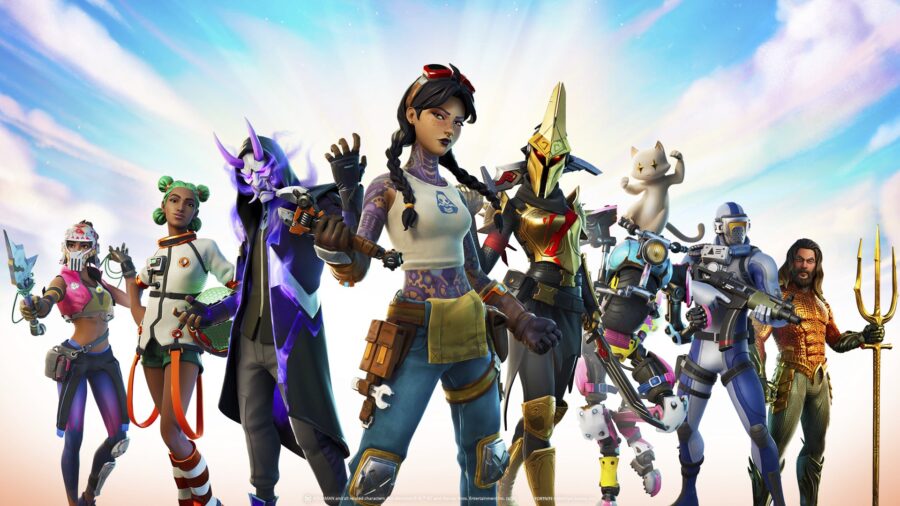 Season 3 Artwork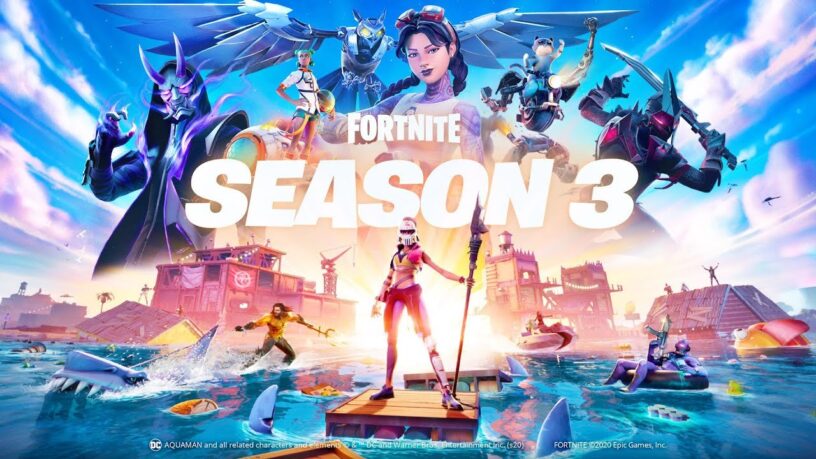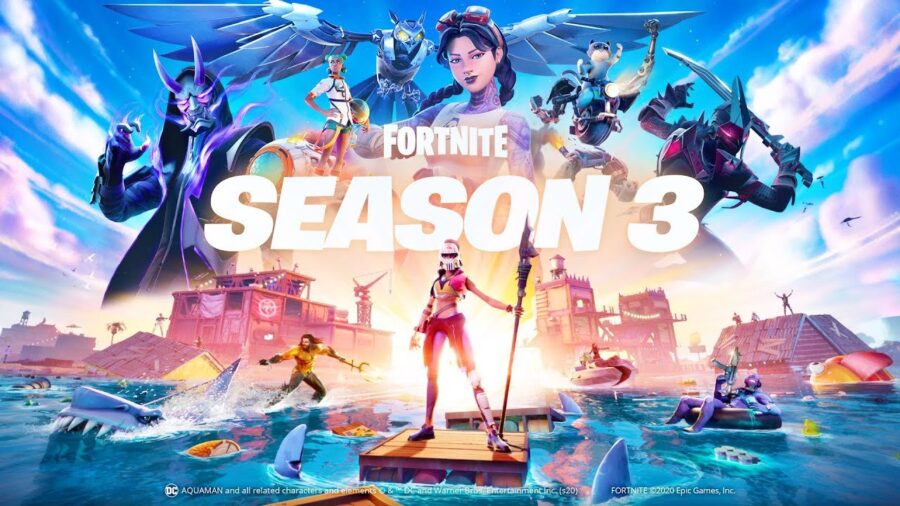 Season 3 Trailer
Take a look at the video that leads into the next season. It includes some battle pass skins, and the confirmation of Aquaman as a skin!
Welcome to the waves 🌊

The Island has flooded and there are all new areas to explore, Marauders to take on and... sharks to ride?

Dive into #FortniteSeason3 now! pic.twitter.com/cdWDn9yXt1

— Fortnite (@FortniteGame) June 17, 2020
Fortnite 13.00 Patch Bug Fixes
These were taken from the Trello that display all of the stuff that Epic is working on in terms of bugs.
Battle Royale Issues
Hit/Damage Indicators will sometimes appear to be coming from the wrong direction than the source of the damage.
Save the World Issues
Dropping or spawning a weapon and picking it up will sometimes cause you to lose ammo.
Mobile Issues
Mobile swipe-up feature may close app on players.
New Landmark text may appear multiple times when exploring new locations.
Shadows darker than expected.