Our Fortnite Black Hole Guide is keeping track of everything going on with the mini-game, numbers, and what's going after "The End" event took place. There's a lot of questions and information swirling around, so we're going to do our best to make sure you are up to speed on what you need to know!
What is the Fortnite Black Hole?
The black hole is where we ended up after "The End" event. It is likely a way for Epic to hide their server maintenance while they get ready to push the brand new season of Fortnite. According to leaks, we will likely be getting a new map!
Updates
10/14/19 - 10:00am PT: The battle pass trailer has been leaked showing off cosmetics and new gameplay additions! Check out that information right here.
10/13/19 - 6:10pm PT: More numbers have been shown (2, 176, 8, 160, 65), creating what's thought to be the final message, "The nothing is now inevitable."
10/13/19 - 4:30pm PT: More numbers shown (69, 146, 15, 36) making the message, "This was not calculated."
10/13/19 - 3:30pm PT: Possible leak shows event could last as long as two days?!
10/13/19 - 2:53pm PT: Possible meaning of the numbers has been added below!
Black Hole Event End Time
Based on a leak, it looks to be possible that the event will last until October 15th, 2019 at 6am EST. This information was found in the source code of the official Fortnite website:
This date is now showing October 17th as the possible end date. It's unclear if this is actually pointing to a real end time or not. It's hard to believe that Epic will have Fortnite shutdown for that long.
China Update

On the Fortnite China website, it looks like something is scheduled for October 15th, 2019! If that's true, it will be sooner if you're elsewhere because in China it will be the 15th at 9am PT on Monday!
What About My Cosmetics?!
If you're worried, there's zero chance that Fortnite is going away. Your account and all of your cosmetics are safe! It has been confirmed by the AskPlayStation Twitter account:
Please be assured that your inventory items and V-Bucks are secure during the Fortnite Blackout. For any other Fortnite questions, please visit https://t.co/dQ6gUj445z.

— Ask PlayStation (@AskPlayStation) October 13, 2019
Fortnite Black Hole Information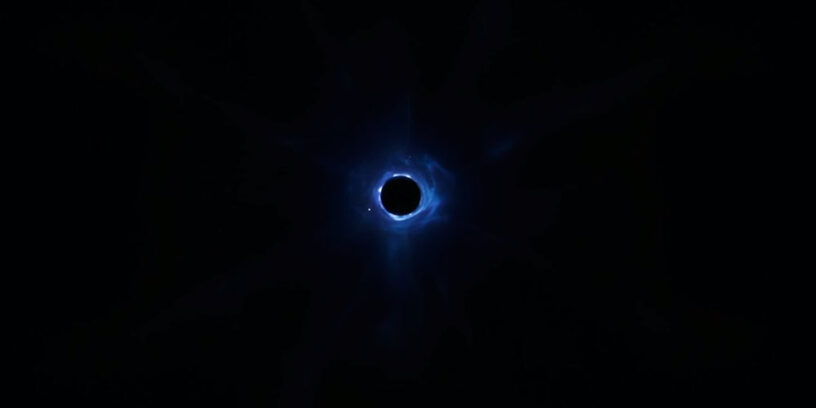 The whole game of Fortnite has been sucked into what appears to be a black hole. Across all of Epic's Fortnite social media accounts and the official website is showing video of the anomaly. What does this all mean? Well, we don't know just yet, but it's likely covering up server downtime that is pretty standard for when the game is updated for the next battle pass. The server can be down for two to three hours, but no official amount of time is known right now.
What do the Numbers Mean?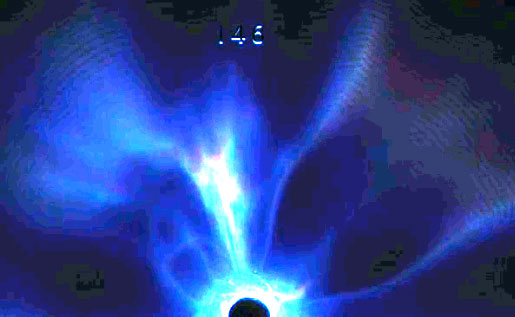 Numbers started to show up on the screen periodically (11, 146, 15, 62, 87, 14, 106, 2, 150, 69, 146, 15, 36, 2, 176, 8, 160, 65). A possible meaning can be extracted if you take each number and assign them a word from the transcript of the Visitor tapes, you'll get the following message:
I was not alone.

Others were outside the loop.

This was not calculated.

The nothing is now inevitable.
Here's the transcript of The Visitor's messages:
What the Seven of us are attempting is very risky. I suspect They are not the only ones watching. But it must be done or we lose the Bridge forever.

I speculate that no one calculated the formation of the Island. That interdimensional matter collisions would resolve rather than push. Now that I witness it first hand, it's obvious that Pinching alone made it inevitable.

When I hear this, again, will it help me remember? Or once Looped will I be just as muted as the others? No matter - it seems the lengthy precautions worked.

The (garbled) Theorem was a success! I... us... you arrived outside of the loop at the exact moment of expansion. This effectively paused the singularity, giving us time to create the devices needed to synchronize the Junction.

What I didn't factor was that the only way to trigger the device was from within the Loop itself. Thus this hasty and primitive recording. And why now you... I find myself Looped.

Activate the beacon at precisely the moment this timer reaches nothing. The Zero Point must be contained once more. If They are correct, it will be the end. - The Scientist
Black Hole Mini-Game & Code
If you log into Fortnite you will just see the black hole, but to pass the time you can play a small little mini-game: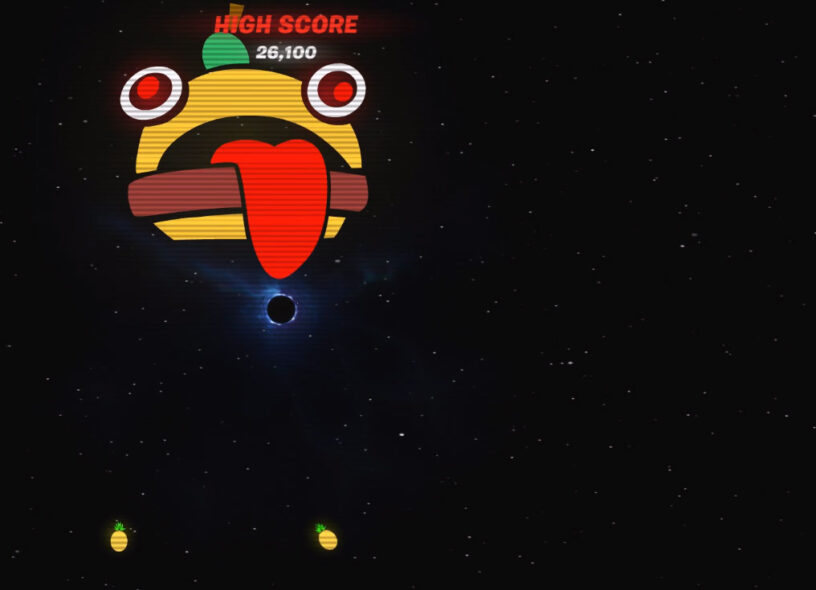 To enable the game, press the input the following code on your controller or keyboard:
Up Up Down Down Left Right Left Right B(O) A(X) Start (Enter/Options)!
The game is very similar to Galaga, which is an old school arcade game. Peely currently has the high score, but nothing happens if you are able to beat it! Other than being a way to pass the time, it doesn't seem like the game does anything else.
Fortnite: StW (Save the World) Might Become Free
It looks like Fortnite: Save the World might end up being free! It is no longer available for purchase, so that might mean you'll be able to play for free once Season 11 hits.
You are no longer able to purchase StW... Pretty high chance it is now going to be free. pic.twitter.com/3qgIszPAmB

— Fortnite: Battle Royale Leaks (@FNBRLeaks) October 13, 2019
Server Status is "Anomaly Detected"
If you check out Fortnite's server status, it will display the following screen with the phrase "Anomaly Detected" repeated for all of Fortnite's operations.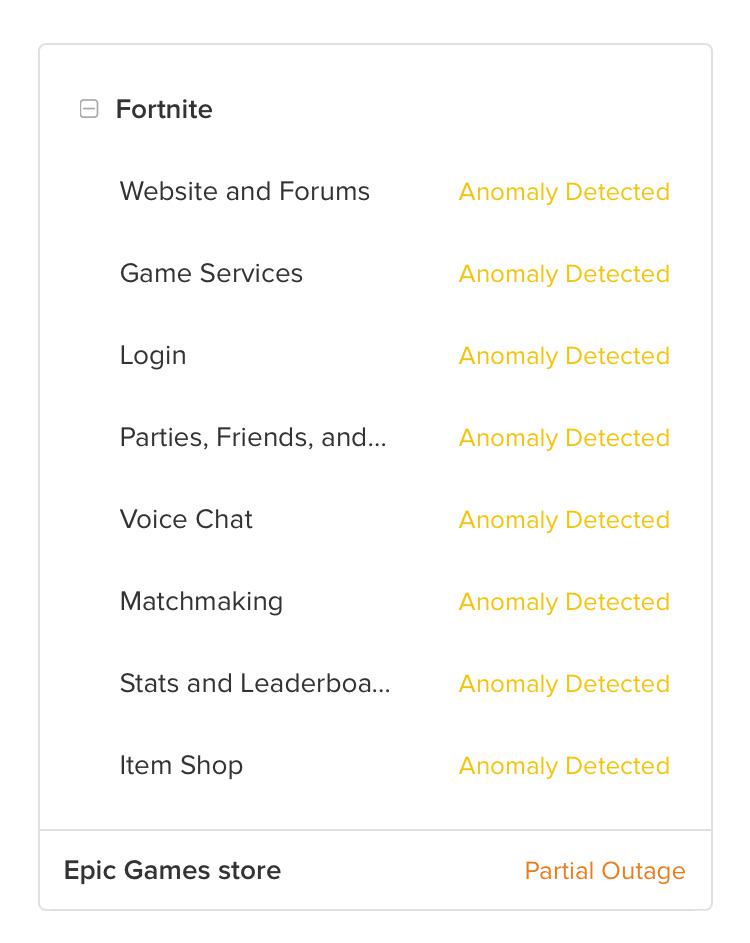 Fortnite "The End" Event Video
If you missed the lead up event to the black hole, check out the video below!