Well, we're kind of in a dead week in terms of new stuff being added into the game. While we did get a new patch, it mostly had some cosmetics and a buff to the Combat Shotgun. So, this batch of challenges is pretty dull overall. It looks like we'll be opening chests in Sweaty Sands, getting eliminations at Stark Industries, driving a vehicle through a rift, eliminating opponents while jumping or falling, getting headshots on henchmen or robots, visiting named locations, and dealing damage with Assault Rifles or Sniper rifles!
We are at week 8 for Fortnite Chapter 2: Season 4, which means we are two weeks away from completing all of the challenges if previous seasons hold true. This is supposed to be a longer season, so it's possible they throw some additional events at us, especially with Halloween coming around and Fortnitemares starting to become closer and closer. Unfortunately, not much has been confirmed, so it looks like we're going to have to wait at least another week before we get any information on future additions to the game.
Challenge Release Time
The Season 4 week 8 challenges will release on October 15th, 2020 at 6am PT. This is the same time that XP coins are added to the map, so you will be able to find those as well if you're searching for them. You cannot complete these challenges prior to that time. The only reason we know what they are early is because they are leaked prior to the release.
All Fortnite Week 8 Challenges
Here's a look at the list of challenges for week 8 of the season:
Search 7 Chests at Sweaty Sands
Get 5 eliminations at Stark Industries
Drive a car or truck through a rift
Eliminate 5 opponents while jumping or falling
Headshot 35 Doom Henchmen or Stark Robots
Visit 5 different Named Locations in a single match
Deal 15,000 damage to opponents with Assault Rifles or Sniper Rifles (Group Challenge)
Cheat Sheet
Here's a cheat sheet with where you will need to go to complete the challenges. Credit to squatingdog for the image.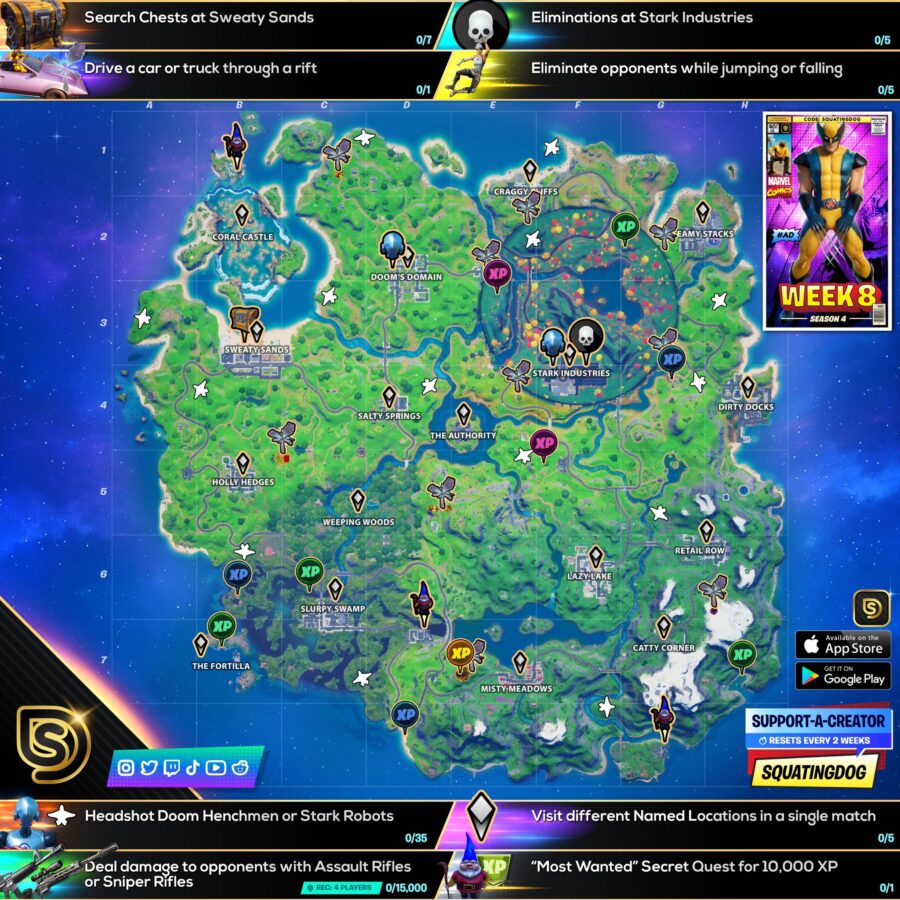 Challenges Guide
Sweaty Sands is in the northwestern portion of the map, and has quite a few chests scattered all around the area. As always, I would recommend going into Team Rumble for chest collection challenges! Credit to Fortnite.gg for the map.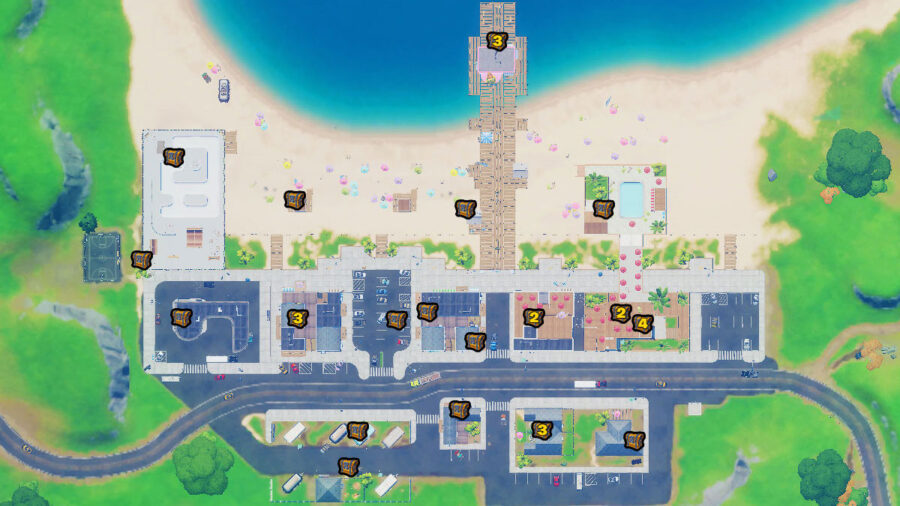 Driving a car through a rift sounds difficult, but there's actually a very easy location to do it at. If you head just east of Doom's Domain and follow the road out from it, you will find that it runs directly into the big circle area that has been added to the map that holds Stark Industries. If you land right near the bridge, you will see a few available cars, and there will also be a rift right nearby. Just grab one of those vehicles and drive right through it. If you are having trouble finding it, check out this video:
Eliminating opponents while jumping or falling isn't too difficult. You can probably do it relatively easily in Team Rumble if you just land close to people and jump while firing your shotgun. The Doom Henchmen or Stark Robots headshots are going to be particularly easy, but you should try and do it with an Assault Rifle so it counts for you damage group challenge. You will find the henchmen at Doom's Domain, and Stark Robots at Stark Industries.
As for the five named locations, I think the fastest way to do it would be to grab the helicopter that is north of Misty Meadows on the island in the lake. Fly down to Mistay Meadows, head east to Catty Corner, northwest to Lazy Lake, east to Retail Row, and then north to Dirty Docks. If you miss out on the helicopter at the lake, there's one south on the mountain, or you can grab the one at Stark Industries and go south to follow the path backwards!
Now that you're done with the challenges, make sure to scoop up the XP coins for the week!