In Fortnite Chapter 2 Season 4 you can earn additional styles for your superhero skins by completing weekly challenges and other tasks. These are sometimes awakening challenges, but others just simply require you to make sure you've finished up a prerequisite and gotten through enough challenges to unlock the additional style!
How to Get Red She-Hulk
To get the red She-Hulk style, you will need to reach level 22 on your Battle Pass and complete 10 challenges from week 1 or 2. You can complete any combination of challenges from the weeks. You get seven tasks each week, so you can finish 3 from one week and seven from another. Pretty much any amount that adds up to 10.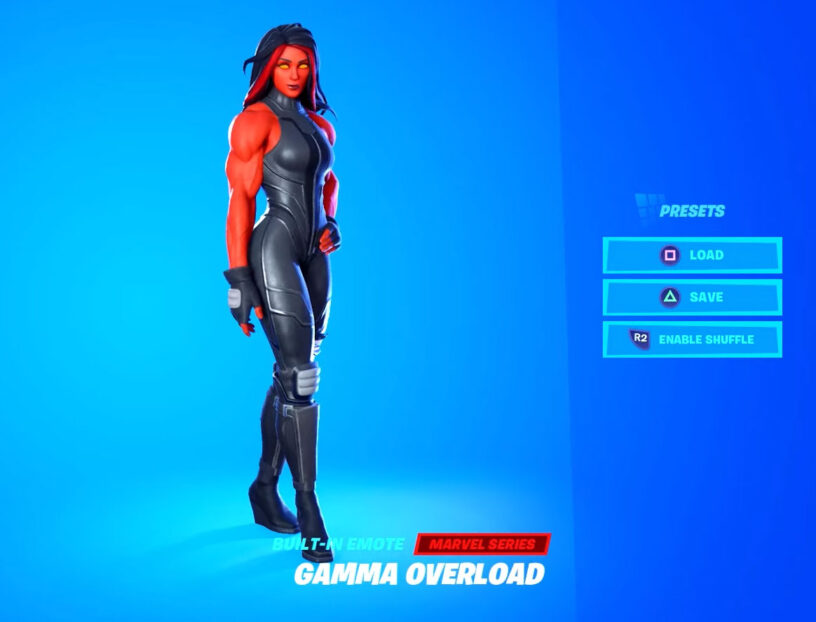 The prerequisite of getting to level 22 merely means you need to unlock the Jennifer Walters skin. After that, you will also need to make it level 29 to obtain the Gamma Overload emote which allows you to transform into She-Hulk. You can obtain that by completing the Jennifer Walters Awakening challenges.
Here's a look at the challenges you can complete! You just need 10 in total, but it's a good idea to complete them all anyway.
Week 1 Challenges
You can find how to complete these in our guide.
Search Seven Chests at Dirty Docks
Get Three Eliminations at Holly Hedges
Collect Four Floating Rings at Misty Meadows
Eliminate 5 Stark Robots at Quinjet Patrol landing sites
Gas up a vehicle at Lazy Lake
Deal 1,000 damage to opponents with Stark Industries Energy Rifles
Eliminate Doctor Doom Three times at Doom's Domain (Group Challenge)
Week 2 Challenges
You can find how to complete these in our guide.
Search Seven Chests at Salty Springs
Get Three Eliminations at The Authority
Dance on top of Three different Sentinel heads at the Sentinel Graveyard
Destroy Seven boats at Craggy Cliffs
Bounce on Four different dog toys at the Ant Manor
Ride a Motorboat under three different colored steel bridges
Search Seven S.H.I.E.L.D. Chests inside Quinjets (Group Challenge)
Once you've gotten your ten challenges done, you will unlock the Crimson style for Jennifer Walters. Equip that as your skin and use the Gamma Overload emote to transform into the mighty red She-Hulk!
We've got all sorts of additional information on this Battle Pass in our Fortnite Chapter 2 Season 4 Guide!