Leveling up is as important as ever in of Fortnite. Now that tiers are gone, you are going to need to grind up the levels to unlock the cosmetics in your battle pass. While Epic is advertising that this is much less of a grind, it doesn't necessarily appear that way on the surface. If you want to level up quickly, you are going to make sure to complete certain tasks each day. We're going to go over the fastest ways to gain experience to hopefully speed up the grind.
No More Battle Stars
With the big change over to Chapter 2, it looks like Epic decided to simplify things by removing battle stars. There were two systems in place previously, you could earn battle stars which would tier up your battle pass, and you could earn season XP. They've now gotten rid of the battle stars, and are only using experience. I like this change because it simplifies things, I just hope they reduce the amount of XP required to gain levels in the future.
Battle Medals & Medal Punchcard
This is a new daily like quest system that encourages you to play the game, and complete certain tasks to fill in your Medal Punchcard for experience. If you're grinding out levels, you will want to complete your punchcard everyday to get a big chunk of experience. If you can earn yourself ten medals each day, that will give a lot of extra XP.
What are the Medals?
Some medals require you to complete a very basic task and that's it, while others can be upgraded by doing more of that objective in a single match. You can earn some medals multiple times. These can be earned in Team Rumble, so if you want to get a higher tier of medal (there's bronze, silver, and gold) more easily, then you might want to do it there.
Scavenger Medal: Search through chests, supply drops, or supply llamas. You can level it up by searching through 4, 8, and 12 different ones.
Battle Medal: You earn this one by eliminating players. It can be leveled up from bronze to gold by eliminating 1, 4, and 8 opponents.
Survivor Medal: Reaching top 50, 25, and 10 in a match is the requirement to earn the medal
Assist Medal: Help a teammate get an elimination.
Power Leveling
Sometimes you will be given supercharged experience gain! When this happens make sure to play the game so you can earn a bunch of extra XP for all your in-game experience gaining activities.
Gaining XP
There are a lot of ways to gain experience now, and they aren't only based on eliminations or surviving throughout the round.
Explore the Map
You can earn 2,000 XP for each Landmark and Named Location you discover. This adds up to be quite a bit of XP, because there's a ton of different Landmarks on the map. Here's a look at the vast majority of them, you'll want to try and visit each of them if you are nearby. The map is slightly different in Season 2, but it's very similar.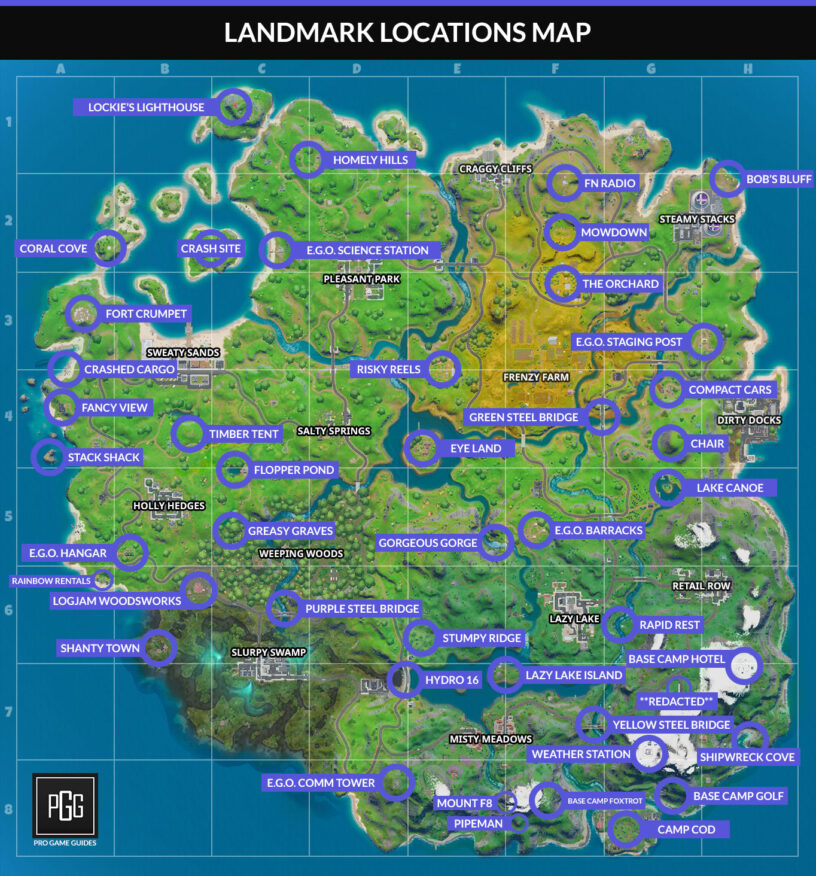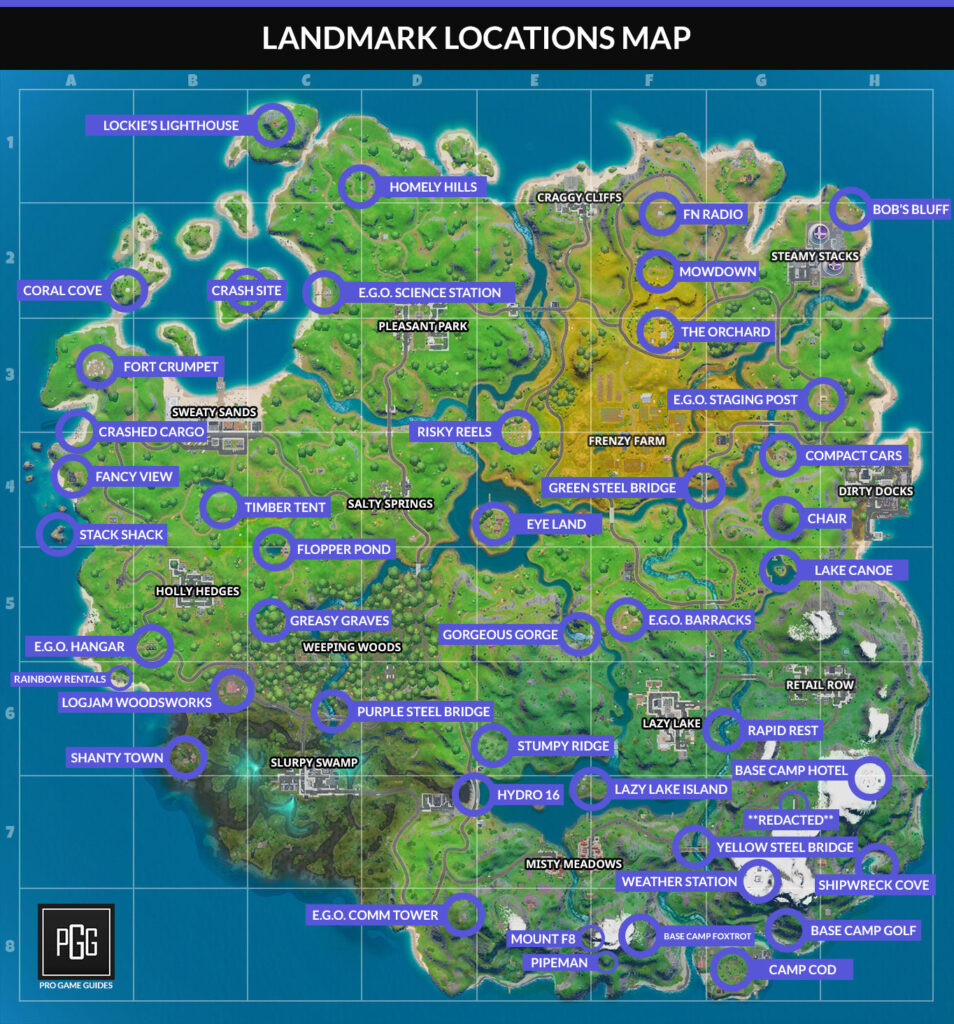 Challenges
This is not much different than previous seasons, but you'll want to make sure you complete all of the challenges you are given. These come in the form of weekly missions, and you can earn 40,000 XP for each one you complete. Each week has 10 total objectives you can complete, so you can earn 400,000 experience by finishing them all. To learn more about these, we've got an entire post dedicated to all the weekly challenges with full guides to help you get them done.
In-Game Bonuses
You basically gain experience from everything you do in-game. Whether it's hitting a certain amount of bullseyes while you are harvesting or getting an elimination, you will likely get XP from it. Here's some example, this is not a full list because there's a ton of different methods.
Search an Ammo Box
Search a Chest
Use a Fishing Spot
Headshot
Eliminate an Opponent
Knock an Opponent
Assist with an Elimination
How-to Level Up Fast
Unfortunately, there's no huge trick to this but making sure to play the game a lot. However, you can make sure to focus on a couple of different methods of gaining XP, which I am detailing below.
Play Team Rumble
This is going to be by far the best way to gain a lot of experience fast. You'll be able to put together a bunch of eliminations and assists which will stack up a bunch of XP. However, the big bonus comes from the experience you game for surviving. For each game you complete, you earn survival experience based on how long you lived. You get the same exact experience rates as you do in a normal game of Battle Royale, but in Team Rumble you are guaranteed to survive until the end. That means you are going to be getting a whole lot for each round you play, plus all the additional combat experience you'll get.
Complete Your Metal Punchcard Everyday
This doesn't take very long to do, and probably would only take a couple of rounds of Team Rumble. You don't want to miss out on this bonus each day.
Complete All Challenges
No surprise, but completing all of your challenges is going to be one of the best ways to level up. You'll get 400,000 XP by completing a week of them, so make sure to do all of these at some point. Thankfully, they don't expire like the Urgent Missions from Season X. You can see all the challenges you can do and how-to complete them right here. There's also daily challenges you can complete, which will give you 31,000 XP each.
Hidden Challenges
Something new for Season 2 is the addition of some secret challenges. These are fairly easy, but you need to do them right when they release because it appears that they are removed after a week or two. You can find out more about these on our Hidden Challenges Guide.
XP Coins
If you're looking for some easier ways to gather experience, then you can collect XP coins that spawn all over the map. Every other week or so they add more coins to the map, we have maps for where you can find them right here.