To celebrate the debut of both Spider-Man Miles Morales and Spider-Man 2099 into Fortnite, Epic Games has introduced Web Battles. Signing up for the event will earn you free cosmetics, so you won't want to miss out.
How to sign up for Fortnite Web Battles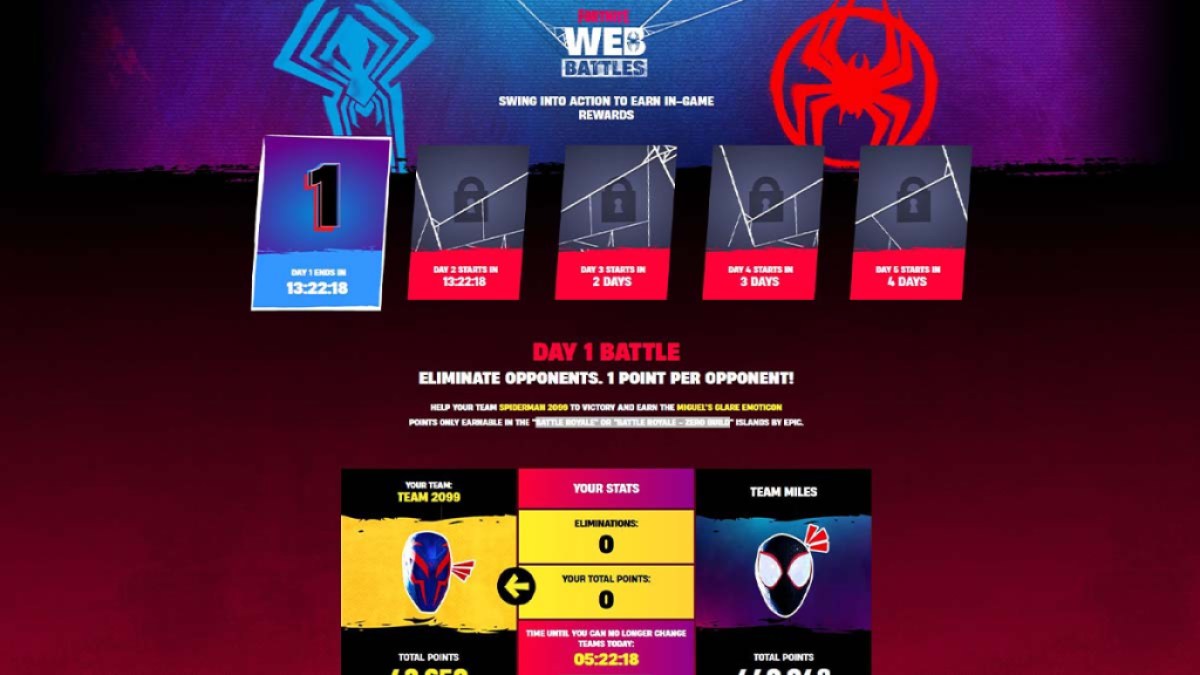 Signing up for Fortnite Web Battles is as simple as heading over to the website, signing into your Epic Games, and getting started. You'll have to choose between Team 2099 or Team Miles, and it looks like it's going to be a blowout in favor of Miles. Despite that, you can still get a lot of free cosmetics.
Related: Fortnite – How to Fix Error Code 91
Choosing a team each day will get you a different cosmetic, completely free of charge. Earning 40 points in total over the five days the event runs will get you Spider-Ham's Mallet Pickaxe. Points are earned in different ways each day. This event is doable both in the regular Battle Royale game mode and Zero Builds. It runs until May 22.
How to get points in Fortnite Web Battles
Each day will have different challenges to complete to earn points, and it starts off very simple by eliminating opponents. Here's how the rest of the event plays out.
Day One: Eliminate Opponents (One point per elimination)
Day Two: Deal Damage to Opponents (One point every 100 damage)
Day Three: Restore your Shield (One point every 100 shield)
Day Four: Deal Critical Damage to Opponents (One point every 100 crit damage)
Day Five: Survive Storm Circles
All you have to do is get 40 points over the variety of methods to get the Spider-Ham pickaxe, so it should be too tough to complete. Good luck out there and get your free cosmetics!
For more Fortnite news and guides, take a look at How to unlock all rewards in Fortnite Ranked Season Zero on Pro Game Guides.