Our Fortnite Welcome to Gotham City Guide walks you through the list of challenges you'll need to complete to earn the rewards for this event! It looks like Fortnite is doing a crossover with DC and some of the Batman universe. We're getting a chance to run around Gotham City, light up some Bat Signals, fire off Batman's Grapnel Gun, and foil the Joker by defusing some of his gas canisters!
This is a special event, which is along the lines of the recent Welcome to Pandora event that crossed over with the Borderlands franchise. The event will be sticking around for 10 days and kicked off on September 21st, 2019. You'll have until October 1st, 2019 to complete the challenges and earn the rewards.
Welcome to Gotham City Challenges List
There's a hidden location listed on the loading screen you earn, so check out this guide for more information!
Cumulative Rewards
Complete Any 2 Challenges: The Bat And The Cat Loading Screen
Complete Any 4 Challenges: Batman Logo Banner
Complete All Challenges: Catwing Glider
Welcome to Gotham City Challenges Guide
The challenges are fairly easily to complete, and you can always do them in Team Rumble if you feel like they might be difficult. You can also use Party Assist with any of these challenges which should help you complete the difficult ones.
Usable Items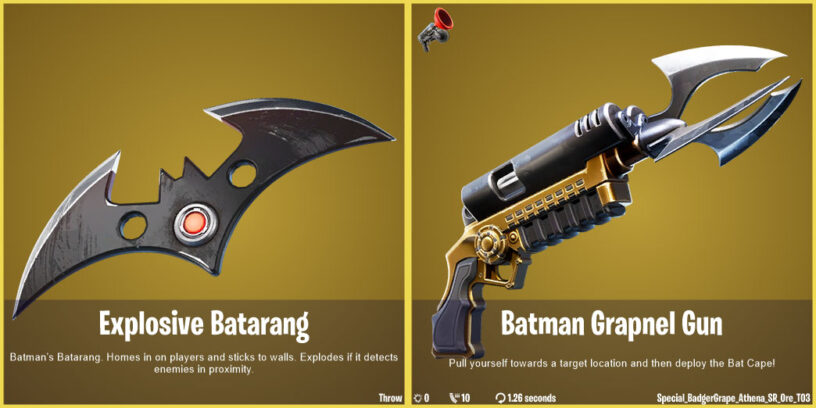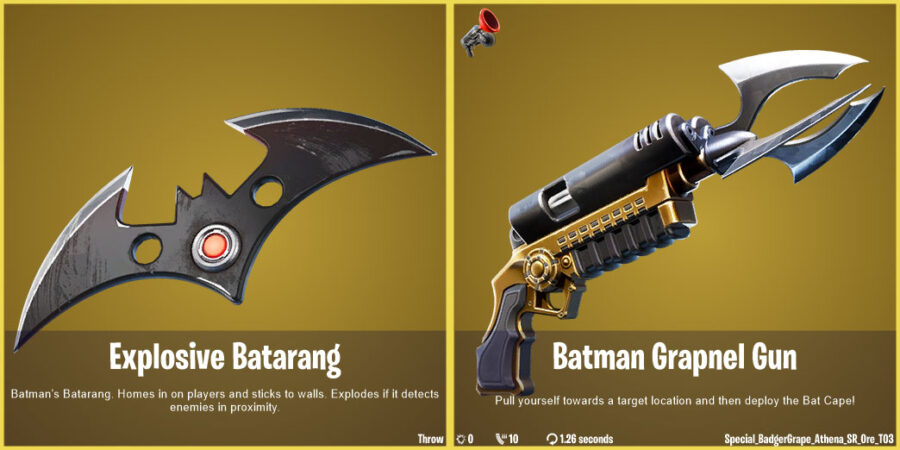 There are two items coming to the game that you will be able to use and will be required for some of the following challenges!
The Explosive Batarang will home in on players and sticks to walls. It will then explode if it detects an enemy nearby. It kind of reminds me of Remote Explosives, but obviously this will trigger on its own. Hopefully, there's going to be some kind of alert that one is nearby so they aren't too annoying!
Batman's Grapnel Gun is going to be very similar to the Grappler, but the big difference is that you'll deploy the Bat Cape which I imagine will act like a glider.
Deal damage to opponents with an Explosive Batarang (250)
I would just head to Gotham City and start looking for these immediately. It's going to be ridiculously populated, perhaps to old days Tilted Towers levels. You can likely wing these around and get some damage off somewhere because people will be running around all over. Alternatively, you could go into Team Rumble and just loot a bunch of chests to obtain these. Then throw them at unsuspecting enemies.
Light up different Bat Signals outside of Gotham City (3)
Here's where you can find all of the Bat Signals!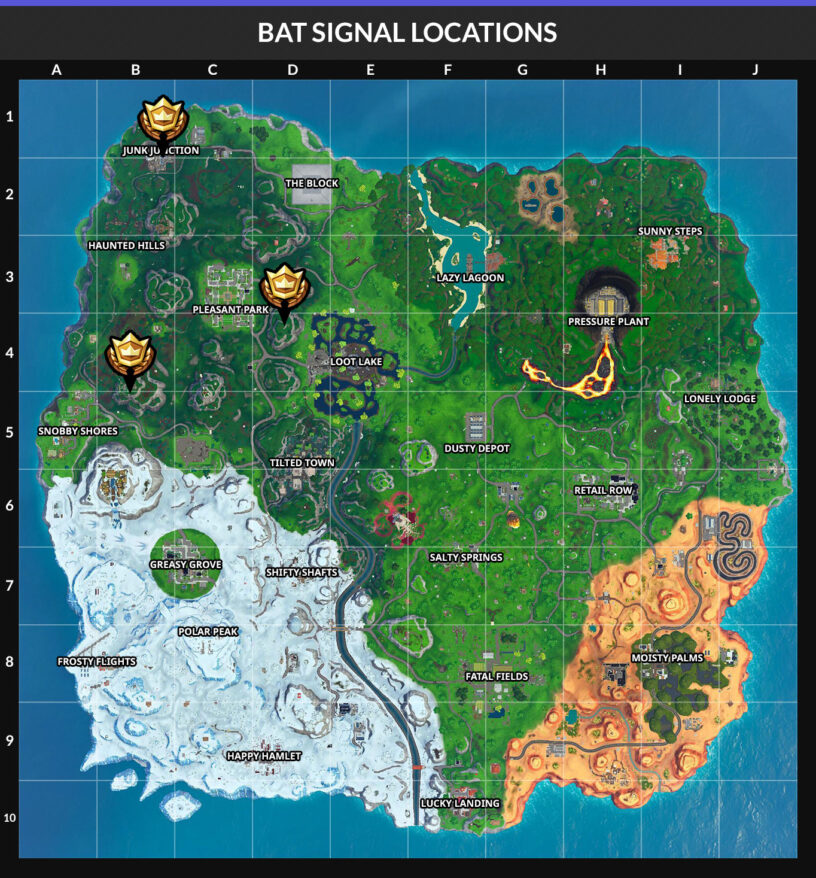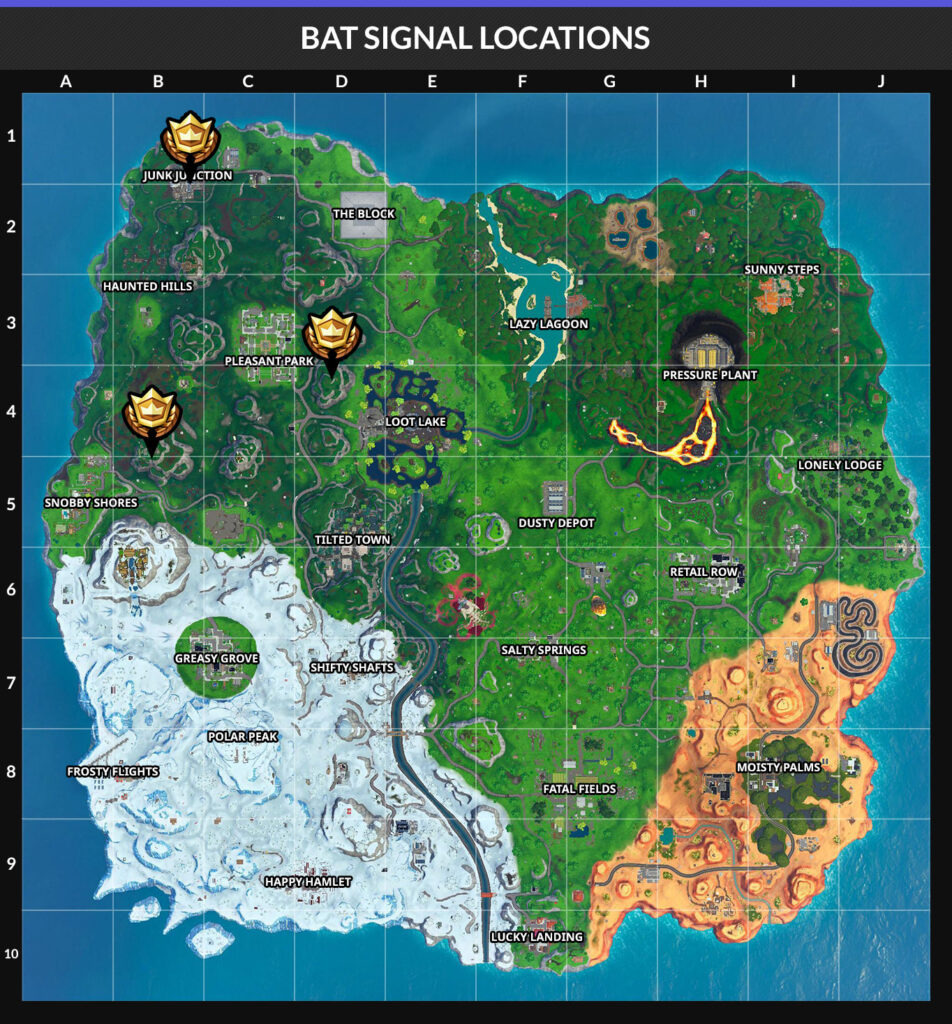 Use a Batman Grapnel Gun in different matches (3)
This one should be pretty easy. These are likely to be found in chests so Team Rumble would be the easier option to locate them quicker. Make sure to use them right away so you don't get eliminated before you can use it if you're playing in standard battle royale mode.
Defuse Joker gas canisters found in different named locations (3)
There's plenty of Joker Gas Canisters to find, but you might want to hit up the Pleasant Park, Loot Lake, and Gotham City route for speed.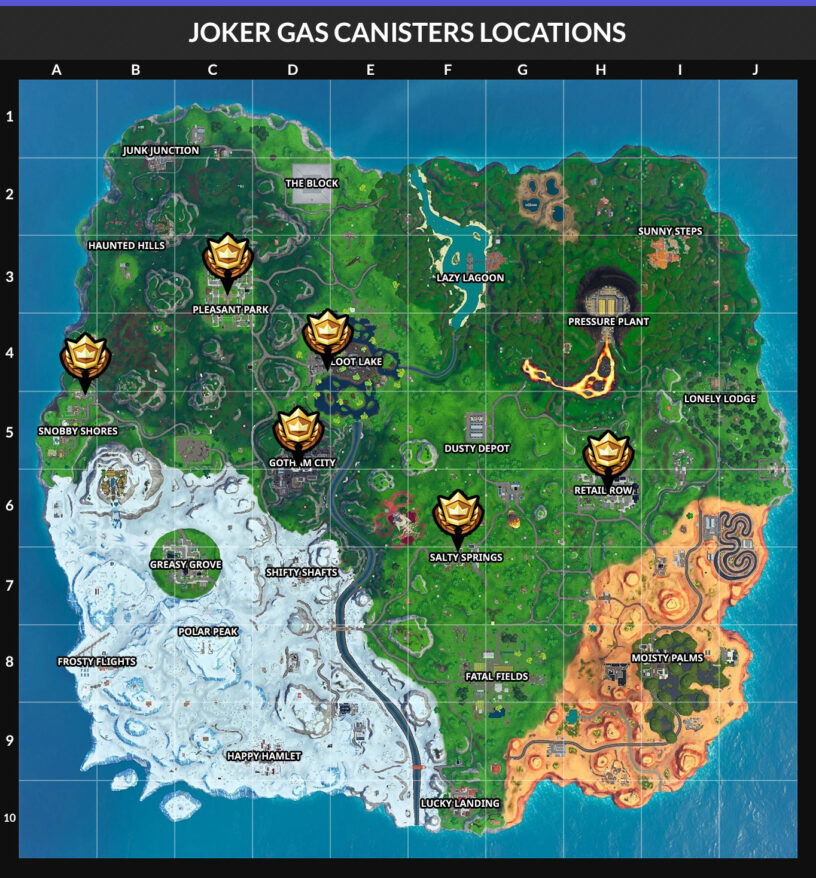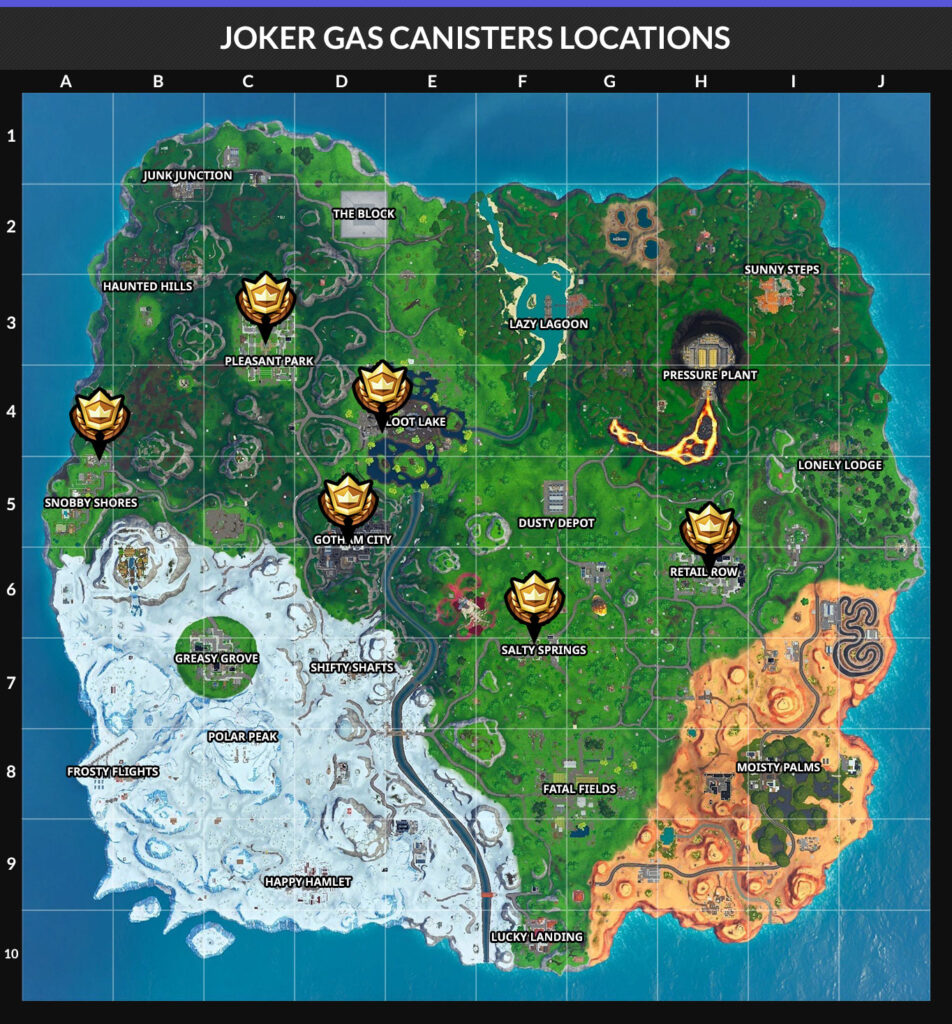 Deal any damage to opponents within 30s of using a Batman Grapnel Gun (1)
You should be able to combine this one with the usage of Grapnel Guns in different matches. Team Rumble would make this very easy, you just need to get a small bit of damage after using the gun. Thirty seconds is also surprisingly generous for a challenge like this!
Light a Bat Signal, use a Batman Grapnel Gun, and deal any damage with an Explosive Batarang (1)
Use the map above to find the Bat Signals! You'll just need to locate the rest of these items in the game, this will be pretty easy to do in Team Rumble.