Since Fortnite Chapter 2 Season 5, Bounty Boards have been all over the island. These provide a method of earning Gold Bars quickly by giving players a target opponent to eliminate and rewarding them if they do it within the time frame. However, the locations of these Bounty Boards seem to change with each season, leaving players to find their new locations. We list all the current Bounty Board locations in the map and guide below so you know exactly where to look, regardless of where you land!
Right now, we are in Chapter 3 Season 2 of Fortnite. Here is the current map and list of each Bounty Board location:
Related: All Vending Machine locations in Fortnite Chapter 3 Season 2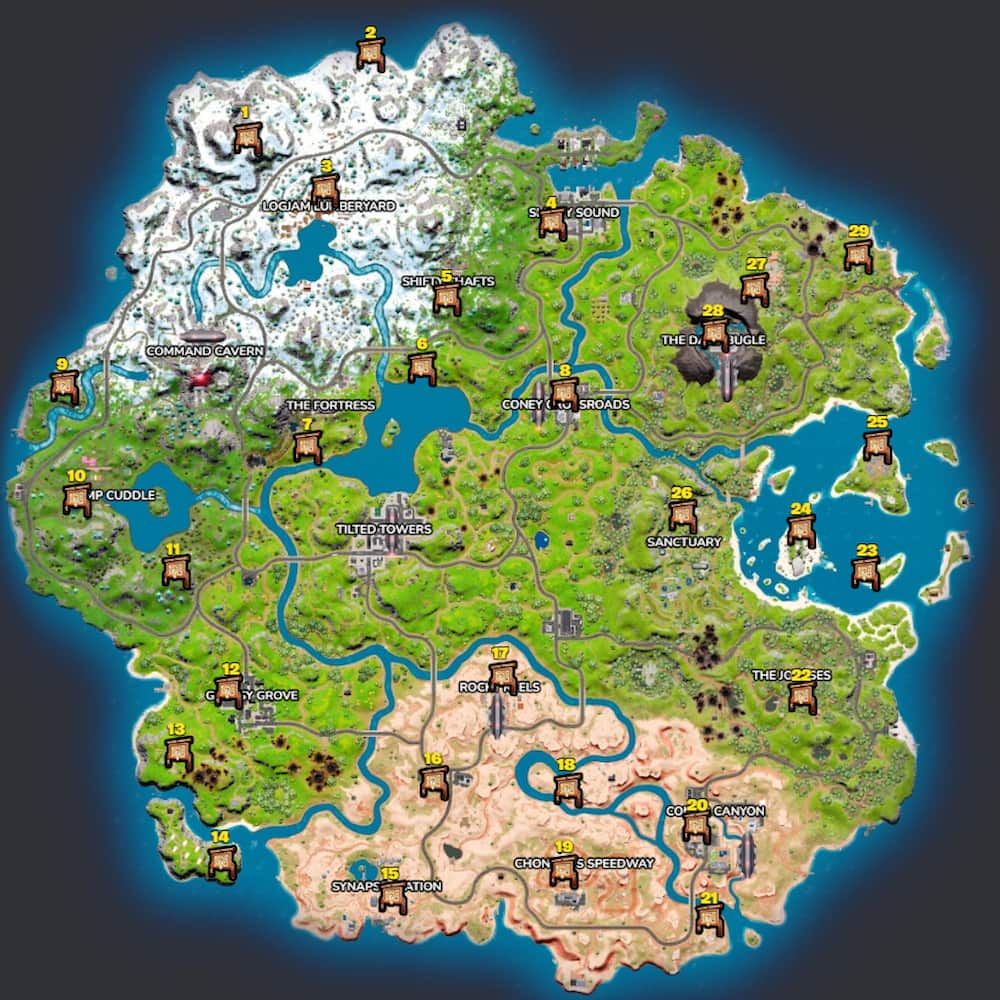 At a hilltop in the Seven Outpost 2 Landmark.
On the northern tip of the map, near a fishing spot at Washout Wharf.
At the center building of Logjam Lumberyard.
At the parking garage of Sleepy Sound POI.
Near the truck parking location on the southern part of Shifty Shafts.
Outside the fishing cabin to the south of Shifty Shafts.
Between the recreational vehicles to the south of The Fortress POI.
Inside the first building near the blimp in Coney Crossroads.
Outside the Seven Outpost 5 Landmark on the eastern edge of the map.
On the ground floor of a big house in the Camp Cuddle POI.
In the basement of a solo house between the Greasy Groove and Camp Cuddle POI.
In the basement of the Taco restaurant at the center of Greasy Groove.
Outside the Seven Outpost 1 Landmark.
Outside the Electricity Turbine Station.
At the central building of Synapse Station.
Inside the Barn/Bar between the Synapse Station and Rocky Reels POI.
At the northern building of the Rocky Reels POI.
Outside a broken building to the north of Chonkers Speedway.
Inside the main garage of Chonkers Speedway.
Outside the Condo Plaza at Condo Canyon.
Outside the Seven Outpost 4 Landmark.
In the basement of the main building in The Joneses Landmark.
Outside the Seven Outpost 6 Landmark.
Right below the mighty Foundation Statue.
At the LaunchPad POI island east of the Sanctuary Landmark.
At the north buildings of the Sanctuary POI.
Outside the Temple Landmark to the north of The Daily Bugle POI.
At the ground floor of the Daily Bugle main building.
Outside the Seven Outpost 3 Landmark.
That covers all the current locations of the Bounty Boards in Fortnite! Be sure to check back for changes with every season.
Don't forget, we are offering complete coverage for Fortnite Chapter 3 Season 2! You can find all the information you need on our Fortnite Chapter 3 Season 2 Achievements & Legacies: Full List & guides