Fortnite Chapter 3 Season 2 is back with a new set of Seasonal Quests for players to complete and earn valuable XP. As the battle between the IO and the Resistance rages on, turrets and cannons have popped up in several areas of the map. One of the Week 7 quests tasks the players with destroying a turret using a Remote Explosive.
Although the Quest mentions turrets, players can also complete this mission by destroying a Siege Canon in any one of the IO strongholds or one of the many IO airships floating across the map. We found this to be easier, and we recommend landing at Command Cavern, as there are a total of 10 Siege Canons in and around this POI. Refer to the map below for the exact location.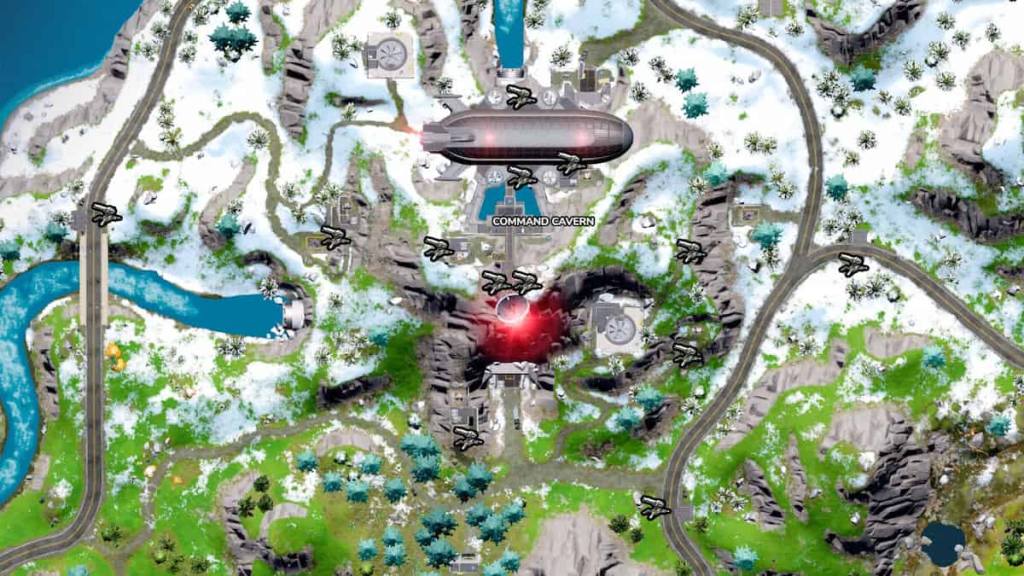 Related: How to disable a tank by shooting the engine in Fortnite
The process of using the Remote Explosive to destroy a turret is fairly simple. Simply equip the Remote Explosive from your inventory and click the Attack Button (Left Mouse Button on PC, R2 on PlayStation, RT on Xbox) to throw it. Make sure to place the explosive on the turret. Then, take a few steps back and press the Aim Down Sight Button (Right Mouse Button on PC, L2 on PlayStation, LT on Xbox) to detonate it. Completing the Quest will grant the player 20,000 XP.
Remote Explosives can be found as ground loot, in chests, or can be bought from NPCs for gold. The two NPCs selling Remote Explosives are Peely and Camp Cuddle Leader. Peely can be found in front of Loot Lava Volcano Station, east of Coney Crossroads. Camp Cuddle leader can be found in Camp Cuddle. Both of them will sell Remote Explosives for 774 Gold Bars.
Looking for more Fortnite guides? Check out Where to recover stolen Seven supplies at IO Locations in Fortnite here on Pro Game Guides.