Impostors Mode is a recently released game mode in Fortnite that has striking similarities to Among Us. Players in the game are required to eliminate opponents if they are an Impostor, or vote off Impostors if they are an Agent. As a means to encourage players to test out this game mode, Fortnite how as the Impostors Trials, where you can get rare rewards like a Spray, an Emoticon, or even a previously unreleased Wrap.
To get the rewards in the Impostors Trials, you need to play the mode. According to the official page for the event, players are given a badge for every two games they play. You don't need to win the game for it to count, but simply participate in a match. There are rewards for your 1st, 6th, and 11th badges. They are outlined below.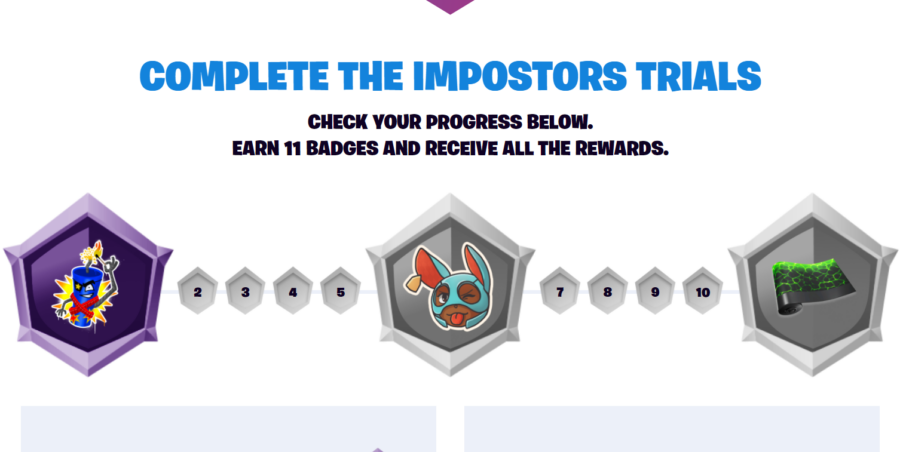 As you can see, it doesn't take an abundance of skill or time to get the rewards. If you want to know the actual number of matches you need to play for each reward, use the list below.
Hot Headed Spray: 2 Matches
Just Between Us Emoticon: 12 Matches
Spectral Flex: 22 Matches
While you don't need to score a victory for the match to count, you can still take a look at our Fortnite Impostors Mode Guide for helpful tips and tricks!
Head on over to our Leaked Skins page and see what cosmetics might drop in the future. The complete guide for the newest season is here at our hub for Fortnite Chapter 2: Season 7 Guide – Challenges & Information!