In the week 3 Epic Quests for Fortnite Chapter 2 Season 7, we receive the task to glide at least 20 meters while holding a chicken. Since the season is relatively new, some of us aren't sure where chickens spawn or how to catch one. In the guide below, we provide a map with the best chicken spawn locations and some general instructions on how to complete the quest.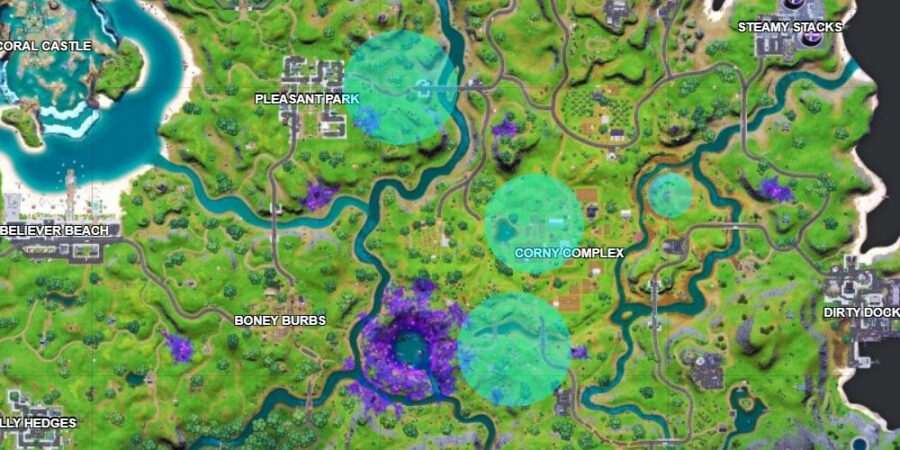 The blue circles in the image above outline the best areas to find chickens for Chapter 2 Season 7. As you can see, the best place to find them is at or around Corny Complex. There are many other chicken spawns on the map, but these are the areas where their spawn rate is the highest. Since chickens move around, they unfortunately don't have specific locations.
Related: Fortnite Chapter 2: Season 7 Guide - Challenges & Information - Pro Game Guides
How to Glide
Gliding with a chicken is fairly simple; it's only difficult to catch one. When you go to one location shown in the map above and find a chicken, you have two options. You can crouch and slowly approach the chicken to catch it off guard, or you can run straight to it and mash the interaction button. Rushing it will usually work if you're fast enough to press the button to grab it when prompted.
Once you have caught one, simply run and jump! You will glide to the ground slowly. The easiest way to complete this quest is to find a high place, take the chicken there, and jump off it. Alternatively, you can build a ramp prior to catching the chicken and jump off it from there!
That's all there is to know about how to glide with a chicken! Be sure to check out our Fortnite Homepage for more great content, guides, and news.
Did you know we have a cheat sheet for every week of Epic Quests this season? You can check out the one for this week on our Fortnite Chapter 2 Season 7 Week 3 Epic Quests Cheat Sheet!