As players progress in level through the Battle Pass, they're given new Epic Quests that pertain to Agent Jonesy's butterfly form. The third quest given requires the player to reach level 49 in their Battle Pass. That's the challenge we're covering in this guide.
How to Investigate the Anomaly Detected at Catty Corner in Fortnite Chapter 2 Season 6
Once again, you must be level 14 in the Battle Pass to do this quest. If you aren't at least level 49, you won't receive this quest on your log, and you can't complete it. Once you are level 49, though, the quest is fairly easy. It only requires you to find Jonesy (as a butterfly) and cause a large explosion.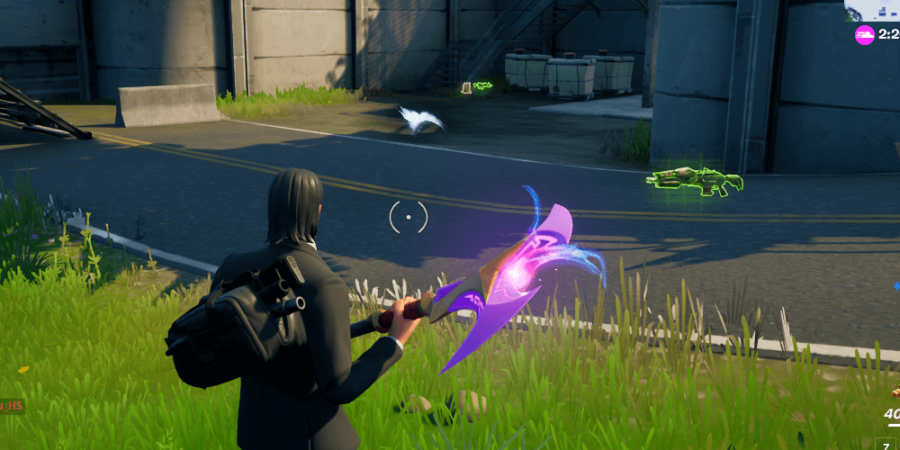 Jonesy can be found near the massive bunker directly East of Catty Corner. He's fluttering around on the road in the middle of the area. Once you find him, slowly approach him and pay attention to where he floats.
Related: Where to Find Raptors in Fortnite - Pro Game Guides
As you can see in the image above, Jonesy flutters over to the Vault door on the western wall. If you approach it, you'll notice that it is slightly ajar, but you can reach whatever is inside. You also might have noticed that The Vault has a telltale text next to it that says Boooooooom. This is a suggestion that you'll want to use an explosion on this Vault.
Next to the Vault door is a red gas canister, the kinds of which are known to cause massive explosions. We're sure you know what's next. Shoot or hit the gas canister and step back! It will explode and force the Vault door to shift open ever-so-slightly. Approach the door again, and you'll find that you're able to get the artifact inside.
From there, you'll be rewarded with a nice purse of XP, and unlock the next Agent Jonesy Jump outfit!
Don't forget, we've got complete coverage of Season 6. If you use our Full Fortnite Chapter 2 Season 6 Guide, you'll find the guides to all the challenges, milestones, achievements, and more!