During Season 6 of Fortnite Chapter 2, Raptors hatched from the dinosaur eggs that were placed sporadically throughout the map. These hostile creatures are aggressive on sight and are significantly more difficult to beat than any other animal. Raptors provide plenty of benefits if you tame them or kill them, so we're providing an in-depth look on where you can find them.
Where to Find Raptors in Fortnite
Raptors are tough opponents, especially since they're usually in packs of two or three. If you can tame one, it'll make a formidable ally for your team. Or, if you simply want the resources, Raptors drop three Animal Bones and two Meat when they're killed.
From the looks of it, they've taken over a significant percentage of the animal spawn areas. The areas highlighted blue in the map below are the currently known areas to find roaming Raptors.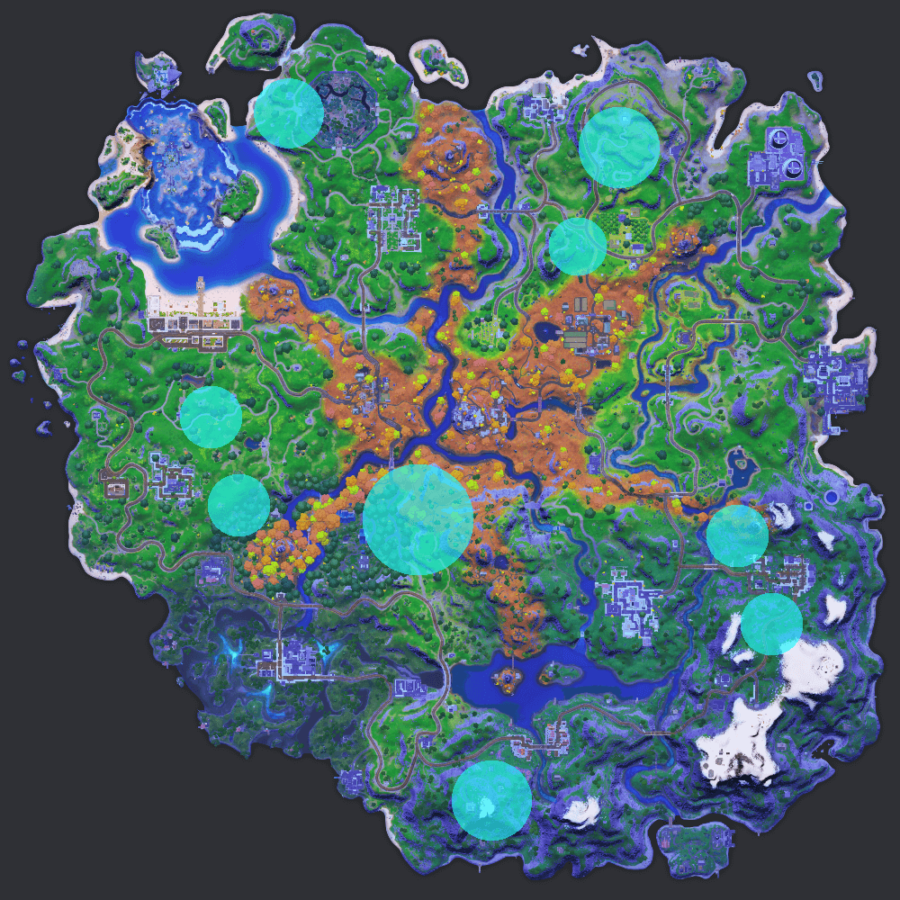 The area where Raptors are most frequently seen is between Primal Pond and Weeping Woods. There were Raptor eggs around this area (before they hatched in Week 3), so it's no surprise to see them roaming the massive hills here.
Related: Where to Find Wolves, Chickens, Boars, and Frogs in Fortnite Chapter 2 Season 6 - Pro Game Guides
The list below also provides their general spawn locations. Unfortunately, Raptors wander a lot. So there is no way to pinpoint one specific location. If you keep your eyes open, though, you'll definitely see one in these areas.
Holly Hedges: In the enormous field East of Holly Hedges (near Flopper Pond), there is usually at least one pack roaming around.
Misty Meadows: Southwest of Misty Meadows is one of the smaller mountain peaks on the map. There are anywhere between three to five Raptors patrolling this area.
Retail Row: Raptors have been spotted both North and South of Retail Row. At the moment, we're unsure if both spots are the same set of Raptors that just migrated, or two different spawn points.
Primal Pond: As mentioned above, there are usually plenty of Raptors roaming between Primal Pond and Weeping Woods. We usually find at least five every time we visit this general area.
Colossal Crops: North of Colossal Crops and Southwest of The Orchard is a spot where Raptors occasionally spawn.
The Orchard: In the hilly area North of The Orchard, you will almost always find at least one pack or Raptors.
Stealthy Stronghold: There are usually about one or two packs of Raptors roaming West of Stealthy Stronghold. Perhaps the cages in Stealthy Stronghold were meant to contain them?
Many players report seeing Raptors in more locations. As mentioned above, however: Raptors roam. It's very likely that you will see Raptors outside of the areas mentioned above. Still, if you visit at least two of the areas mentioned above in any match, you're almost certain to see at least one Raptor.
We've got more coverage for Season 6 besides Wildlife! Check out our Full Season 6 Guide to see all the challenges, cosmetics, and more!