Shindo Life is a massively popular combat-based Roblox game. Sometimes, it can be overwhelming to be on a public server full of strangers, and it can be worrisome since you never know their true intentions. Fortunately, players can circumvent mystery of playing with strangers by joining private servers with their friends.
Our Obelisk Private server lists below are private servers that have already been set up and that you can use to play with the people you like. Using an already established private server has all the benefits of having a customized social experience in the game, but avoids you being forced to pay for it. Playing with customized groups of people also often leads to greater success when taking down powerful bosses and obtaining those big rewards!
These private server codes all start you in the Obelisk area, so it helps to be familiar with that area in the game if you want to use them. While you're here looking at Obelisk private server codes, don't forget to use our guides for more help in the game, such as the Shindo Life bloodline tier list and our Shindo Life Beginner's Guide. We also have the full list of all the most recent Shindo Life Codes for RELL Coins and Spins, and a full list of private servers for Jinshiki!
All Roblox Shindo Life Obelisk Private Server Codes List
Here's a look at all the working Shindo Life Obelisk Private Server codes.
_JgFUI
_JPL0e
_ofQq6
-CE5hL
-o4Bg
-RyBRU
-xPyoM
-ZLVRJ
0-RlPo
0871W8
08fugP
09DvCs
0DSS3k
0goLRB
0nsn18
0PHB-n
0SJeS2
18mHIn
1e5hNE
1zvECA
24vKA0
2Gsxy3
2Hkuy9
2o1Gms
2oPciJ
2QLKJM
2QuxO
2R-syc
2RAchb
2ThCfw
2tZtRn
2uvME2
2X0dpj
33KzX2
33vWTe
3c94O8
3D9E_U
3DayPA
3RfgxS
3rjpoN
3UKFJ4
40OsFu
4Akvn2
4T_Z-T
4UwtAD
4zGwwE
5d-88a
66Q-qd
69p42W
6mCtFo
7oC-He
7XzwT9
8eR6D3
8hqjWO
8KArxS
8QKlM_
8S951k
8vQTVP
8y8Noq
8ZV6sW
8ZydHf
97BHrm
9ae9ra
9C5Eq7
9dokwY
9FLsXv
9qDYIw
9UQy3j
9wXR-R
A6Dv24
AB7FiP
aEG4S3
AgtLcn
ahNKzW
aHOoBk
ALfSDo
Ame5L_
aWs6Po
B2LOMB
BCjhP0
BFIVk5
BGjqnr
bO8kvU
BoqePB
BXz902
Bz5RQq
Ce6dEk
CjdUGG
Ctadha
cTMZL7
CzQgjE
czVWuA
dcDBR6
dfLXmo
DrFQ6t
DsjagO
dSPp0F
dzuHJH
E-4_o-
E0Xgdq
e5Afyg
e5tbEr
EagaGx
eb0Ec8
Edv8uH
EeCmWi
EEkmMc
eLapCt
eMXePh
Ep7UO
ETgE9X
EvRA8H
f2gU8h
fG4Lgo
Fgg5UL
Fh3i-k
fRe_4G
FTEyfW
fVRtOq
fXi1h1
G1Hdb4
G2DE29
G5RqHA
G8-EoL
gg6oUc
Ggp0nE
gH8G8R
GrdLFY
gt93NS
GtZN40
gXk0Kv
h-yai8
H2-a28
h23Ok_
H5CWBv
h8jvmy
hGKMts
HJcnLy
HJTpmW
HRDox5
iJeDo
J4HuaK
JatC7H
JhJhAg
jijX4t
jQiHp5
JYKuIK
K3TtzE
K4q9Jf
kFsjxP
KhPK0U
KloPeq
KpDA4
KQmhGQ
Ksjtvp
Kuh1H6
kuKLv0
Kya-NL
KyJvee
kyM9e0
LEZazq
Lg8EtW
LMmVdB
LTv36K
LVqe4e
LYE3SG
M3aWJa
M5z_t0
m8Vxcg
maiboK
MAiHFD
MFHOUg
mGaO6P
mHAZtS
miPpJr
MKh9UQ
MLmOFm
mn_xGR
mqeRUI
mrmXGS
msKaY3
Muo_65
mw3qEF
MWrt6c
Mx3e3s
n49Z8d
nCBVFL
nhP3aF
NmH38c
nSw_QA
NyjA1f
OAtd0C
oi4Dbc
OJscUo
OjXxdg
oRFLRc
OtPa1u
ozFZJ6
P4cu6X
p7agqj
PadPpk
pBA7Uz
Pd6ZsH
phyKYA
PiWPwp
pu9eKj
Pyzx03
q1gSsj
q1WgWU
QIjafV
QtFx8W
QUOnXE
QVcbYR
r92PyJ
Rax-zt
RjOXLB
rL46J-
RNNfOE
RnOqf0
rOfCAJ
rQRWzE
RU2sTg
ru4wag
RXdQ7M
s-EuYy
S1p32U
s3_Rcc
SfhiuM
SflGW1
SjDaMf
sMnXVG
SrhB9W
StvooT
SYSOEH
T6DWj8
TCEg7f
tjWENr
tJygcs
tMkHqz
tpNXsS
Trm8CJ
tyJq2t
u3TUdx
U6FaMn
UbgjOY
uDFX5g
UKvX7q
uMTFU-
Uno_ha
uNYdua
us_Enc
uUU1-r
UYBUNw
v2HnyC
v3o3tL
vHRaZA
VM2XQV
VRvL2O
VvHb5B
vXnEWS
w3Cgp
Wd9r_h
WDm6HV
wdT4g5
WEhhel
wFfisH
WLJUsz
wphj_x
Wrm89X
WWpFZJ
x43hV
x9Dq7m
XbTF7h
xeLbYv
xg5IR7
XstV76
Y-yPtF
y65keN
YBTh12
YCWCKq
YEXQLa
YHPMt6
yhsKA2
YkJeg-
YNccZg
yqA6di
yTohAM
yTYxDU
yusZp4
yytumC
z58fM6
Z6DKqb
z8eWPA
Z8mGSt
zAjXSn
ZrTDOz
zUeUBj
Roblox Shindo Life Obelisk Private Server Frequently Asked Questions
How to Use Shindo Life Obelisk Private Server Codes
Once you have selected a server code, it's a simple process to join it. After you launch the game, press the Play button to enter the screen where you can select which world you'd like to play.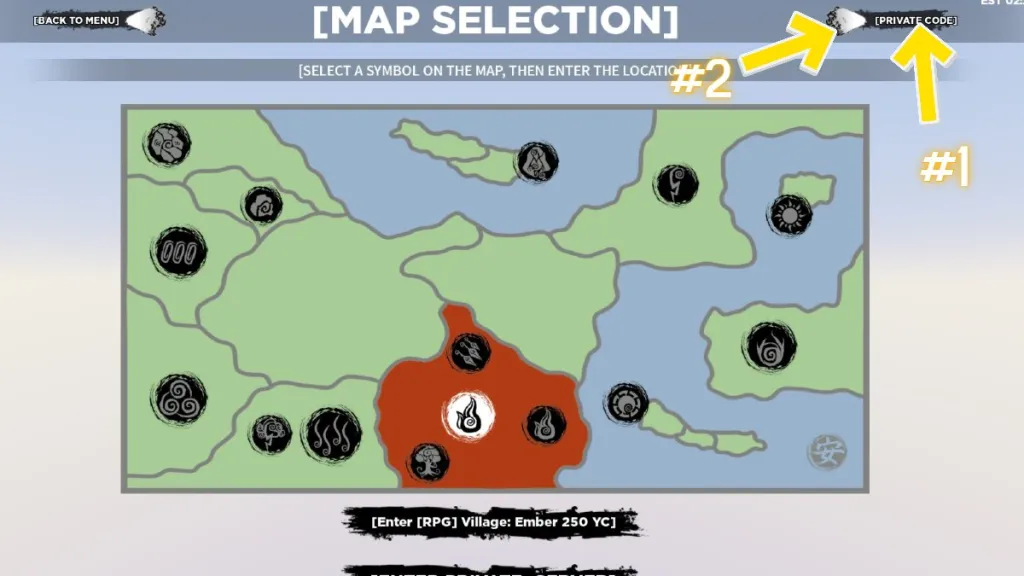 Select the [PRIVATE SERVER] textbox in the top right corner to enter the code. Enter the code exactly as it's listed above.
Press the Right Arrow button next to the textbox. You'll know it's successful if you see a notification in the bottom right corner of the screen that says it is connecting you to that server.
Why aren't my Shindo Life Obelisk private server codes working?
Most games will not notify you if a server code you entered is invalid, and Shindo Life is no exception. These codes are case sensitive and require all punctuation marks, so the most likely reason for one of these codes to fail is that it was entered incorrectly. To avoid this, copy and paste the code from our page instead of entering it in manually.
If you are sure you entered it correctly and it still doesn't work, the code may no longer be valid. Private servers can (and often are) disabled without notice. If this is the case, be sure to let us know the code didn't work for you so we can investigate and update the page!
How do I create a private server in Shindo Life?
If you have at least 999 Robux in your account, you can purchase your own private server and share the code with your friends. After you launch the game, press Play to go to the map select screen. From there, press the button under the map that [Enter Private - Server]. It will then pop up the window to purchase your own server for 999 Robux. If you don't have enough Robux to purchase a server, you can instead opt to purchase additional Robux from the same window.
If you're looking for codes for other games, we have a ton of them in our Roblox Game Codes post! You can also get a bunch of free stuff via our Roblox Promo Codes page.