Shindo Life is a massively popular Roblox game based on the hit anime series Naruto. Whenever you join a public Shindo Life server, you are matched with dozens of other players that may be friendly or combative, and there is no solid way to know who you are playing with and what their intentions are. Fortunately, you have the option of joining private servers in the game.
Our Jinshiki Private server lists below are private servers that have already been set up and that you can use to play with the people you want to play with, rather than strangers. Playing with customized groups of people often leads to greater success when taking down powerful bosses and obtaining those big rewards.
These private server codes all start you in the Jinshiki area, so it helps to be familiar with that area in the game if you want to use them. While you're here looking at Jinshiki private server codes, don't forget to use our guides for more help in the game, such as how to level up fast in Shindo Life and our Shindo Life Beginner's Guide. We also have the full list of all the most recent Shindo Life Codes for RELL Coins and Spins!
All Roblox Shindo Life Jinshiki Private Server Codes List
Here's a look at all the working Shindo Life Jinshiki Private Server codes.
-07o2Q
-dyJZV
-h7Xm8
0o87iT
0Q1bxU
0wnW_m
16hstl
1DXZAX
1gxEE3
1yJksT
2Kt0te
2KtOte
2WXpCw
34dfRA
35vaZP
39aUEW
3Qrhlz
5t9HIC
75wZ-0
8Cqv2O
8W072_
9Ig4fN
AurmWW
c1X48B
Chqwep
CPxcXG
Cv-0Uz
Cv-OUz
cx7IsN
dft_JC
DNhs6r
EH3gEl
fgc4BI
fgc4BI
fkU1IO
gRxzDg
hJYG8t
HpoWze
hy4qbZ
IHqida
IJu2Wt
J6g9C9
LE6AP_
lOLJC9
NO6Dg4
NRTbT8
oLksGi
Omh_m0
Ooc1Im
pcYhy6
pNGMXP
r5ywbg
T_tScH
tgairz
tJ_zei
TLn2Da
tVffoB
U0ozoB
UA9rRr
uwRNA7
vcKtt7
v5OUL8
V6WPOO
Wi816B
WoKj_Z
wpta45
XeIESM
XelESM
XsX9VL
Y503XF
y7KhAF
YiFmoR
yiL9tx
YofdAw
yVmE0m
Z_MOu5
ZrQB0_
zRnvBz
ZBP9BW
Roblox Shindo Life Jinshiki Private Server Frequently Asked Questions
How to Use Shindo Life Jinshiki Private Server Codes
When you have found the code for the server you'd like to join, it's a simple process to join it. When you first launch the game, press the Play button to enter the screen where you can select which world you'd like to play.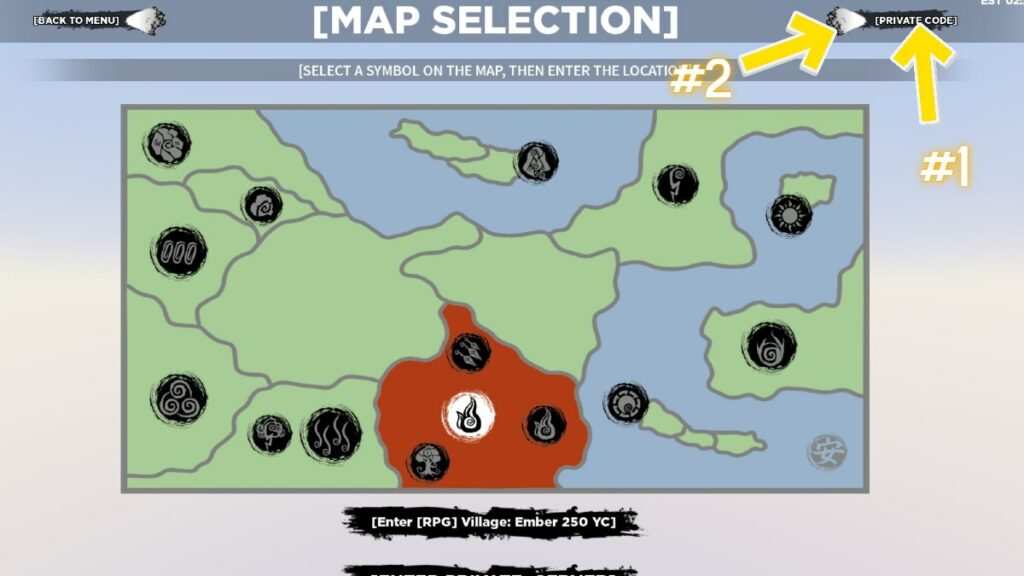 Select the [PRIVATE SERVER] textbox in the top right corner to enter the code. Enter the code exactly as it's listed above.
Press the Right Arrow button next to the textbox. You'll know it's successful if you see a notification in the bottom right corner of the screen that says it is connecting you to that server.
Why aren't my Shindo Life Jinshiki private server codes working?
Unlike normal codes in Roblox games, games rarely notify you if a private server code you entered is invalid. The most likely reason for one of these codes to fail is that it was entered incorrectly. To avoid this, copy and paste the code from our page instead of entering it in manually. These codes are case sensitive and require all punctuation marks.
If you are sure you entered it correctly and it still doesn't work, the code may no longer be valid. Private servers can (and often are) disabled with no notice. If this is the case, be sure to let us know the code didn't work for you so we can investigate and update the page!
How do I create a private server in Shindo Life?
Players who don't want to join servers run by others can create their own. When you launch the game, press Play to go to the map select screen. From there, press the button under the map that [Enter Private - Server]. It will then pop up the window to purchase your own server for 999 Robux. If you don't have enough Robux to purchase a server, you can instead opt to purchase additional Robux from the same window.
If you're looking for codes for other games, we have a ton of them in our Roblox Game Codes post! You can also get a bunch of free stuff via our Roblox Promo Codes page.