Fortnite's legacy for weird items continues and Epic Games have introduced an Inflate-A-Bull item to use in the game. This time players will have to use the same item to complete one of the legendary quests in Week 6.
How to use the Inflate-A-Bull in Fortnite?
After getting their hands on the item, players cannot activate the rare item by staying still on the ground. They will have to jump and be midair to use the item. Moreover, the newest item is very good for making rotations and neglecting fall damage while jumping from high distances.
The item turns your backpack into a mini-cow that can be used to recognize enemies who have the item on them. It can also detach alien parasites and get rid of fire if you ever found yourself in a sticky situation. The item has limited health and upon certain time of usage, it will run out of air. After being blasted by a shot/ manually taking it down, the item will temporarily go on a cooldown of eight seconds, similar to the recon scanner in the game.
After completing the challenge, players will have their hands on 30,000 XP in Fortnite.
How to find the Inflate-A-Bull in Fortnite Season 7?
While the item Inflate-A-Bull can found be as floor loot, chest loot everywhere around the map. Your best bet is to land near the IO Camp located west of the Weeping Woods. The shining disc antenna should be a clear indication of the place and players can also follow the map given below to reach the exact position in Fortnite.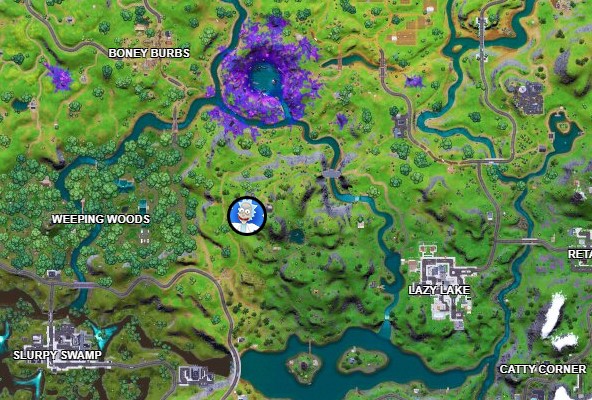 Rick Sanchez, one of the biggest highlights of this season, and the NPC sells the Inflate-A-Bull item for a meager 25 gold. Keep in mind that many players might be landing at this location to complete their legendary quests. Rick sells only one of them per match. Thus, it is a first come-first served deal and the players may need to chase other players to get their hands on the new item.
Note: The Inflate-A-Bull is currently disabled in all playlists as a result of a bug in Fortnite Chapter 2 Season 7. The developers are working on the issue and it should be enabled soon.
If you'd like to use a video guide for this quest, check out the video shown below!
Check out our Fortnite Chapter 2: Season 7 Guide – Challenges & Information