Fortnite has brought in a new collaboration with the Jordan Brand clothing line by introducing the Cool Grey XI shoes to the game as one of their cosmetic items. They have brought a brand new map and game mode called Jumpman Zone, where players can complete challenges to earn exclusive rewards in celebration of this collaboration.
However, selecting the game mode can be confusing since it's not in the list of Epic Games maps as we all expected. You can still select the game mode in the Discover tab. Here's how: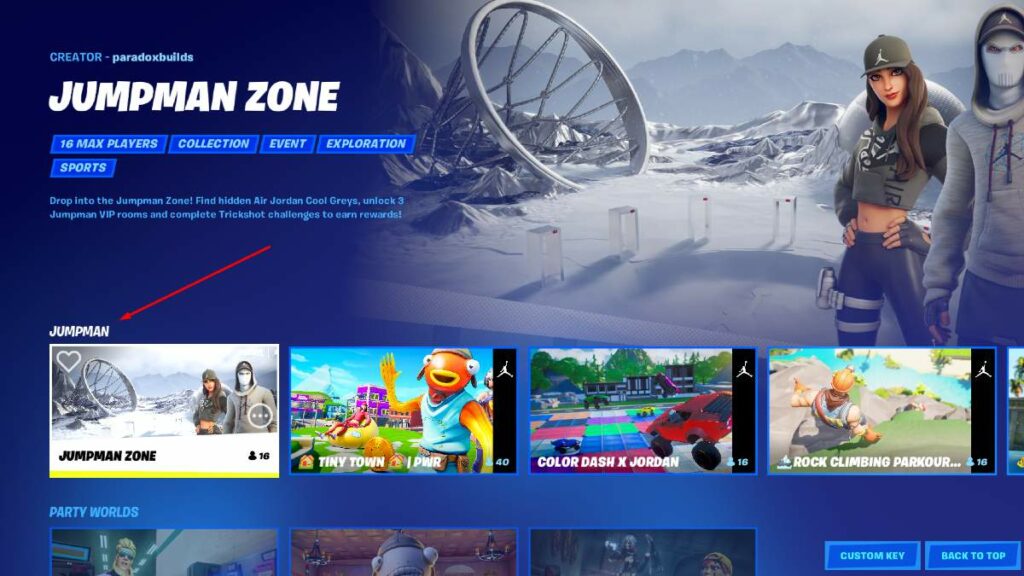 Related: The new Party Royale? Fortnite introduces Party Worlds that focus on socializing
When you first enter the main menu, select the game mode selection menu on the right side of the screen.
Scroll through the game types on the Discover tab until you see the list for Jumpman maps.
There may be more than one map listed here, but the one you'll want to select is the map titled Jumpman Zone.

All the other maps are games that have nothing to do with the event or the challenges.

The red arrow in the image above shows you what map you need to select.
When you select this option, you will can confirm your selection on the next screen.
From there, you will enter the Jumpman Zone and be able to complete the challenges and earn the rewards!
Want to get a closer look at what rewards you can win? Check out our article on the Air Jordan XI Cool Grey set being introduced to Fortnite!