In Fortnite Chapter 2 Season 6 Week 3, we are presented the task of eliminating one of three bosses on the island: Raptor, Zenith, or Blackheart. These bosses are spread very far apart, and you'll find them all on the edges of the map. In this guide, we'll show you where you can find all of them.
Where to Eliminate Raptor, Zenith, or Blackheart in Fortnite
We call these NPCs bosses because they are hostile towards you if they see you, and they have higher health than most other NPCs. Since most people are worried about other players being hostile towards them already, few people regularly seek more hostile characters. Still, it's a quest, and you of course want that nice purse of XP for completing it.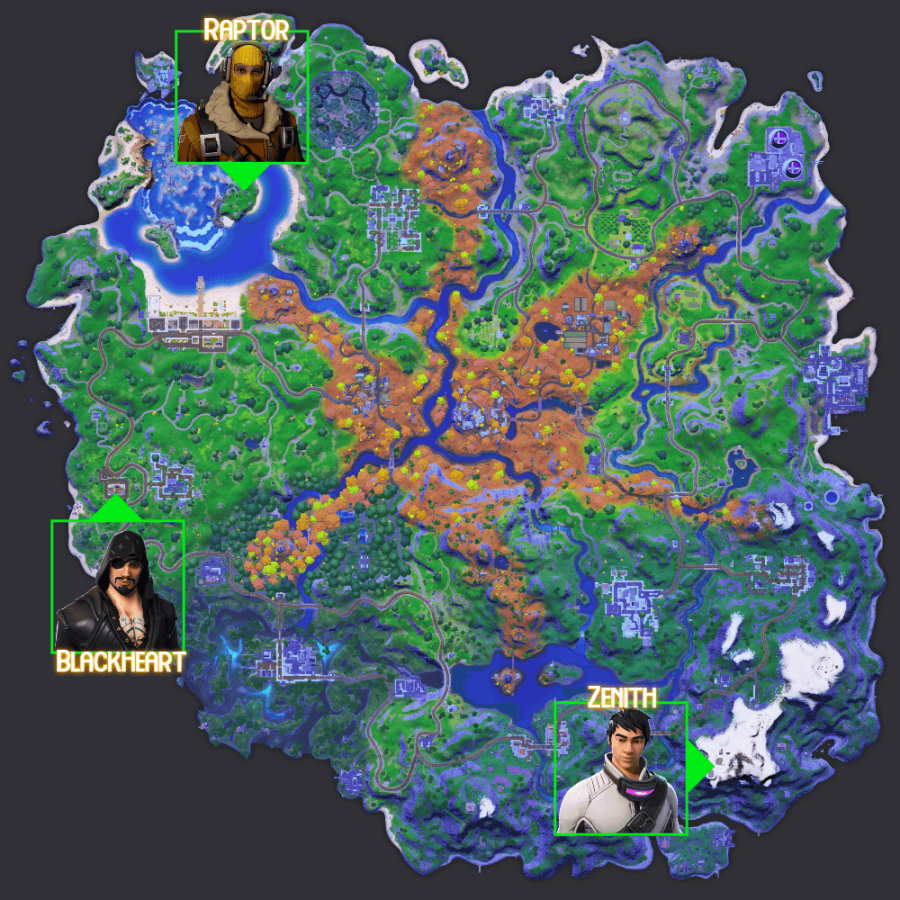 Related: How and Where to Catch Fish at Camp Cod, Lake Canoe, or Stealthy Stronghold in Fortnite Chapter 2 Season 6 Week 3 Epic Quests - Pro Game Guides
As you can see in the image above, all three NPCs are on the edges of the map. In case you're not able to see the image above, you can see the instructions on where to find them below.
Raptor: At the Crash Site on the large island West of Coral Castle.
Zenith: At the Weather Station, under the peak of Mount Kay.
Blackheart: On Viking Vessel, directly West of Holly Hedges.
Once you have defeated them, they'll become holograms of themselves, with whom you can interact. The holograms are not hostile for this match only. The quest will also be marked as complete, and you'll receive your XP reward!
Looking for more great Fortnite content? We cover all quests, game mechanics, and cosmetics in our Complete Fortnite Chapter 2 Season 6 Guide!