When we changed over from Season 5 to Season 6 in Fortnite Chapter 2, we lost many of the Exotic weapons that were purchasable from NPCs throughout the map. However, there are still four of them up for grabs. The process is the same, but the locations and NPCs are different!
All Exotic Weapon Locations
What is most interesting about the four Exotic weapons currently on the map is that three are bunched together across the southwestern section. This allows for an easy collection of them in a single match! We also think it's no coincidence that the three weapons close together are the most beneficial weapons for an entire squad rather than a solo player.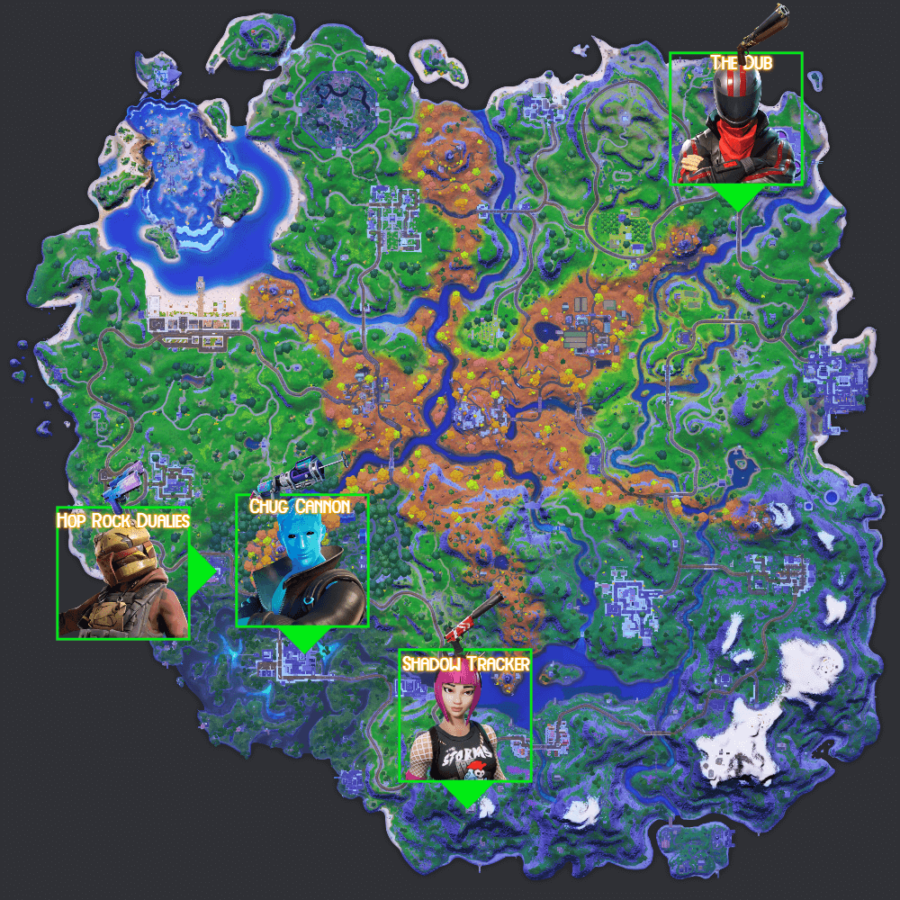 As you can see, a team of three could easily collect the bottom three Exotics in a match and meet up nearby (hint hint), but that's not important right now. Yes, yes. We promised you the exact locations, didn't we? We have listed them below, along with a description of how to reach each one.
Related: How to Find and Defeat all Fortnite Guardians | Chapter 2 Season 6 Guardian Locations - Pro Game Guides
Hop Rock Dualies: These are being sold by Gutbomb at Durrr Burger for 500 Gold. Durrr Burger is an unnamed landmark almost precisely in the middle of the path between Slurpy Swamp and Holly Hedges.
Chug Cannon: The Chug Cannon is being sold by Slurp Jonesy at Slurpy Swamp for 600 Gold. You'll find Slurp Jonesy walking around the main building in the complex. It's hard to miss; it has a giant Slurp barrel above it.
Shadow Tracker: The Shadow Tracker is being sold by Power Chord for 400 Gold. You can find her at the lodge on the mountain directly Southwest of Misty Meadows.
The Dub: The Dub is being sold by Burnout for 600 Gold. You can find him at the road's intersection directly Southeast of Steamy Stacks.
Since the Season just started, we fully expect this list to change at some point. More Exotics will likely be added or at the very least switched out. Be sure to check back regularly!
There is a new set of Mythic Weapons in Season 6 as well! Check out our guide on All Mythic Weapon Locations in Fortnite Season 6!