In Fortnite, players can complete various Weekly Quests, and each of the Quests rewards around 15,000 XP. Completing all the Weekly Quests every week will help players earn more Battle Stars, and rank up their Battle Pass quickly. One of the Week 4 Quests in Fortnite Chapter 3 Season 3 requires players to plant a Reality Seed at Sunflower's Sapling or Fungi Farm. Here's how you can find these unnamed landmarks and complete this Quest quickly!
Where is Sunflower's Sapling and Fungi Farm in Fortnite?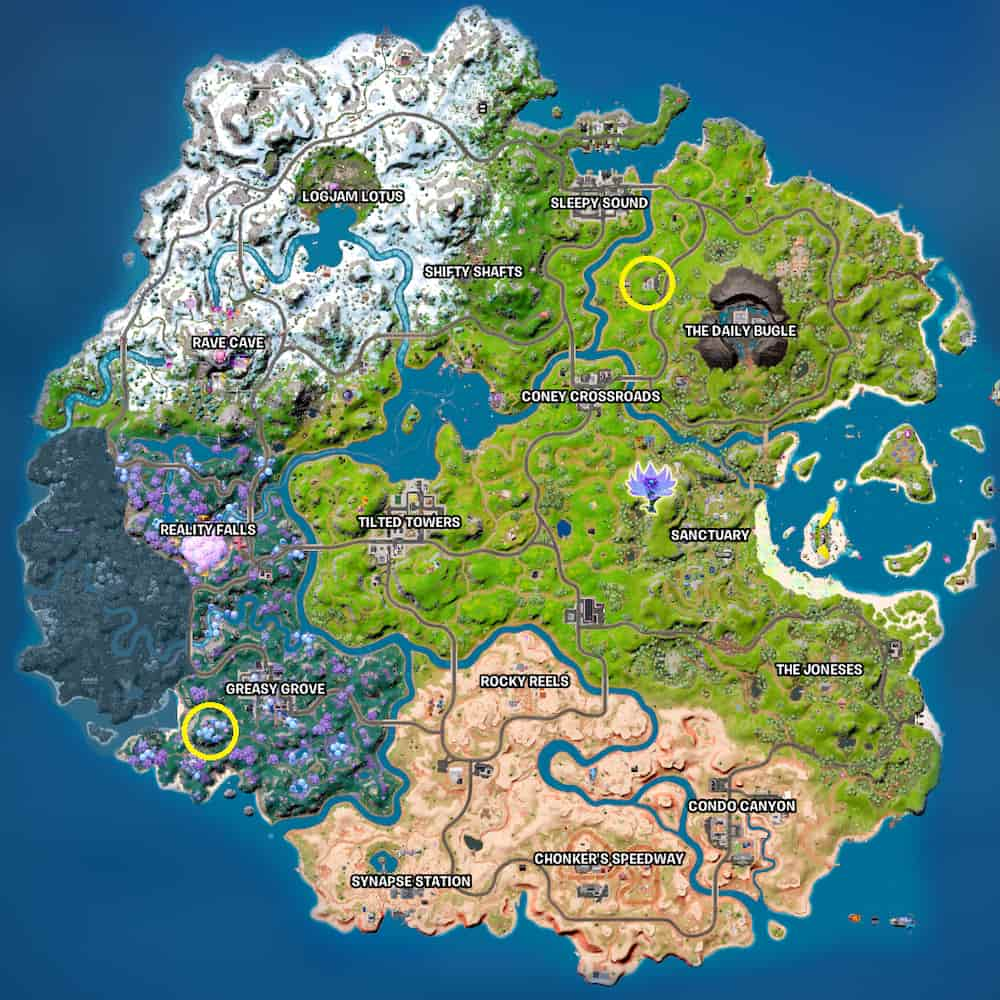 Since Sunflower's Sapling and Fungi Farm are two unnamed landmarks in Fortnite Chapter 3 Season 3, players may have difficulty finding them. You can locate both by following the yellow circles on the map reference above. Sunflower's Sapling is located south of the Sleepy Sound POI, and Fungi Farm is located southwest of the Greasy Grove POI. You will have to visit any one of the locations to complete this Quest, and we recommend players land at Sunflower's Sapling as not many opponents drop at this spot.
Related: How to headbutt an opponent while riding a Boar in Fortnite
How to plant a Reality Seed in Fortnite?
To plant a Reality Seed, you will need to collect it first from a Reality Seed Pod. After acquiring a Reality Seed, head to either of the two unnamed landmarks. Equip the seed, aim it at the ground, and plant it in a secure spot. Planting the Reality Seed will instantly reward players with 15,000 XP. As for other unnamed landmarks, players will also come across parts of Neo Tilted, Coral Castle, and Colossal Colosseum appearing at the Butter Barn landmark arbitrarily. Complete all the Week 4 Quests to progress the Battle Pass quickly!
For more on Fortnite, check out Start and End Dates for All Fortnite Seasons or Where is Groovy Grove in Fortnite Chapter 3 Season 3 here on Pro Game Guides!