Campfires have been around in Fortnite for a very long time and they help players heal themselves by using the wood material.
In the current Fortnite week 7 challenges, making wooden hatcheries was already a part of legendary quests. However, players can earn extra experience points by lighting the campfires near the hatchery. This guide will show all the campfire places and suggest how to complete the challenge quickly.
Related: Where To Construct A Wooden Hatchery in Fortnite Chapter 2 Season 7 Week 7
Here is a map showcasing the location of the campfires near hatcheries in Fortnite: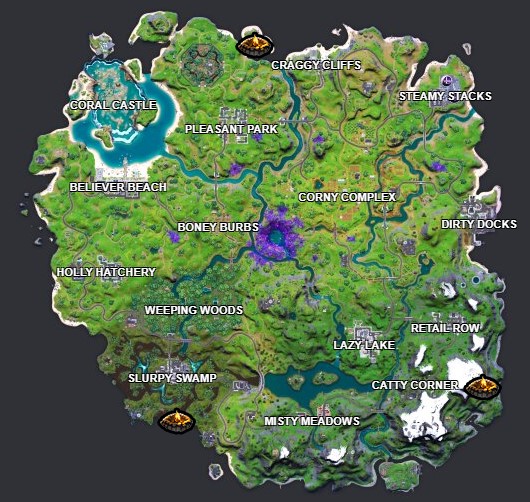 Players can find the first campfire in front of the hatchery located on an isolated island. The place is at the top of Craggy Cliffs and Stealthy Stronghold, which can be easily spotted on the map. After you reach the tiny island, look for a small hut in the coastal area and you should spot a campfire near it. Go near it and light it up.
The next campfire is near the Slurpy Swamp point of interest and it is located at the extreme southern side of the map. Players should notice a small hut on the island with a campfire to light it up.
As both of the campfires mentioned above are poles apart, it is advisable to use a vehicle or UFO to travel over these distances. After lighting both the campfires, players will be granted 30,000 XP to soar through the Fortnite battle pass.
If you'd like to use a video guide for this quest, check out the video shown below!
Check out our Fortnite Chapter 2: Season 7 Guide – Challenges & Information on Pro Game Guides.