Genshin Impact : Razor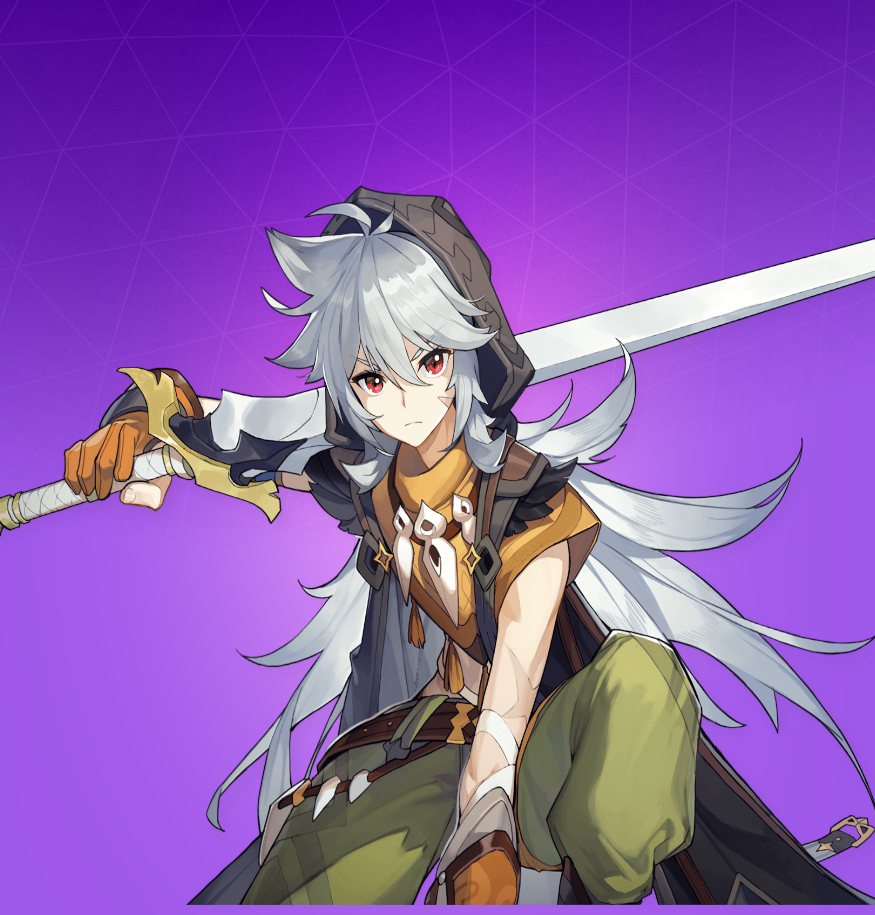 People say that Razor was an orphan raised by wolves. Others declare that he is a wolf spirit in human form. What we do know is that he feels most at home in the wild, fighting with Claw and Thunder. Even to this day, the orphan and his wolf pack hunt to survive using their honed animal instincts.
Details
Rarity:
Role: Main DPS
Element: Electro
Weapon: Claymore
Tier: A
Gender: Male
Voice Actor:

Todd Haberkorn (English)
Shuai Zhou (Chinese)
Koki Uchiyama (Japanese)
Korean Seo-yeong Kim (Korean)
Strength & Weaknesses:
| | |
| --- | --- |
| Exploration | S |
| Bosses | S |
| Abyss | A |
| Support | C |
Skills Talent:
Steel Fang
Steel Fang (Normal Attack)
Perform up to four consecutive strikes.
Steel Fang (Charged Attack)
Drains Stamina over time to perform a continuous spinning attack against all nearby opponents. A power slash occurs after you release the attack.
Steel Fang (Plunging Attack)
Plunges from mid-air to strike the ground below, damaging enemies with an Area of Effect impact.
Elemental Skill
Claw and Thunder
Hunts his prey using the techniques taught to him by his master
Press
Razor swings the Thunder Wolf Claw, which deals Electro Damage in front of him.
When striking an opponent, Razor will gain an Electro Sigil; this increases his Energy Recharge rate.
Razor can store up to three Electro Sigils. Each one gained refreshes the duration.
Hold
Razor gathers Electro Energy to unleash a lightning storm of a small Area of Effect, causing massive Electro Damage, but it also clears all of Razor's Electro Sigils.
Each Electro Sigil that is cleared using Claw and Thunder will be converted into Energy for Razor.
Elemental Burst
Lightning Fang
Razor summons the Wolf Within, which deals Electro Damage to all those in proximity to him.
This Burst converts all of Razors Electro Sigils into Elemental Energy. The Wolf Within will fight alongside Razor for the Bursts duration.
The Wolf Within
Strikes alongside Razor's Steel Fang strikes, dealing Electro Damage.
Razor's Attack Speed and Electro Resistance are raised.
Razor becomes immune to the Electro-Charged status effect.
Razor's Charged Attacks are disabled.
It's harder for Razor to get interrupted.
All of these effects end when The Wolf Within or Razor leaves the battlefield.
When Razor leaves the battlefield, up to 10 Energy will be returned to him based on the duration Lightning Fang has left.
Passive Talents:
Wolvensprint | Unlocked Automatically
Decreases sprinting Stamina Consumption for all party members by 20 percent.
Not stackable with other Passives that provide the same benefit.
Awakening | Unlocked at Ascension 1
Decreases Claw and Thunder's Cooldown by 18 percent.
Hunger | Unlocked at Ascension 4
When Razor's Energy is below 50 percent, Energy Recharge increases by 30 percent.
Constellations:
Each Constellation activation requires a Stella Fortuna.
Wolf's Instinct | Constellation Lv. 1
Picking up an Elemental particle or orb increases Razor's Damage by 10 percent for eight seconds.
Supression | Constellation Lv. 2
Increases Critical Rate by 10 percent against enemies with less than 30 percent health.
Soul Companion | Constellation Lv. 3
Increases the Level of Lightning Fang by 3. Maximum upgrade level is 15.
Bite | Constellation Lv. 4
When casting Claw and Thunder (Press), enemies hit will have their Defense decreased by 15 percent for seven seconds.
Sharpened Claws | Constellation Lv. 5
Increases the Level of Claw and Thunder by 3. Maximum upgrade level is 15.
Lupus Fulguris | Constellation Lv. 6
Every 10 seconds, Razor's claymore charges up, causing the next Normal Attack to release lightning that deals 100 percent of Razor's Attack as Electro Damage.
When Razor is not using Lightning Fang, a lightning strike on an enemy will grant Razor and Electro Sigil for Claw and Thunder.
Ascension:
Click on the pictures to take you to more item information

Get to Level 20 and Adventure Rank 15 to make your first Ascension.
Ascension Phase 1
Adventure Rank 15 | Level 20>40

Ascension Phase 2
Adventure Rank 25 | Level 40>50
Ascension Phase 3
Adventure Rank 30 | Level 50>60
Ascension Phase 4
Adventure Rank 35 | Level 60>70
Ascension Phase 5
Adventure Rank 40 |  Level 70>80
Ascension Phase 6
Adventure Rank 45 | Level 80>90
Talent Upgrade:
Click on the pictures to take you to more item information

Talent Level Ascension requires your character to be at Ascension Phase 2
Talent Level 1>2
Talent Level 2>3
Talent Level 3>4
Talent Level 4>5
Talent Level 5>6
Talent Level 6>7
Talent Level 7>8
Talent Level 8>9
Talent Level 9>10
More Details:
Recommended Stats for Razor
Attack Percent or Energy Recharge
Physical Damage Bonus or Attack Percent
Attack Percent or Critical Hit Rate
Positives
Elemental Burst gives massive boosts to Attack And Defense.
High Physical Damage
Extremely good at combining Physical Damage with Electro Damage.
Negatives
Elemental Burst disappears upon switching characters or leaving the battlefield.
All Skills and Talents have a short-range.
Stats
Razor gets a specialized Physical Damage Bonus starting on Ascension Phase 2.
Physical Damage Bonus
Ascension Phase 2
Ascension Phase 3
Ascension Phase 5
Ascension Phase 6
Recent Genshin Impact Guides