Genshin Impact : Xiangling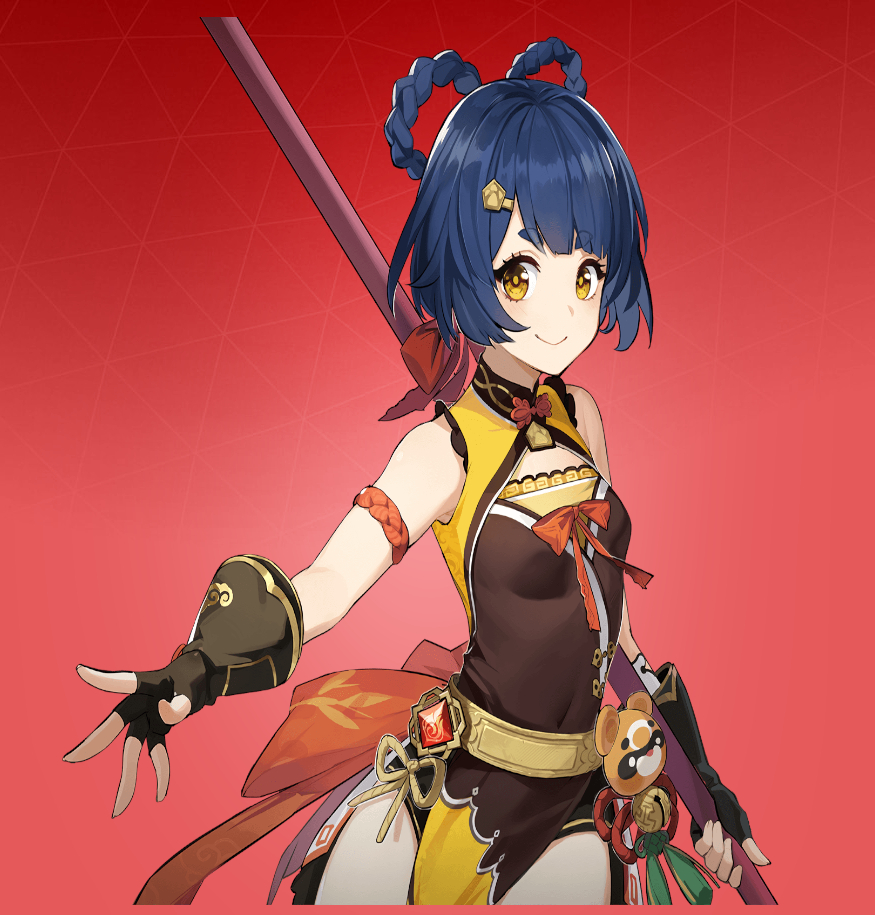 The Head Chef at the Wanmin Restaurant and also a waitress there, Xiangling is extremely passionate about cooking and excels at her signature hot and spicy dishes. Though still young, Xiangling is a true master of the culinary arts with all the skills of a kitchen veteran.
She enjoys a good reputation among the hearty eaters at Chihu Rock. There's absolutely no need to be nervous if she wants you to sample her latest creation. It will not disappoint. Promise.
Details
Rarity:
Role: Sub DPS
Element: Pyro
Weapon: Polearm
Tier: B
Gender: Female
Voice Actor:

Jackie Lastra (English)
Li Jiang, aka "Xiao N" (Chinese)
Ari Ozawa (Japanese)
Yoon Ah-yeong (Korean)
Strength & Weaknesses:
| | |
| --- | --- |
| Exploration | C |
| Bosses | A |
| Abyss | A |
| Support | S |
Skills Talent:
Dough-Fu
Dough-Fu (Normal Attack)
Perform up to five consecutive spear strikes.
Dough-Fu (Charged Attack)
Consumes a certain amount of Stamina to lunge forward, dealing damage to opponents along the way.
Dough-Fu (Plunging Attack)
Plunges from mid-air to strike the ground below, damaging opponents along the path and dealing Area of Effect Damage upon impact.
Elemental Skill
Guoba Attack
Summons Guoba the Panda. After two seconds, Guoba starts breathing fire at an opponent, dealing Area of Effect Pyro Damage every 1.5 seconds four times.
Elemental Burst
Pyronado
Displaying her mastery over both fire and polearms, Xiangling sends a Pyronado whirling around her. The Pyronado will move with your character for so long as the ability persists, dealing Pyro Damage to all opponents in its path.
Passive Talents:
Chef de Cuisine | Unlocked Automatically
When Perfect Cooking is achieved on an Attack-boosting dish, Xiangling has a 12 percent chance to receive double.
Crossfire | Unlocked Ascension 1
Increases the flame range of Guoba by 20 percent.
Beware, It's Super Hot! | Unlocked Ascension 4
When Guoba Attack's effects end, Guoba leaves a chili pepper on the spot where it disappeared. Picking up a chili pepper increases Attack by 10 percent for 10 seconds.
Constellations:
Each Constellation activation requires a Stella Fortuna.
Crispy Outside, Tender Inside | Constellation Lv. 1
Opponents hit by Guoba's attacks have their Pyro Resistance reduced by 15 percent for six seconds.
Oil Meets Fire | Constellation Lv. 2
The last attack in Normal Attack sequence applies the Implode status onto the opponent for two seconds. An explosion will occur once this duration ends, dealing 75 percent of Xiangling's Attack as Area of Effect Pyro Damage.
Deepfry | Constellation Lv. 3
Increases the Level of Pyronado by three. Maximum upgrade level is 15.
Slowbake | Constellation Lv. 4
Pyronado's duration is increased by 40 percent.
Guoba Mad | Constellation Lv. 5
Increases the Level of Guoba Attack by three. Maximum upgrade level is 15.
Condensed Pyronado | Constellation Lv. 6
For the duration of Pyronado, all party members receive a 15 percent Pyro Damage Bonus.
Ascension:
Click on the pictures to take you to more item information

Get to Level 20 and Adventure Rank 15 to make your first Ascension.
Ascension Phase 1
Adventure Rank 15 | Level 20>40

Ascension Phase 2
Adventure Rank 25 | Level 40>50
Ascension Phase 3
Adventure Rank 30 | Level 50>60
Ascension Phase 4
Adventure Rank 35 | Level 60>70
Ascension Phase 5
Adventure Rank 40 |  Level 70>80
Ascension Phase 6
Adventure Rank 45 | Level 80>90
Talent Upgrade:
Click on the pictures to take you to more item information

Talent Level Ascension requires your character to be at Ascension Phase 2
Talent Level 1>2
Talent Level 2>3
Talent Level 3>4
Talent Level 4>5
Talent Level 5>6
Talent Level 6>7
Talent Level 7>8
Talent Level 8>9
Talent Level 9>10
Recent Genshin Impact Guides