HoYoverse's designers are excellent at creating beautiful characters, environments, and music to accompany the world of Teyvat. While Genshin Impact's developers are talented at designing the overarching story and regions, they also pay attention to the small details that make the game's world feel alive. One of these things is food, which is intricately illustrated by HoYoverse's creators. Here are the eight best foods to cook in Genshin Impact.
8 best foods in Genshin Impact
Meat Lovers' Mushroom Pizza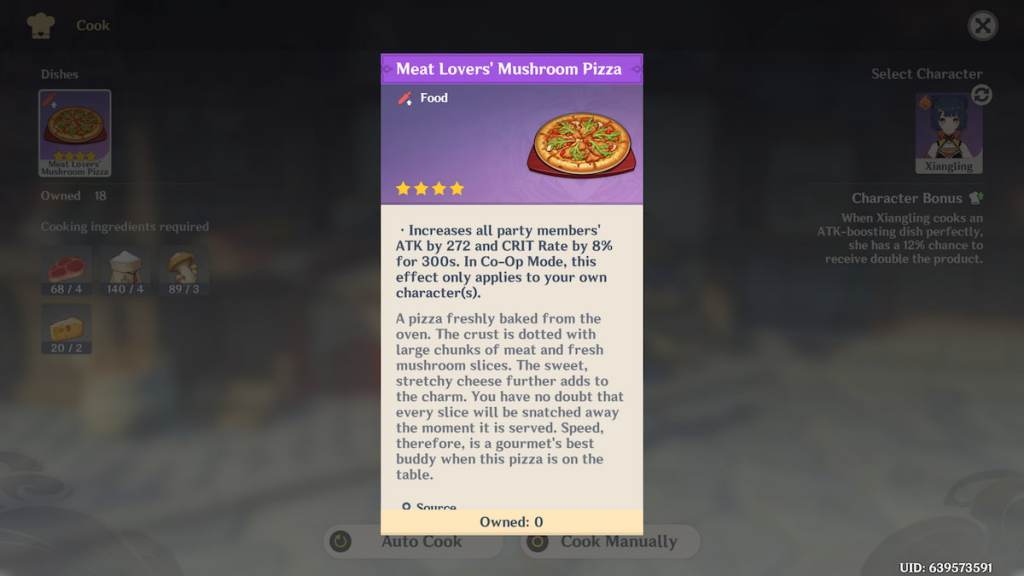 The Meat Lovers' Mushroom Pizza is a blessing to the Genshin Impact community. With a 272 increase to ATK and an 8% CRIT Rate, this dish is an extremely helpful pre-battle meal. Its ingredients are also quite simple to find, and the only ingredient that may prove challenging is Cheese, which takes 10 minutes to process. This meal truly is the all-in-one package of Genshin Impact dishes.
Cold Cut Platter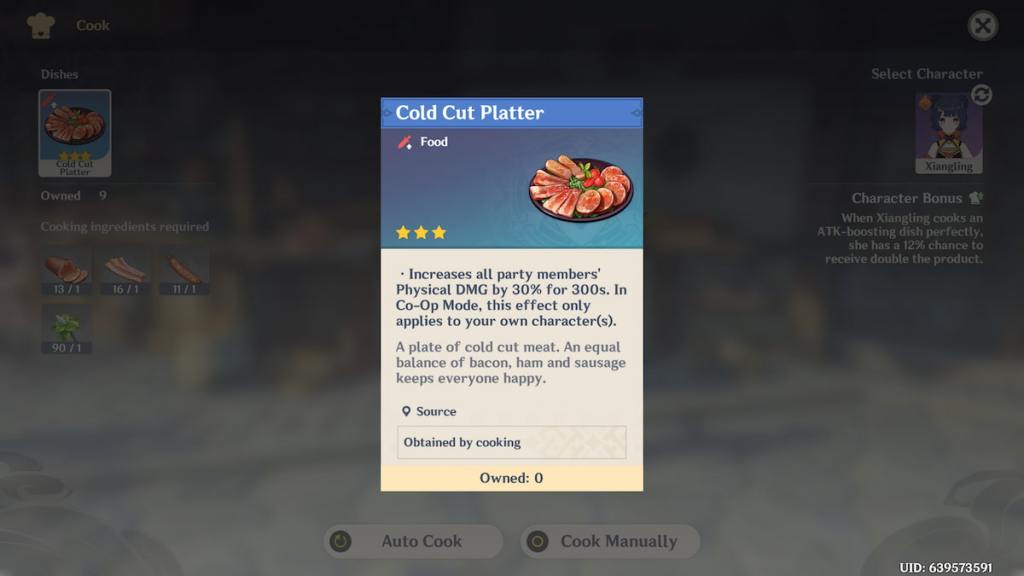 The Cold Cut Platter is a beneficial dish for DPS characters, due to its 30% boost to Physical DMG for 300 seconds. The meal is helpful for players with under-leveled characters, as it places them on a similar playing field as their enemies. The meal also looks delicious, portraying a neatly organized charcuterie board.
Sweet Madame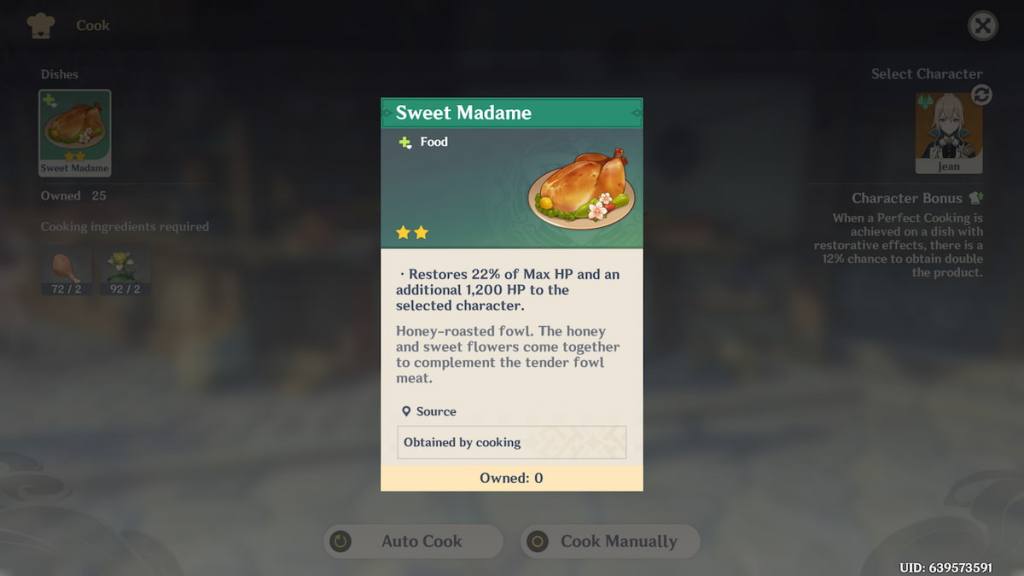 We cannot get over the mental image of our characters stuffing an entire rotisserie chicken into their mouths in the middle of battle. Sweet Madame is a quick and easy way to restore health, requiring only Fowl and Sweet Flowers to make. With a minimal cost and vast benefit, Sweet Madame is one of the top dishes in Genshin Impact.
Minty Meat Rolls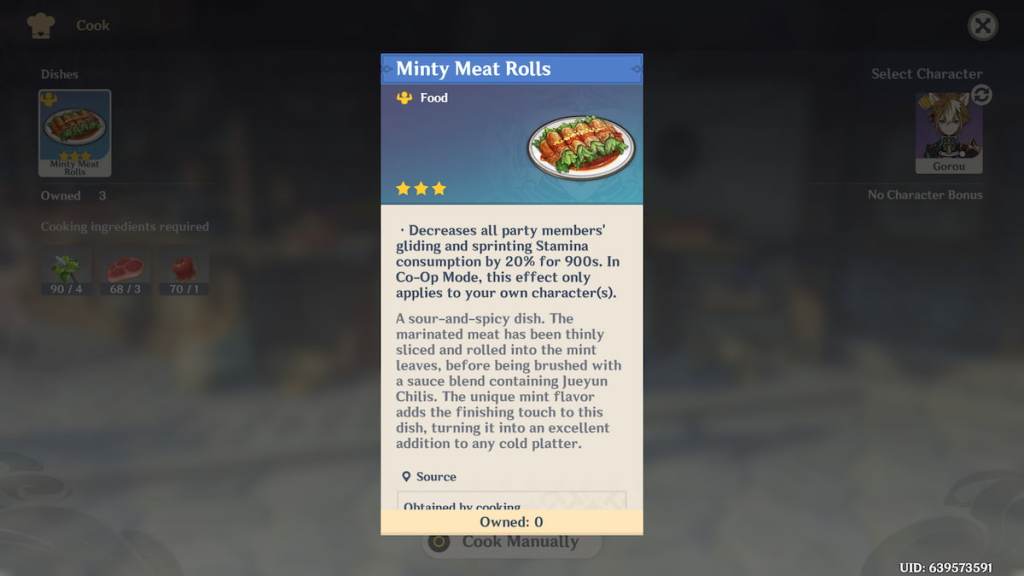 Minty Meat Rolls are a lifesaver for players who love gliding across Teyvat. Since this meal reduces gliding and sprinting stamina consumption by 20%, it is helpful for completing gliding achievements like Golden Gliding License and It's the Same As Having Wings. Since the buff lasts 900 seconds, Minty Meat Rolls are an excellent method to reduce stamina consumption.
Five Pickled Treasures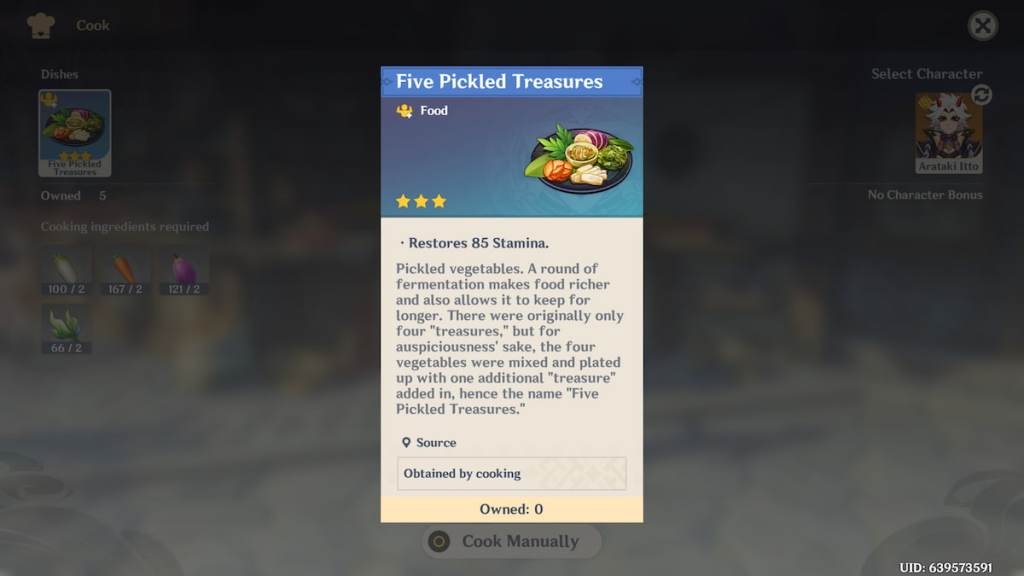 Five Pickled Treasures is the perfect remedy for when you're swimming and nearly at the shore, but your stamina is almost depleted. When cooked perfectly, this dish restores 100 stamina, making it a great way to avoid falling to your death or drowning. Once you reach Inazuma, this dish's ingredients are simple to obtain, as it only requires Lavender Melons and Seagrass.
Mondstadt Hash Brown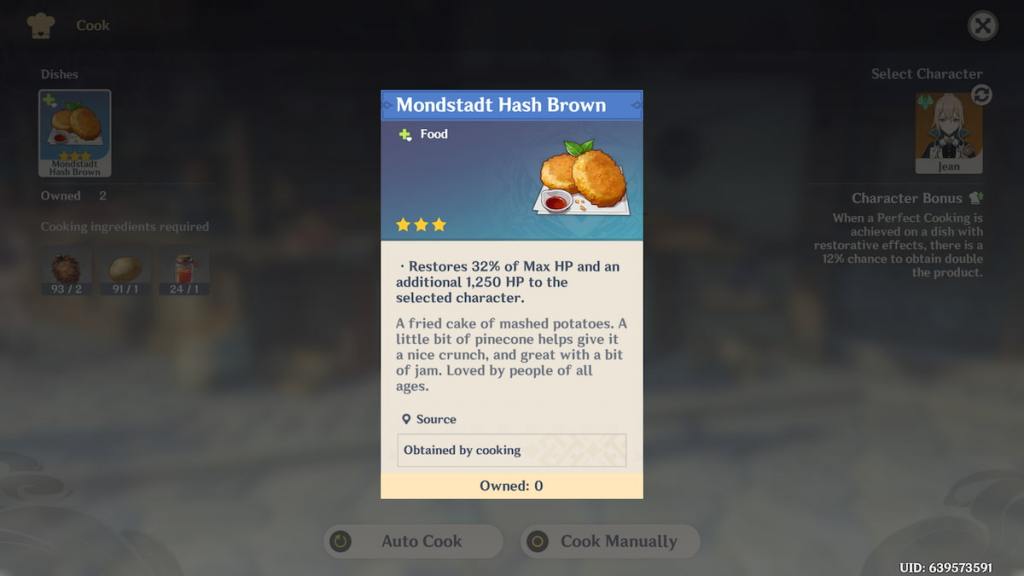 Although there are several dishes that restore 32% HP, the Mondstadt Hash Brown looks crispy and scrumptious, placing it above the rest. This meal requires simple ingredients that can be found across Teyvat, including Potatoes and Pinecones. Despite its few ingredients, the Mondstadt Hash Brown has great utility, and is helpful during an intense fight.
Related: All Fishing Spot Locations in Mondstadt in Genshin Impact
Teyvat Fried Egg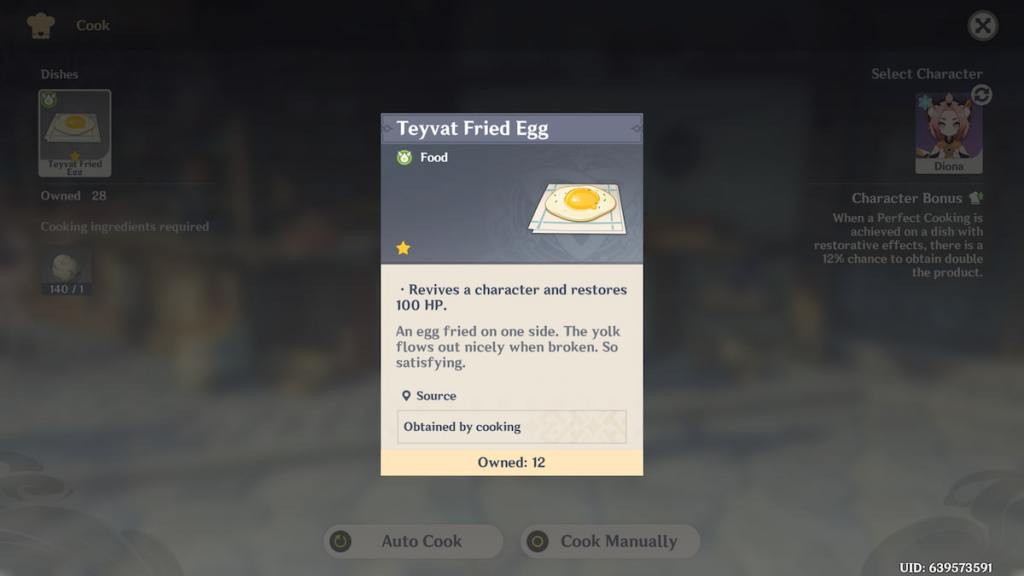 The Teyvat Fried Egg is potentially the most cost-effective way to revive your characters. This dish requires a single egg, and although it only restores 100 HP, this can be supplemented by healing dishes. With a stash of Teyvat Fried Eggs in your inventory, no character is off the field for long.
Golden Crab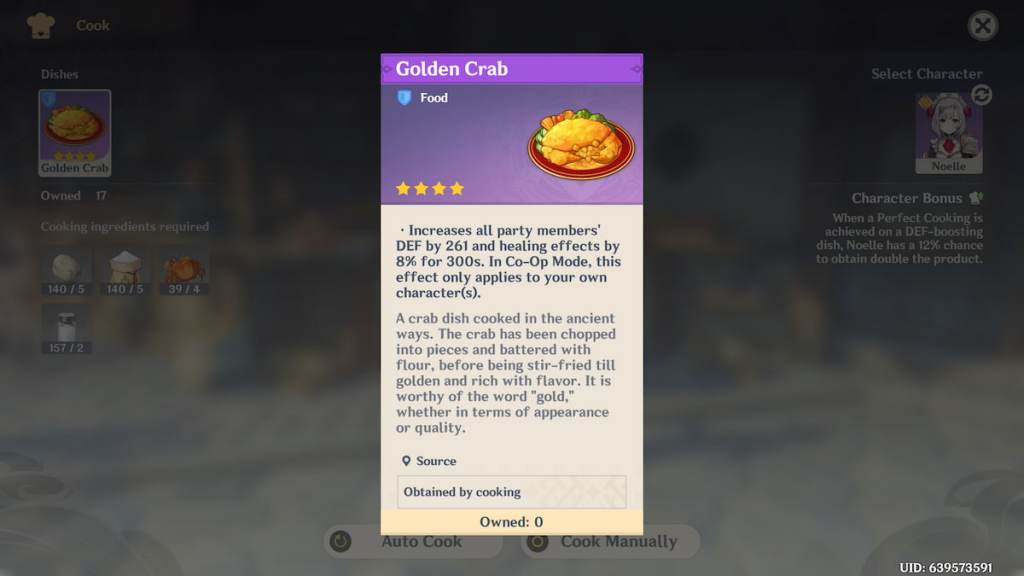 The Golden Crab is a wise choice for those who wish to protect their characters during battle. The dish increases all party members' DEF by 261 and all healing effects by 8% for 300 seconds. While the defensive boost on its own is a good reason to cook this dish, the healing benefits are a wonderful cherry on top.
For more Genshin Impact guides, come check out Genshin Impact: Dragonspine lore, explained here on Pro Game Guides.