Kagura's Verity is a five-star catalyst that's expected to drop in the Version 2.5 update on Feb. 16, 2022. It will be one of the featured weapons in the first Epitome Invocation banner, which means that players can chart an Epitomized Path to get a guaranteed Kagura's Verity on their third five-star weapon pull (if it's not the five-star obtained the first two times).
While Genshin Impact has yet to release an official breakdown of the catalyst's stats, leakers have released its stats from the final phases of the beta test. Huge thanks to Honey Impact for the information.
Note: Information from leaks are not final and are subject to last-minute changes. Take the information with a grain of salt, and know that it's normal for there to be changes between the beta and final release.
Related: How to make a custom obstacle course in Genshin Impact
Kagura's Verity Stats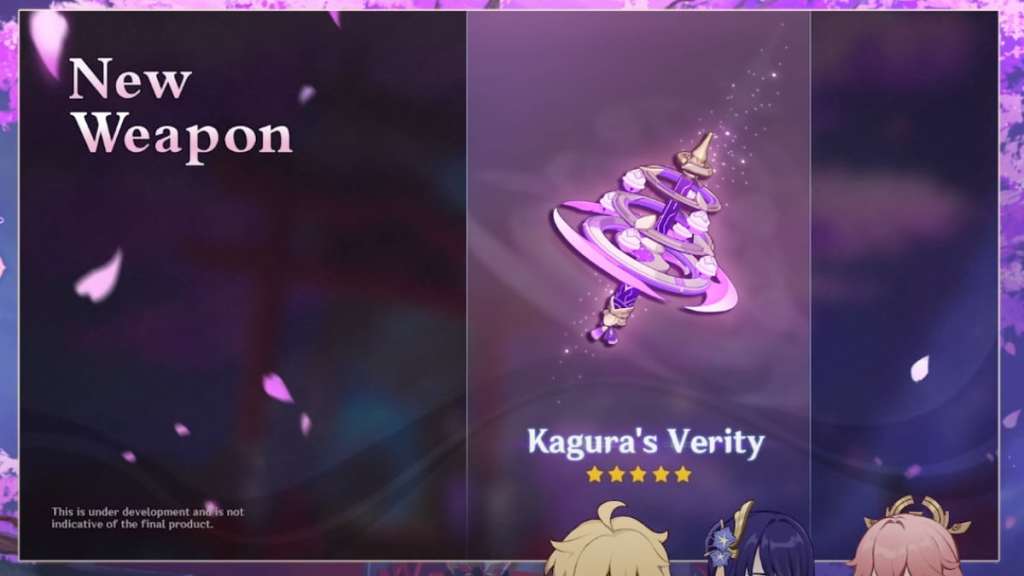 Base Attack: 46-608
Substat: Crit Damage (14.4-66.2 percent)
Passive: Kagura Dance of the Sacred Sakura—Gains the Kagura Dance effect when using an Elemantal Skill, increasing the wielder's Elemental Skill Damage by 12/24 percent for 12 seconds. Max three stacks. The wielder will gain 12/24 percent all Elemental Damage bonus when they possess three stacks.
*Percent gain is based on Refinements 1 and 5. The information for Refinements 2-4 are currently unknown.
Who Can Use Kagura's Verity?
Catalyst users who can stack their Elemental Skills are going to love Kagura's Verity, which features a high base Attack and Crit Damage substat alongside a huge Damage boost for stacking Elemental Skills within a 12-second window.
The weapon is the best-in-slot option for the new five-star character, Yae Miko. However, the following catalyst users can also make good use of Kagura's Verity:
Klee (must time correctly)
Lisa (tap E, not hold)
Ningguang (C2 minimum)
Yanfei
Is the Kagura's Verity Comparable to Existing Catalysts?
The all Elemental Damage bonus in Kagura's Verity is reminiscent of The Widsith's, which can increase the same stat by 48/60/72/84/96 percent when the four-star weapon rolls the Aria passive. Their main and substats are also similar, with the only difference being the five-star's higher base attack and Crit Damage boost.
However, Kagura's Verity offers a more consistent all-Elemental-Damage boost that can go up to 72 percent at max stacks, which makes it ideal if you're using it for the character it's made for: Yae Miko. Characters who can't maximize the weapon's stacking effect may be better off with The Widsith, which is a cheaper option that's easier to activate by swapping characters.
Check out our Eight Locales Over Mountains and Seas: One Hundred Sights of Dihua — Genshin Impact Event Guide to help you complete the current bake-danuki event.