Alhaitham has been a surprise hit to a majority of the Genshin Impact community. He is a character that is fully functional without any of his constellations and he is of the Dendro element, making him a valuable asset to many teams. However, while his constellations aren't needed, there might be some merit in going all in for some of them. Let us discuss the value of each of his constellations to help you determine if they're worth rolling for.
Alhaitham Constellation Value
As mentioned, Alhaitham does not need constellations to be a powerhouse, but his constellations are fairly strong overall and provide both quality of life and EM (Elemental Mastery) buffs to his kit.
Intuition - Alhaitham's C1 effectively allows for near 100% uptime on his skill so long as its extra attacks are landing on targets. This is a pretty strong C1 as it makes his entire kit flow better. If you're looking to invest in Alhaitham, this is a good stopping point.
Debate - In conjunction with C1, C2 provides 200 EM to Alhaitham at all times so long as he is continuously summoning mirrors. This is just a flat EM buff. While it is significant, 200 EM can be given to Alhaitham through many other means and characters. This constellation is nice to have, but we can't recommend it unless you intend to keep him on-field all the time.
Negation - Alhaitham's C3 is just a flat damage buff on his skill. While his Skill hits pretty hard once invested in, most of Alhaitham's damage comes from his normals and mirror attacks, making this rather lackluster. Not recommended.
Related: How to 'Find Arashakun in the cave' in Genshin Impact
Elucidation - This constellation allows Alhaitham to buff his entire team with EM, and buff himself with Dendro Damage. This is significant constellation as it provides a lot of free stats, but the investment to reach this is quite high as a C4. Ultimately, this is just a massive stat boost, and unless you're having issues with gearing, we aren't certain this is worth the investment either. If you do get it, you'll likely see results, but its not anything to write home about.
Sagacity - Your standard damage buff to the burst ability. Not really worth going for as most of Alhaitham's damage is not located here. A nice addition at best.
Structuration - Alhaitham's C6 is insanely powerful in that it gives a colossal stat boost on top of near 100% uptime on having three mirrors active. 10% Crit and 70% Crit Damage is a ridiculous amount of free stats, effectively greater than a Crit Damage circlet in value. Completely worth it if you have the primogems, but we don't recommend spending money to get it. Alhaitham already does massive damage, more than enough to complete the hardest Spiral Abyss floors, so only go for this you really enjoy the character.
Related: How to solve the Weathered Obelisk puzzle at Liloupar's Cell in Genshin Impact
What are Alhaitham's best Constellations?
Without a doubt, Alhaitham's C1 and C6 are his best constellations due to major effects they have on his active rotation. The other constellations only provide buffs. While buffs are nice, they are largely unnecessary, or can be provided via other means. His C1 provides the most value for Primogem cost, so stop there if you're a low spender.
Should I pull for Alhaitham's Constellations?
Truthfully, no. He is a complete character at C0 and is very effective without any of them. C1 does help his rotation flow smoother, but it isn't a world-shattering change enough to be worth the investment unless you really like him as a character.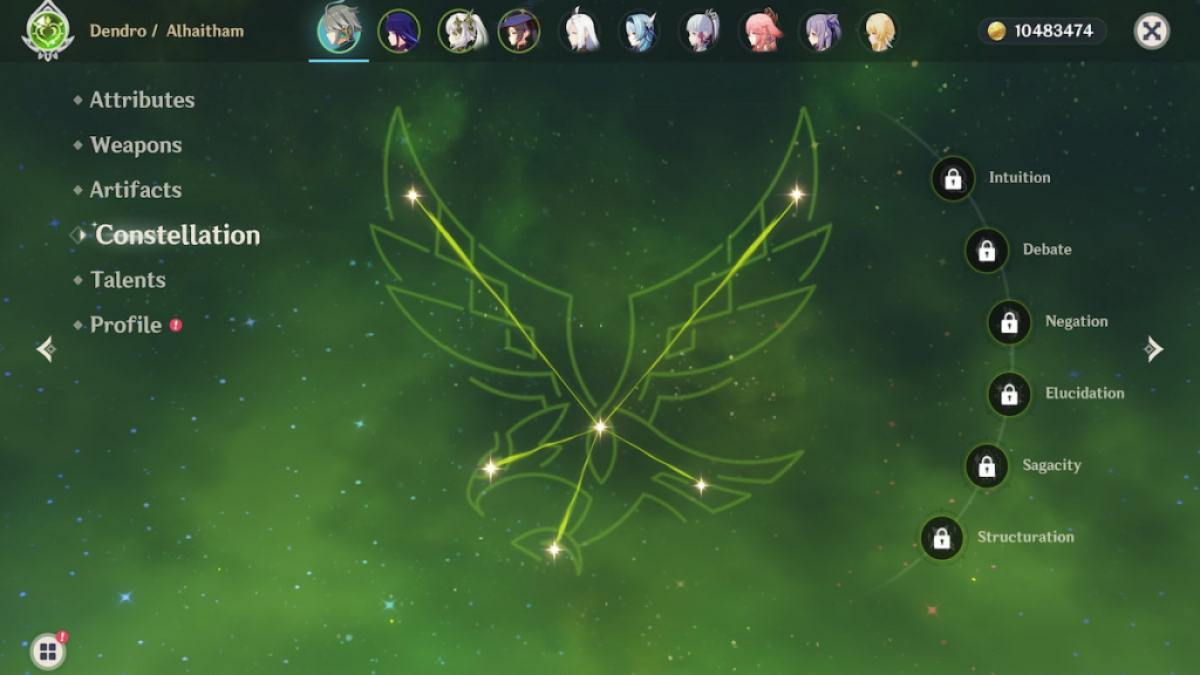 Is Alhaitham's C1 better than Light of Foliar Incision?
Light of Foliar Incision is a decently strong alternative weapon for any sword characters that can self-infuse their own element and attack using normals. It is a universal weapon that is great to have on your account. Taking this into account, we believe that Light of Foliar Incision is more valuable than Alhaitham's C1. However, beware the evils of the infamous Weapon Banner. While we think the weapon is more valuable, it is also risky to go for. Consider this before rolling for it.
For more quality content on Genshin Impact, check out Genshin Impact – Nahida Constellations Value Guide right here on Pro Game Guides.