As expected, Nahida's impact on Genshin Impact's meta has been massive. She has enabled teams that could only be played around with, using the Dendro Travler or Collei. It also helps that she has plenty of personal damage to go around. But what of her constellations? What about her weapon? Should you, or should you not, roll for these things? Are they worth the value? If you're asking any of these questions, you've come to the right place for the answer, dear viewer. Allow us to enlighten you on the value of Nahida in Genshin Impact.
Nahida Constellations Value
Nahida's constellations are heavily fronted loaded, meaning that her earlier constellations provide massively more impact than most of her later ones. Let's get into the details:
The Seed of Stored Knowledge - Nahida's C1 is a major boost to the buffing mechanics of her Burst. This is because her C1 allows for the base level of all of her Burst's potential buffs to be active at all times, regardless of team comp. These buffs are significant, giving her C1 massive value, especially since it is only her first constellation.
The Root of All Fullness - This constellation is incredibly unique. It allows Dendro-related reactions to crit. As you might expect, this is a significant boost in damage for your entire team so long as they can react with Dendro. From a pure-value standpoint, this is the kind of constellation you'd expect from a C4. Get it, if you can.
The Shoot of Conscious Attainment - This is a standard damage boost to Nahida's Skill, but because her Skill is the most important aspect of her kit due to all its applications, we consider this constellation to be highly valuable as well.
Related: What is a Gnosis in Genshin Impact?
The Stem of Manifest Inference - While the Elemental Mastery(EM) buff obtained from this constellation is significant, its cost value is much lower because it is a C4. 160 EM is nothing to sneeze at, but it also isn't C4-worthy in the slightest. Not very valuable.
The Leaves of Enlightening Speech - Nahida's Burst provides buffs based on your team comp, and this constellation increases the potency of those buffs. However, it being a C5, and targeting her non-damage Burst, makes it not really worth the investment to reach it.
The Fruit of Reason's Culmination - This constellation massively boosts Nahida's personal damage. As a C6, it is a monstrous increase, but typically, Nahida's main purpose in a team comp is to act as a consistent Dendro applicator. Her damage isn't as important, so while we consider this C6 very powerful, we don't think its worth the overall cost. Her personal damage is already very solid without this constellation, and there's nothing in the game that remotely needs it. If you get Nahida's C6, you'll see results, no doubt, but know that it is not worth it.
Related: Everything you can do with Nahida's Elemental Skill in Genshin Impact
What are Nahida's best Constellations?
Without a doubt, the Dendro Archon's best constellations are her C1 and C2. C1 allows all of her buffs to be active during her Burst. C2 allows reactions that normally can't crit, to crit. Her C6 would be the third in the list, but the cost-value is not there. We don't recommend going for it. If you're looking to roll for her constellations, the best stopping point would be her C2. All of her other constellations are very extra or can be made up for through other means.
Should I pull for Nahida's Constellations?
Nahida, like Nilou before her, is a complete character at C0. C1 and C2 provide a lot of value, but they are not necessary. Her entire kit is fully functional right when you pull, so don't feel you need to roll for any more copies. She is meta-defining in scope and will likely not be replaced any time soon, if that is a concern for you. However, we recommend rolling for at least one copy of Nahida, for this reason.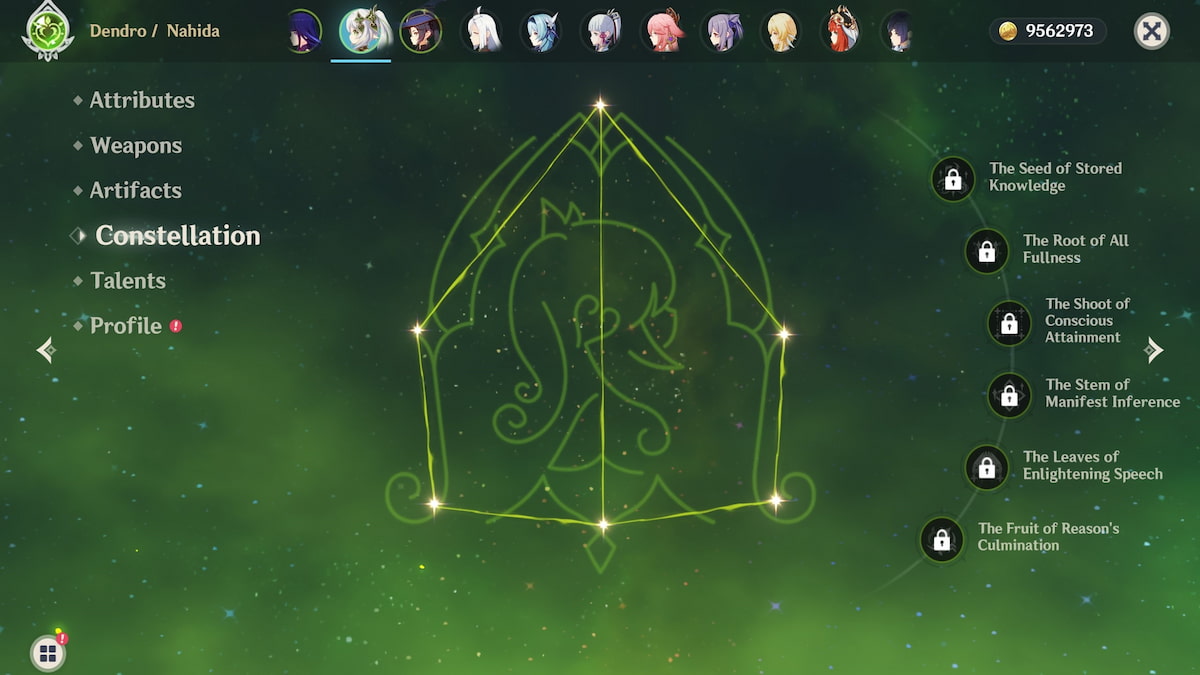 Is Nahida's C1 better than A Thousand Floating Dreams?
Debatable. The thing is, Nahida is such a complete character that she doesn't really need either one to present results. If we had to choose one, her C1 is likely more valuable in the long run due to the universally useful buffs it provides. Her weapon does have some use cases outside of Nahida herself, but it isn't nearly as impactful as her C1. In reality, both aren't exactly bad to have on your account, but the main issue is that the Weapon Banner is pretty much anti-value so long as its mechanics are in place.
For more content on Genshin Impact, check out A Thousand Floating Dreams – How to get, Ascension, stats, and who can use it in Genshin Impact, here on Pro Game Guides.