Cooking, A Pleasant Memory is a World Quest that's part of the An Unwavering Culinary Dream World Questline. It starts from a humble request by an Aranara named Arapacati, who kicked her brothers out of Vanarana many moons ago but would like them to return from their cooking training in time for Festival Utsava. Thus begins your search for four Aranara: Arachatora, Arasaka, Arapas, Araphala. In this World Quest, you'll meet Arakasa, an adorable little friend in search of the 'taste of happiness.'
How to unlock Cooking, A Pleasant Memory Sumeru World Quest in Genshin Impact
To unlock this World Quest, you first need to complete the first quest in Aranyaka: Part II - Dream Nursery questline called The World of Aranara. Once that's done, you'll automatically unlock the quest called Cooking, The Flavor of Nature, where you must help Arachatora find the Head Mushroom. Once that's done, you'll unlock three more World Quests that can be completed in any order:
Cooking, A Pleasant Memory
Cooking, The Armona of Homecoming
Cooking, The Beauty of Sharing
In this guide, we'll run you through how to complete Cooking, A Pleasant Memory.
How to complete Cooking, A Pleasant Memory Sumeru World Quest in Genshin Impact
Follow the quest marker to Gandharva Ville and follow the trail of smoke to find a little Aranara beside Zaytun Peaches. Their exact location is circled in the image above. Speak to the Aranara, who will introduce himself as Arasaka. They're looking for an ingredient that can bring the 'taste of happiness'—a white cube that crumbles when rubbed, stored in a hard bubble.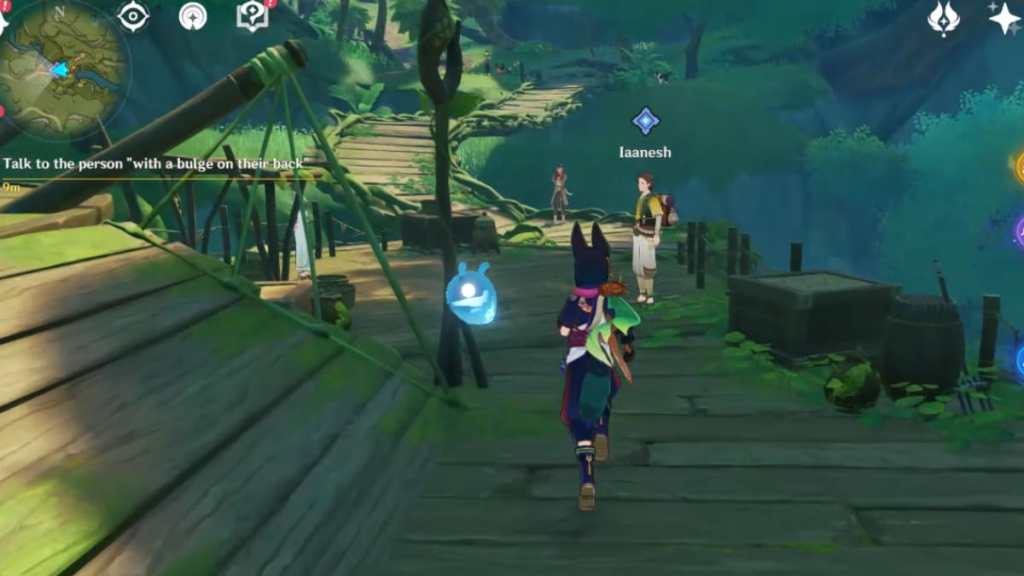 After the dialogue, head to the heart of Gandharva Ville and speak to the traveling merchant named Iaanesh to ask about the mysterious ingredient. He'll give you Sugar, which you need to bring back to Arasaka. Give Arasaka the Sugar from Iaanesh to complete the World Quest. You'll be rewarded with the Recipe: Selva Salad for your effort. Once you've completed all three World Quests in the questline, you'll unlock the next part called A Delicacy for Nara.
Check out our guide on How to solve all Contemplation & Association questions in the Genshin Impact Sumeru Archon Quest to end the eternal samsara.