Fischl has been rising the ranks and is one of the most popular characters in Genshin Impact right now. The 'Sovereign of Immernachtreich' is a ranged Electro user with one of the highest damage potentials in the game. She is a 4-star character that is only available through the Wish system right now. However, there is a chance that she will be part of an event next patch where players can get their hands on her for free. Here is a brief guide on how to effectively use Fischl on the battlefield.
Fischl Gameplay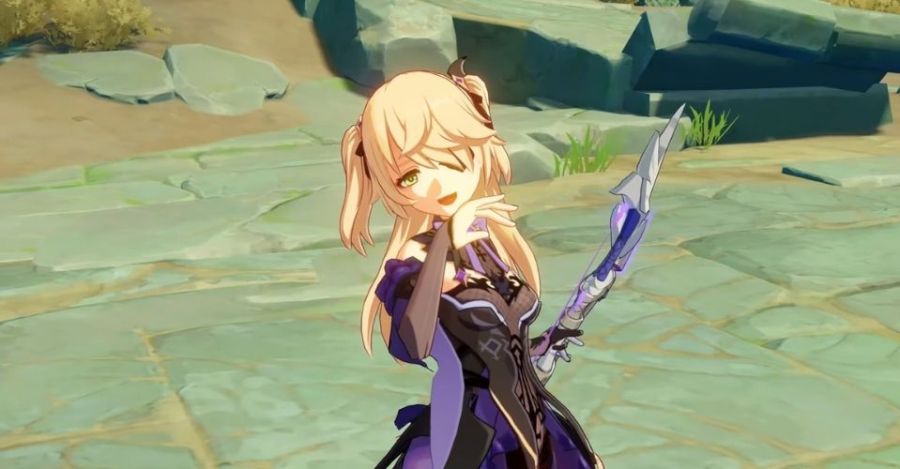 Fischl is a versatile character that is a very beginner-friendly character in Genshin Impact. She can either be played as a primary damage dealer but also works perfectly as support. When built appropriately, her damage can get insane but is mostly single target damage. Fischl thrives against main bosses where AOE damage is not a requirement.
Fischl's Skills, Explained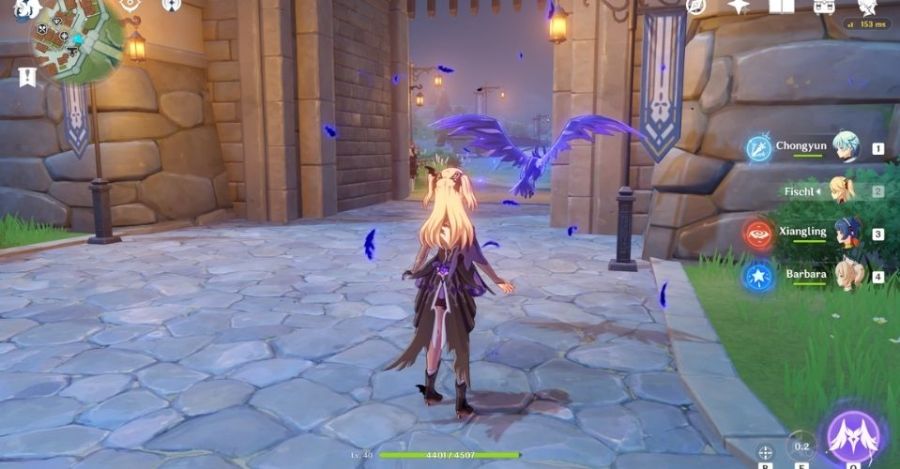 Normal Attack: 

Shoots 5 arrows in a row. Damage increases with each connected arrow.

Charged Attack

: Shoots a precisely aimed arrow with increased damage. Holding the aim charges her attack, and when fully charged, deals a significant amount of damage.

Elemental Skill: 

Fischl summons a night raven that deals small Electro AOE damage upon descending. The raven, which is called Oz, will continue to attack foes near to it for a brief period.

Elemental Burst: 

Fischl transforms into Oz gaining temporary flight and massive speed boost. She deals Electro damage to any foe that comes in contact with her. Each enemy can only be struck once while she is in Oz form.
Fischl's Constellation Benefits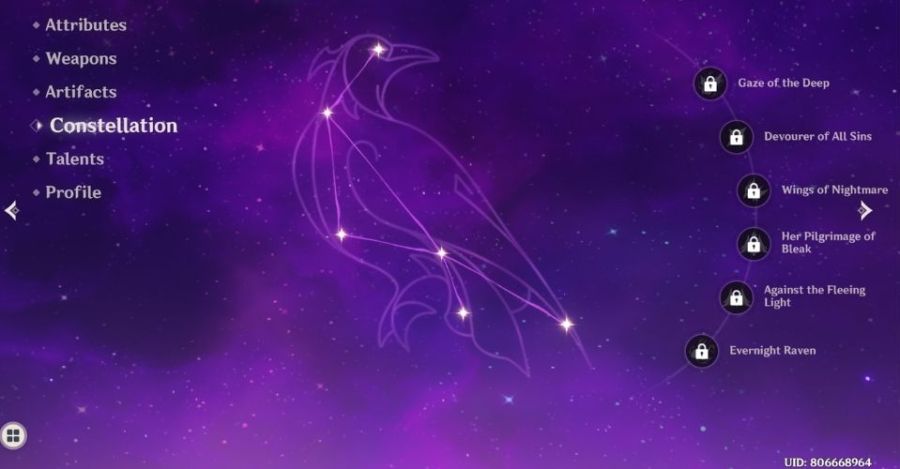 Although unlocking Fischl Constellation can be quite significant, it's not necessary by any means. She works perfectly without getting duped and is one of the major reasons for her being very F2P friendly. Here is Fischl Constellation.
First Dupe-Gaze of the Deep:

 Oz fires a joint attack when Fischl attacks.

Second Dupe-Devour of All-Sins:

 Fischl's Elemental Skill deals 200% additional damage, and the AOE increases by 50%.

Third Dupe-Wings of Nightmare:

 Increases the level of her Elemental Skill by 3 levels (goes up to level 15).

Fourth Dupe-Her Pilgrimage of Bleak

: While in her Elemental Burst form, Fischl deals an additional 222% Electro damage to surrounding enemies. When the Elemental Burst ends, she recovers 20% of her HP.

Fifth Dupe-Against the Fleeing Light:

 Increases the level of her 

Elemental

 Burst by 3 levels (goes up to level 15).

Sixth Dupe-Undone By Thy Sinful Hex:

 Oz stays on the battlefield for 2 additional seconds. Oz also deals 30% of Fischl's overall damage when present with another character.
Best Build for Fischl - Weapons and Artifact Sets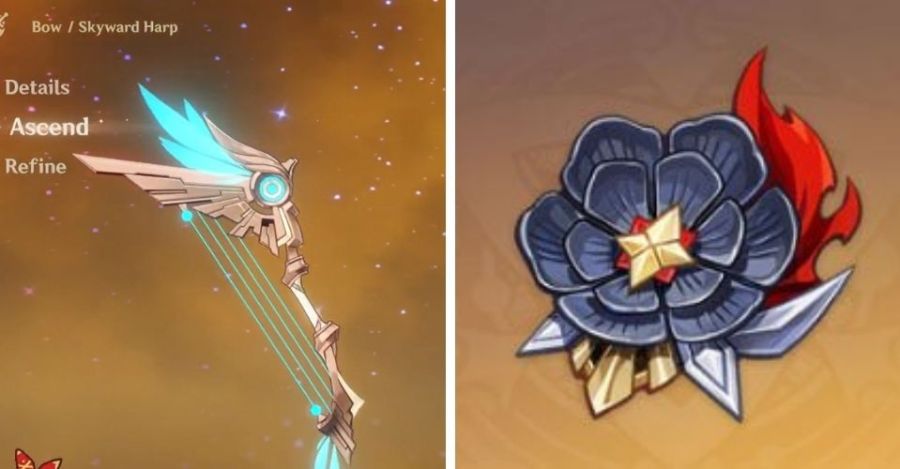 Skyward Harp is one of the best weapons for Fischl. It increases the crit-damage of Fischl's attack by 20% and has a 60% chance to inflict AOE damage, which deals 125% physical damage. However, this passive can only be triggered every 4 seconds. Amo's Bow is another option that works great with Fischl. It increases Normal Attack and Aim Shot damage by 12%. It also increases damage based on how far you are standing away from the target.
Bloodstained Chivalry is great for Fischl as it increases the Physical damage by 25%. If Fischl manages to take down an enemy, the artifact also buffs her Charged Attack damage by 50% and reduces the stamina cost to 0 for 12s. You can also combine half Martial Art set along with Bloodstained Chivalry set for lethal damage. Keep in mind this pathway is directed toward Fischl as the primary damage dealer. Depending on the requirement, you can trade some damage for more of a support style build. You can opt for a Gambler set, which increases the elemental damage by 20%, or the Scholar set, which increases the energy recharge by 20%.
​Fischl
Ascension Requirements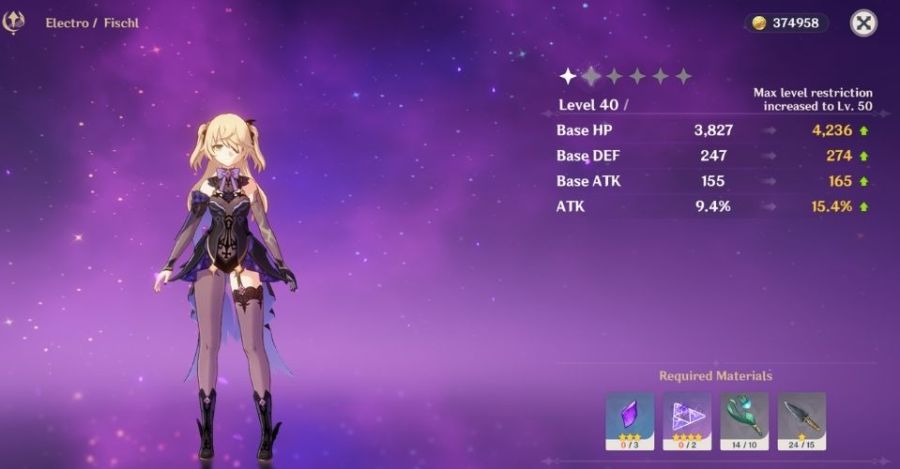 Ascending Fischl is very important as it gives a huge bump to her overall damage and potential. Here are the materials that are required for all the stages of Ascension of Fischl.
Ascension Level 1 (max level 20): Vajrada Amethyst Silver x1 + Small Lamp Grass x3 + Firm Arrowhead x3
Ascension Level 2 (max level 40): Vajrada Amethyst Fragment x3 + Lightining Prism x2 + Small Lamp Grass x10 + Firm Arrowhead x15
Ascension Level 3 (max level 50): Vajrada Amethyst Fragment x6 + Lightining Prism x4 + Small Lamp Grass x20 + Sharp Arrowhead x12
Ascension Level 4 (max level 60): Vajrada Amethyst Chunk x3 + Lightining Prism x8 + Small Lamp Grass x30 + Sharp Arrowhead x18
Ascension Level 5 (max level 70): Vajrada Amethyst Chunk x6 + Lightining Prism x12 + Small Lamp Grass x45 + Historic Overhead x16
Ascension Level 6 (max level 80): Vajrada Amethyst Gemstone x6 + Lightning Prism x20 + Small Lamp Grass x60 + Historic Overhead x24
Best Team for Fischl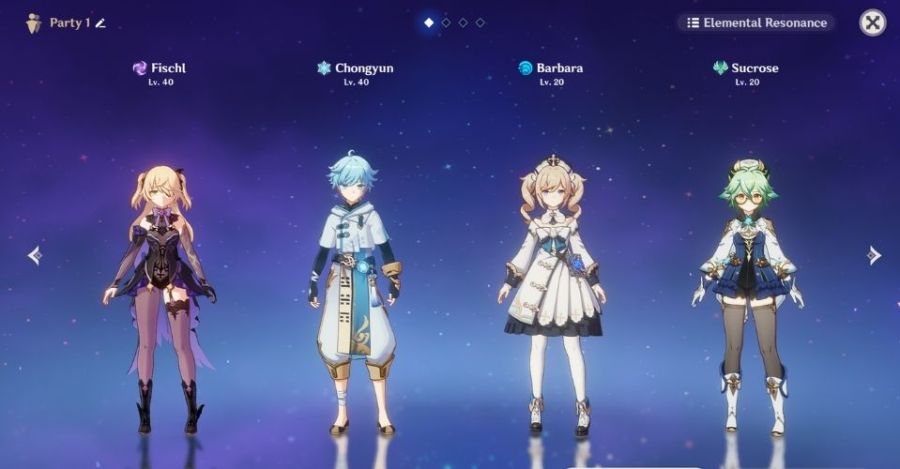 Electro element, when combined with any other element produces one of the highest damage in the game. This makes Fischl very flexible, that can be paired with most characters.
Cryo element users are one of the best pairings for Fischl. Combining the two elements produce the Superconduct effect, which reduces the physical resistance of the target by a massive 50%. Both Kaeya and Chongyun are perfect for the role, however, Chongyun is somewhat better as he brings AOE damage to the table. You can also opt for Qiqi as she will provide consistent healing along with the Cyro element. However, Qiqi is a 5-star character that is not accessible to everyone. In that case, players can pair Barbara with Fischl, who is a F2P character. She is a Hydro user that triggers Electro-Charged (additional Electro damage) when combined with Fischl's element. The last slot can be situation-dependent, and players can go for someone like Sucrose that provides crowd control or Diluc that can act as the primary damage dealer.