Genshin Impact's Hidden Strife event runs from July 27, 2022, to Aug. 15, 2022. It introduces players to Diluc's past self and involves seven battle challenges to help the Darknight get rid of remnants of the Abyss Order caused by an irregular Ley Line in the Falcon Coast.
To unlock the Hidden Strife event, you first need to complete the following prerequisites:
Reach Adventure Rank 25 or above
Complete the Archon Quest Prologue: Act III - Song of the Dragon and Freedom
Complete Diluc's Story Quest Noctua Chapter: Act I - Darknight Hero's Alibi
All players who meet the above requirements will automatically get an Event Quest called Phantom of the Past. Use the quest navigator and head to Dawn Winery to speak to the maid Adeline, then head to the Falcon Coast to investigate the remnants of a camp. Once that's done, you need to investigate the red Ley Line and use a trial Diluc in his Red Dead of Night Outfit to defeat enemies in order to fully unlock the Hidden Strife event.
Related: How to solve the Luxurious Chest Starlight Coalescence puzzle in Genshin Impact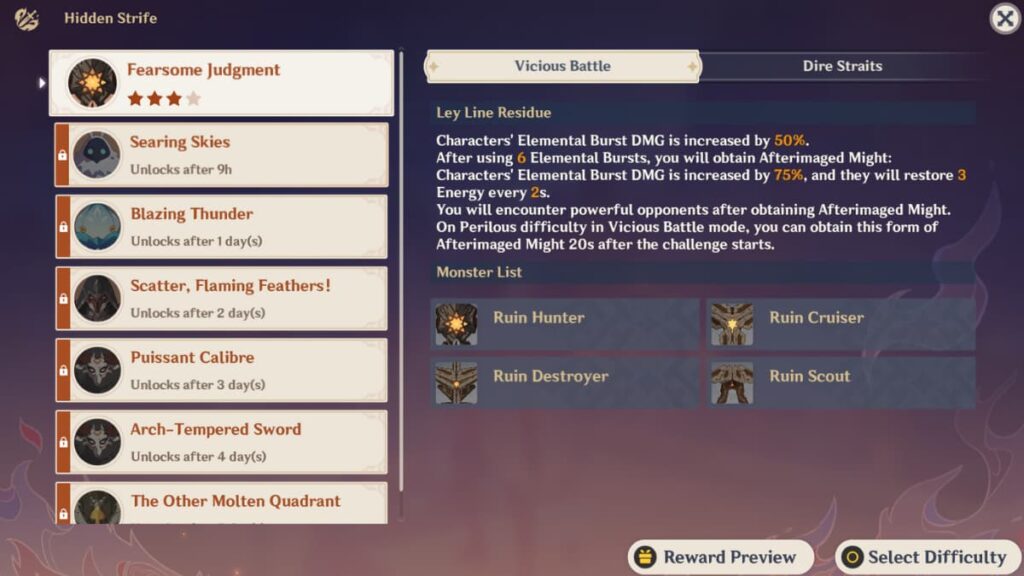 Head to the Hidden Strife Waypoint in Falcon Coast and interact with the red Ley Line to find seven challenges that gradually unlock during the first seven days of the event. You need to complete all seven in the lowest difficulty or higher to get the Primogem rewards (60 per challenge, 420 total).
Vicious Battle and Dire Strait modes
Each challenge consists of two battle modes: Vicious Battle and Dire Straits. You need to complete Vicious Battle once in any difficulty level to unlock its corresponding Dire Straits mode, which is a significantly harder version of the challenge. Completing Dire Straits will only merit you a small additional reward (Mystic Enhancement Ores), so you can choose to skip it entirely.
Ley Line Residue
Under each challenge and game mode, you will find a description of the Ley Line Residue. This indicates all of the battle bonuses you'll receive by reaching certain conditions. It's a good idea to read the Ley Line Residues and form teams that can take advantage of them—especially for the Dire Straits mode.
Difficulty selection
After selecting a challenge, click on the Select Difficulty button at the bottom right of the screen to choose between Perilous, Quandry, and Desperate. Completing a higher difficulty level unlocks all rewards for lower difficulties as well, so it's highly recommended to choose Desperate from the get-go if you want to get all the rewards. But if you only care about the Primogems, select Perilous.
Each difficulty level will have different challenge objectives and time limits, which you can view in the difficulty selection menu. To complete each challenge, you simply have to meet all of the challenge objectives within the time limit.
Head to the event menu and select Reward Preview. You can claim rewards for each challenge and difficulty level you complete. As mentioned earlier, completing a higher difficulty level will merit you rewards for all the easier levels as well, so you can skip to Desperate to save time.
Check out our guide on All Chest locations in the Golden Apple Archipelago – Genshin Impact Summertime Odyssey event to loot limited-time Chests in the GAA while it's still around.