With Genshin Impact update 1.1 on the horizon, more information is being revealed. We've already had word of a new Cooking Event coming with version 1.1, so what else do miHoYo have in store for us? We have less than a month to go, still plenty of time for more things to be unveiled. We mentioned that the next Event Wish for Klee was coming soon, and with an Event Wish, we also have 3 new character test runs!
The Klee banner is coming on the 20th of October 2020 at 6 pm UTC/1 pm ET/10 am PT and will be available until the 9th of November 2020. The Event is called Sparkling Step and has the following characters available to drop:
Sparkling Step

Klee - 5 Star Pyro user
Sucrose - 4 Star Anemo user
Noelle - 4 Star Geo user
Xingqui - 4 Star Hydro user
If you do manage to get Klee, she is an awesome character to have on your team! Why not check out our Klee best build guide for how to use this Pyro user!
The next Weapon Event Wish Banner is also coming on the same day, side by side with Sparkling Step. The Event is called Epitome Invocation, and here are the Weapons that could appear:
Epitome Invocation

Lost Prayer to the Sacred Winds - 5 Star
Wolf's Gravestone - 5 Star
Sacrificial Greatsword and more - 4 Star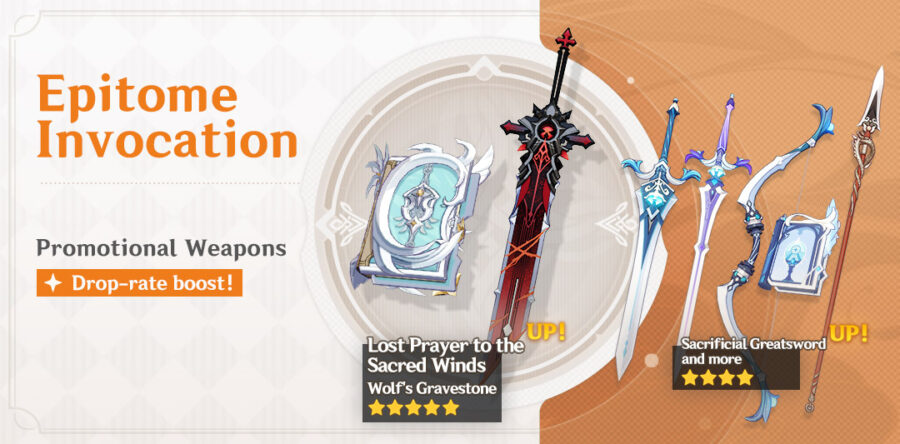 For the Sparkling Steps Test Run, this allows players to test out a certain character to see if they like them. As spending Wishes on a character you're not going to like, is a waste of premium currency. Best to wait for the next Banner, and try out those characters, for someone you truly meld with.
The best thing is that you get rewarded for trying out these characters!
Rewards

Klee Stage: 20 Primogems
Xingqiu Stage: 6 Adventurer's Experience
Sucrose's Stage: 3 Enhancement Ore
Sadly, Noelle is not included.
The beauty of the Event Wishes is that it's completely optional if you don't have to spend anything on them if you deem it a waste of time. Or maybe you are waiting for the upcoming 5 characters coming with update 1.1. Zhongli, Childe, Xinyan, and Dionna? If you are, why not start hunting for materials and begin farming for Zhongli, Childe, Xinyan and, Dionna!