Nilou is Genshin Impact's addition, and she's got quite a lot of her power tied to her constellations. Decoding whether or not to pull for them can be somewhat daunting. After all, you don't want to waste Primogems rolling for constellations that aren't worth their cost. Fortunately, we've got you covered. Here's a straightforward guide on the value of Nilou's constellations in Genshin Impact.
Nilou Constellations Value
Nilou's constellations vary greatly in value due to their presented order. The following explanation is based entirely on using Nilou optimally in a Dendro/Hydro team comp so that her ascension passives are active:
Dance of the Waning Moon - Her C1 boosts the value of both variants of her Skill, boosting the damage of her third strikes during her skill-infused normals and extending the max duration of her hydro aura. Both are nice bonuses that support her on-field and off-field playstyles. However, her hydro aura now has 100% uptime as a hydro applicator. Having 18 seconds of PBAOE(Player-based Area of Effect) hydro application that requires low maintenance to maintain permeant uptime is valuable to all her possible team comps.
The Starry Skies Their Flowers Rain - Anytime you have a constellation that reduces elemental resistance, automatically assume it is extremely powerful. This constellation not only enables Nilou herself to deal more damage but also enables her Hydro and Dendro teammates. This is a significant damage boost to Nilou's optimal team comps and builds, regardless of their use. Insane value.
Beguiling Shadowstep - A nice little boost to Nilou's Burst, but not impactful as a constellation.
Related: How to unlock the Altar of Mirages Domain in Sumeru in Genshin Impact
Fricative Pulse - Provides Nilou with additional energy per Skill use and massively boosts the damage of her Burst. This is a good constellation and is pretty strong on paper. However, most of Nilou's damage comes from her Bloom passive effect, and because optimal Nilou play sees her using only Hydro and Dendro units, energy for her Burst is not normally a big concern. For a C4, we feel it's pretty lackluster overall. Meh value.
Twirling Light - A solid boost to Nilou's damage through her Skill. Does not affect Bloom damage, so its value is... okay. Again, since most of Nilou's damage comes from her Blooms, there isn't too much of a reason to go specifically for this constellation.
Frostbreaker's Melody - Nilou's C6... and quite the C6 it is. This greatly boosts Nilou's damage through free CRIT and CRIT DMG based on her Max HP. To put this boost in perspective, this constellation is like giving Nilou a CRIT circlet and a CRIT DMG circlet while still having her optimal HP circlet equipped simultaneously. But is this worth the expense? We don't think so. Even with this giant boost, Nilou's Blooms remain her main source of damage. This C6 does improve her performance considerably, but proper supports also do the same thing. Amazing if you get it, but not worth the cost in general.
Related: Genshin Impact Hidden Mercenaries World Quest guide – Old Notes and New Friends
What are Nilou's best Constellations?
Heads down, Nilou's best Constellations are her C2 and C6. C2 provides a massive damage buff to Nilou and all of her Hydro/Dendro teammates. C6, while extremely strong, is too far down the rabbit hole to be worth the result. You will see results if you can get it, but this is a C6 we're talking about here. C6s need to be world-shattering to be worth it, and we just don't think the value is there for this one.
Should I pull for Nilou's Constellations?
Nilou at C0 is a complete character. Unlike some other characters, her constellations do not provide major gameplay-altering mechanics. They are all damage boosts, so feel free not to pull. She is fully functional right out of the gate. However, if you like Nilou as a character or like her playstyle and want to get some of her constellations, we recommend going for her C2 and stopping there.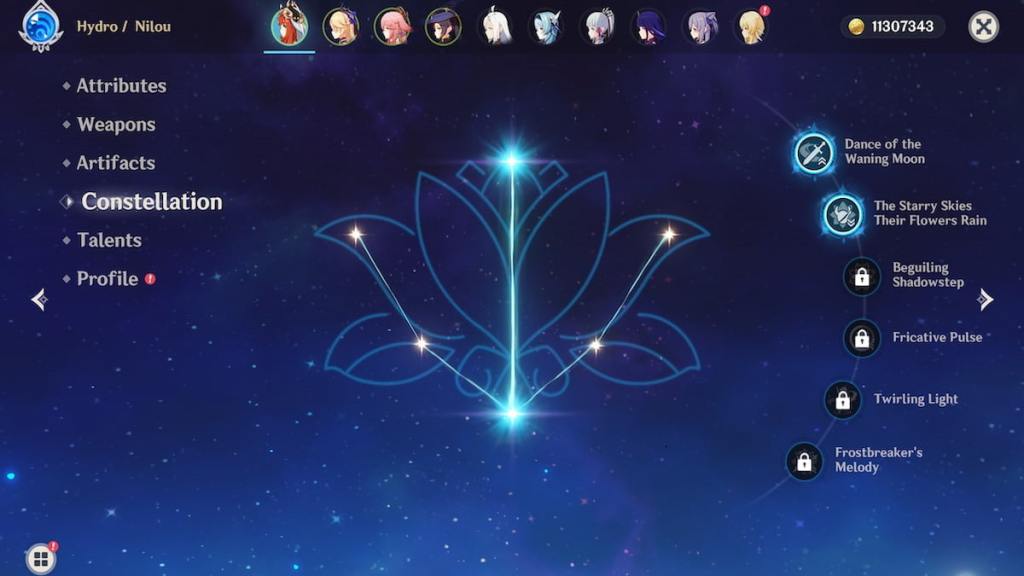 Is Nilou's C1 better than Key of Khaj-Nisut?
A hard no. Her C1 provides 100% uptime on her off-field hydro application, and this is nice, but Key of Khaj-Nisut gives Nilou far too many benefits to be compared to. Key of Khaj-Nisut gives her roughly a whooping 13,000 HP at level 90 and boosts her Elemental Mastery based on her max HP. On top of that, it also allows Nilou to give her entire team a portion of her Elemental Mastery, again, based on her HP. From the standpoint of in-game value, there is no contest between the two.

However, Genshin Impact's Weapon Banner is notorious for its dubious output. To put it simply, on average: it is statistically easier and less expensive to obtain Nilou's C1 over her Key of Khaj-Nisut. We don't recommend rolling on the Weapon Banner unless you're willing to spend money or have enough Primogems to guarantee the weapon.
For more content on Genshin Impact, check out Nilou's Special Dish and how to cook it in Genshin Impact, here on Pro Game Guides.