One of the first things most players do upon exploring a new Genshin Impact region is to unlock every possible Waypoint—Teleport Waypoints and Domains alike. However, the Altar of Mirages, which is located in the Sumeru desert, requires a bit of a grind to open up.
You need to obtain the Scarlet Sand Slate and get full clearance before attempting to activate the Domain. Complete the following prerequisites to do so:
Golden Slumber World Questline
Old Notes and New Friends World Questline (first quest only)
Where to find the Altar of Mirages Domain in Sumeru in Genshin Impact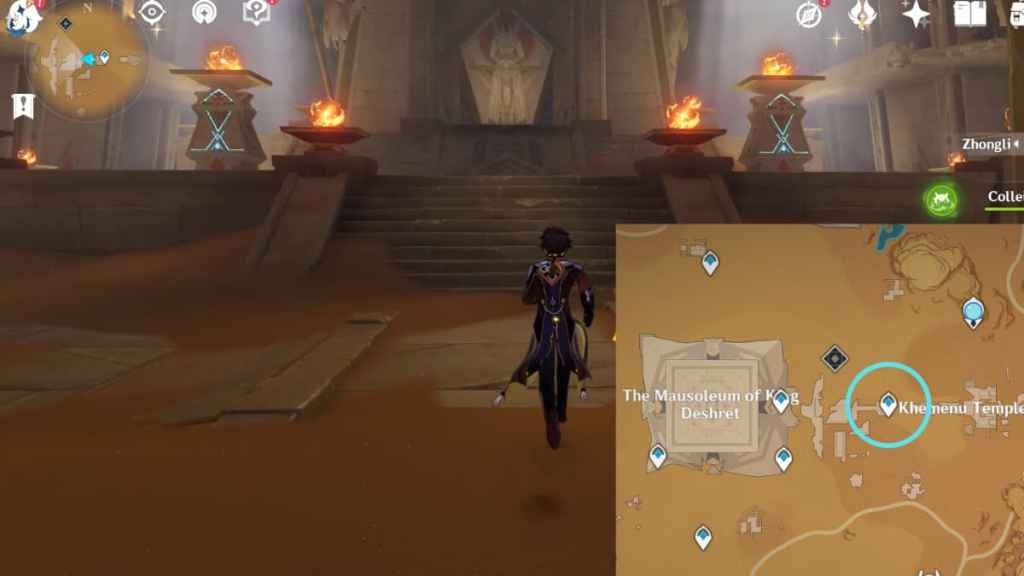 The Altar of Mirages is located underneath Khemenu Temple, so start by teleporting to the nearby Waypoint circled in the image above. Then head straight ahead until the room with torches comes into view. Enter the room and turn right to find a coffin-shaped entrance leading to a room with a giant boat.
Related: How to unlock the Fragment of Childhood Dreams Domain in Sumeru in Genshin Impact
Keep heading north until you see the Control Unit, which you must interact with to find a room with a broken floor and a Dendroculus on the other side. Plunge down the hole (be careful of fall damage!) to immediately spot the Altar of Mirages Domain. Don't forget to interact with it at least once so you can teleport to it anytime.
Check out our guide on How to unlock the Garden of Endless Pillars Domain in Sumeru in Genshin Impact to open up another Domain in the desert.