The Genshin Impact Secret Summer Paradise event runs from July 5, 2023, to August 16, 2023, bringing with it a limited-time area called the Veluriyam Mirage. During the event, you can participate in a plethora of Attractions, including the Spino Blaster—a water balloon-blasting activity invented by an engineer from Fontaine. I had a blast playing this mini-game, especially in Co-op mode. Here's everything you need to know about it.
How to unlock the Spino Blaster mini-game in Genshin Impact
After unlocking the event, complete the first Summer Serendipity Chapter called Secret Summer Paradise: Part I - An Invitation From Afar! Doing so will unlock the Attractions section of the event menu, where you can participate in a plethora of mini-games within the Veluriyam Mirage. You'll also receive a separate Event Quest to initiate each mini-game.
Complete the Event Quest called Crocs? Water Cannons? It's War! to unlock the Spino Blaster mini-game, marked by a special icon in the Silver Bottle Courtyard. Simply speak to Chatillon to begin playing.
Related: Genshin Impact Lynette kit – All Skills, Constellations, Passives & more!
How to play Spino-Blaster in the Genshin Impact Secret Summer Paradise event
Upon starting Spino-Blaster, you'll be directed to the stage selection page. There are four stages in total that unlock one after another, and they can be played both in solo and Co-op modes. Before starting, don't forget to check the Stage Details for information on what kind of balls will appear on the map. Generally, you only need to be wary of the Brouhaha Ball (purple ball), which deducts 20 points and destroys your combo.
There are two ways to play Co-op:
Click on the Match button to be paired with a random team.
Start a Co-op team in your World with friends, then click Start.
For controls, check the exact buttons specified on the bottom right of the screen, as it varies per device. PC users will have to click the left mouse button to aim and fire Hydro bullets, and the R button to reload.
Your goal is to destroy as many water balloons as possible within the time limit while avoiding the purple Brouhaha Balls. You'll accumulate points that can be tracked on the upper left of the screen. Destroying some objects will merit you more points or offer buffs to help you score better.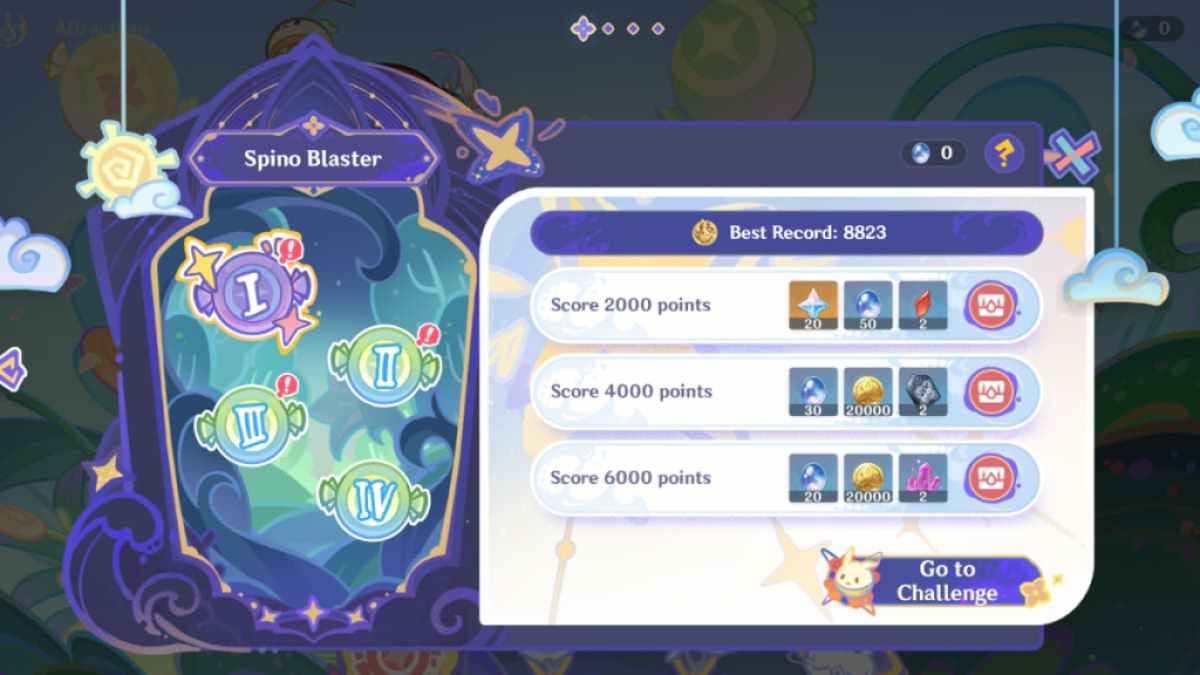 Once you're done, head to the event menu, select Attractions, and select Spino Blaster to claim rewards for your effort. You only need to score 6,000 points per stage to collect enough points to get all rewards, which I thought was manageable with little effort.
If you're struggling to complete the Event Domain, check out our guide on How to Unlock and raise the Crystal Light in Genshin Impact here on Pro Game Guides.