Dubbed "Queen of the Summer Festival," talented pyrotechnician Yoimiya crafts the most spectacular Inazuman fireworks. Along with lighting up the night sky, she is also known as the "heroic sister" among the children of Inazuma. If anyone is experiencing hardships, Yoimiya is the first to step in with a solution.
Yoimiya is a five-star Pyro bow user whose drop rate will be dramatically increased during the "Tapestry of Golden Flames" Wish banner duration. "Tapestry of Golden Flames" will be available from August 10, 2021 to August 31, 2021.
Gameplay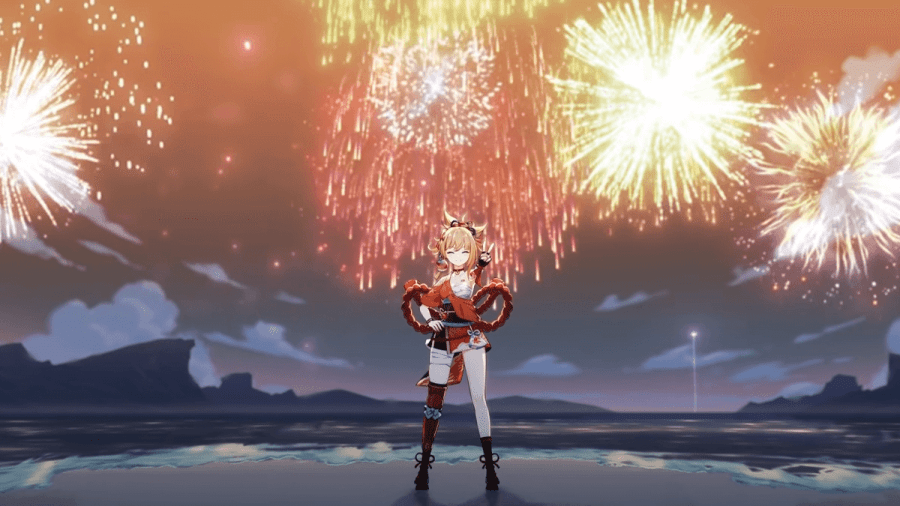 Yoimiya—true to her nature—can take on many different roles depending on how you'd like to utilize her. She can easily be built for Main DPS and dominate the field with her Pyro AoE attacks, but she also works well as a Sub-DPS and even powerhouse Support character.
Yoimiya is extremely graceful and fun to watch. Even her Normal Attacks prompt her to flip and spin in the air, and her Talents (inspired by fireworks, of course) are as visually appealing as they are dangerous to foes.
Best Build for Yoimiya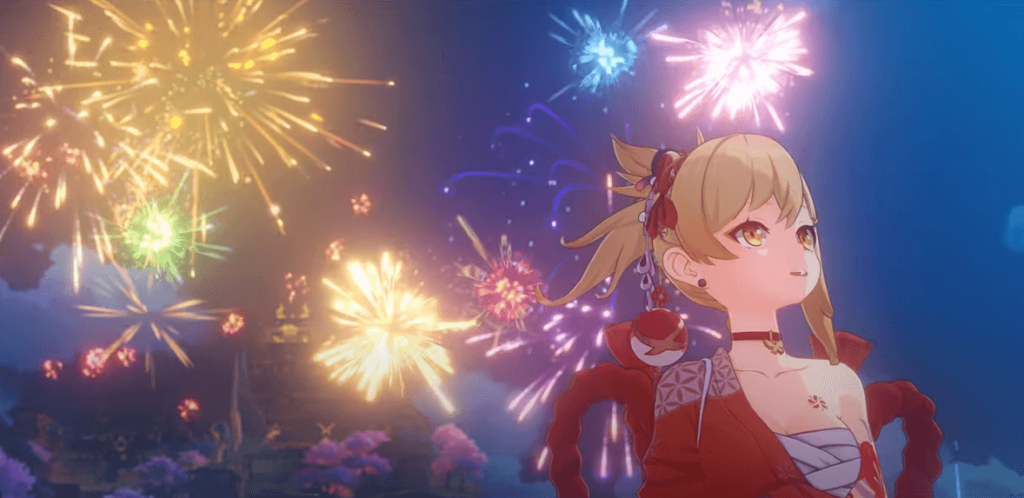 Weapons
We recommend equipping Yoimiya with Thundering Pulse, the featured five-star bow in Epitome Invocation. Although this bow is Electro-themed, its traits will greatly boost Yoimiya's overall strength.
Thundering Pulse (base Attack of 46) increases Attack by 20 percent and rewards the active character with up to three Thunder Emblems as various attacks strike foes. These Thunder Emblems increase Normal Attack Damage by 12/24/40 percent intervals.
Other recommended weapons for Yoimiya include:
Skyward Harp (5-star, base ATK of 48, increases CRIT Damage by 20 percent)
Rust (4-star, base ATK of 42, increases Normal ATK Damage by 40 percent)
Artifacts
The best artifacts set for Yoimiya is Shimenawa's Reminiscence, which can be obtained from Momiji-Dyed Court on Yashiori Island, Inazuma. The set's 2-piece bonus increases Attack by 20 percent. The 4-piece bonus, upon casting an Elemental Skill, sacrifices energy to increase Normal, Charged, and Plunging Attacks by 50 percent for 10 seconds.
If you'd rather prioritize Yoimiya's Elemental Damage over her Attack, then equip her with the Crimson Witch of Flames set instead. You can obtain this set in the Hidden Palace of Zhou (Wuwang Hill, Liyue). The 2-Piece Bonus increases Pyro DMG by 15 percent. The 4-Piece Bonus increases Overloaded and Burning damage by 40 percent, and Vaporize and Melt damage by 15 percent.
Best Team for Yoimiya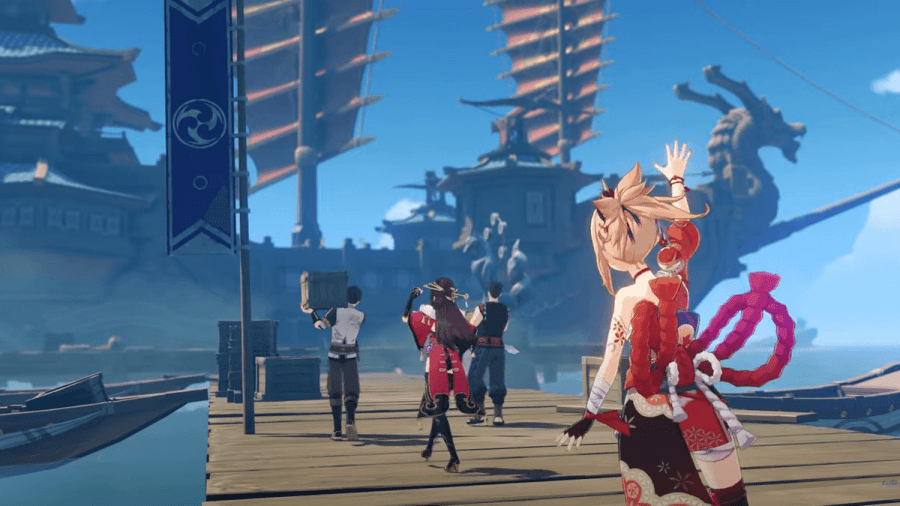 If you pulled Ayaka during the "The Heron's Court" Event Wish banner, consider pairing her with Yoimiya. Cryo and Pyro create the Melt effect, which deals increased Elemental Damage to foes. Qiqi is another great Cryo choice, since she doubles as a healer, but the F2P Kaeya works just as well.
You can also Overload enemies by combining Electro and Pyro. The Overloaded status causes a Pyro AoE explosion, dealing lots of damage in a short amount of time. Swap in an Electro character like Fischl or Razor to set the stage for an Overload takeover.
Anemo causes a Swirl reaction when combined with any other element, pushing the effects of that second element further into the field. Use characters like Kazuha, Venti, or Sucrose to maximize the full extent of Yoimiya's reach.
Read about Inazuma and upcoming events in The Immovable God and the Eternal Euthymia: Genshin Impact 2.0 Patch Notes. We've also got you covered on the next Genshin Impact banner and codes to redeem for in-game freebies!