Genshin Impact's Fabulous Fungus Frenzy event runs from November 10, 2022, to November 28, 2022, and involves Pokemon-esque gameplay where you can capture, train, and battle with fungi. You're guided by a series of six Event Quests, after which you can unlock an optional post-story segment. There are no Primogem rewards, but lore lovers will appreciate this easter egg to conclude the event story.
Where to find the Fatui Agent in the Fabulous Fungus Frenzy hidden quest in Genshin Impact
After unlocking the Fabulous Fungus Frenzy event, you can complete six Event Quests in this exact order:
Act I - The Most Fantastic Tournament You've Never Heard Of?
Act II - Nilotpala Cup: Debut Match
Act III - Dual Missions: Progress and Probe!
Act IV - Unfathomable Defenses
Act V - The Strongest Opponent! The Biggest Crisis!
Act VI - Farewell, My Shroom Buddies
After the final battle, the turn of events will bring the Fatui's schemes to light, and Yae Miko will proclaim that the perpetrator, Elchingen, may still put up a final struggle. This hints that there's more to the event story than meets the eye.
Related: How to get Dori for free in the Genshin Impact Fabulous Fungus Frenzy event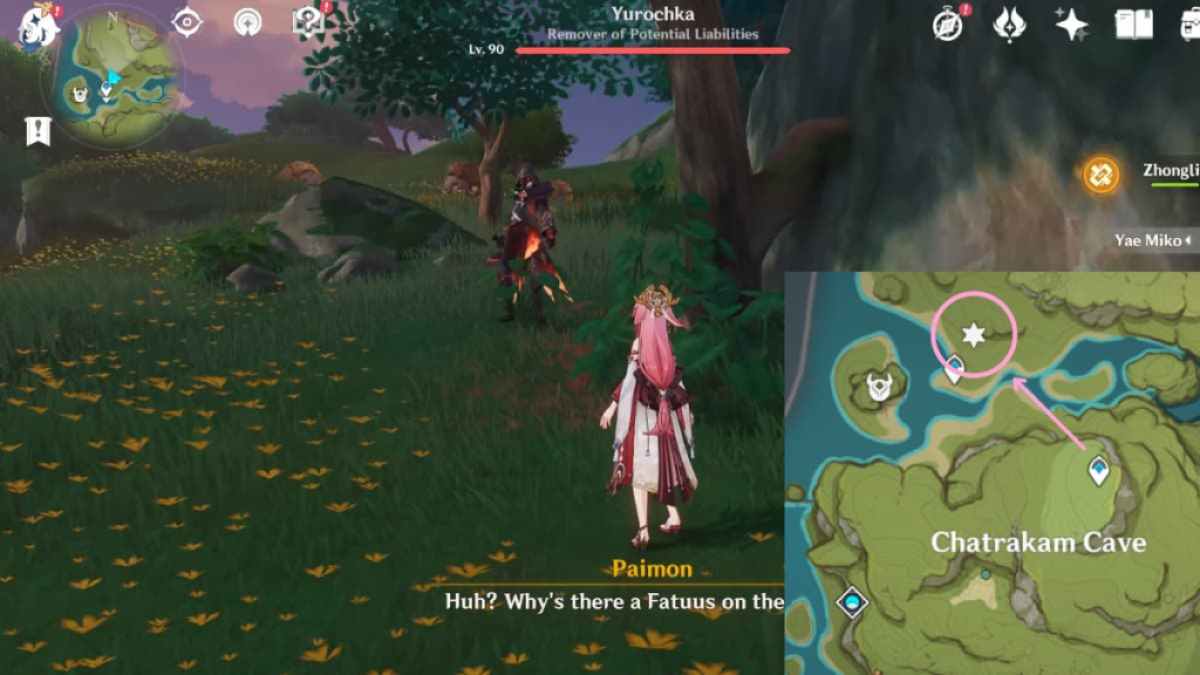 Head to the area circled in the image above. We recommend using the Teleport Waypoint in Chatrakam Cave, as the closer Waypoint will take you underground. As you get close to the circled location, Paimon will tell you that she's a bit worried by Yae Miko's words. You'll find a bloody Wisdom Orb on the ground, approaching it will prompt a Fatui Agent named Yurochka will appear.
Defeat Yurochka to obtain two Quest Items: a Special Wisdom Orb and a Mysterious Fatui Letter. You can read the Mysterious Fatui Letter to know of Elchingen's fate.
Check out our guide on How to battle with fungi in the Genshin Impact Fabulous Fungus Frenzy event here on Pro Game Guides to challenge the Nilotpala Lotus Special Training Grounds.