From fungi food ingredients to ancient experimental records, there's nothing that Genshin Impact's elusive Lord Sangemah Bay can't provide—if you're willing to pay a hefty price tag. Healer and off-field support character Dori perfectly slots into Electro-dependent teams, and you can get her for free during the Fabulous Fungus Frenzy event. It runs from November 10, 2022, to November 28, 2022, and involves Pokemon-esque gameplay where you can capture, train, and battle with fungi.
How to unlock the Genshin Impact Fabulous Fungus Frenzy event
You need to complete the following prerequisites to unlocking the Fabulous Fungus Frenzy event:
If you have not completed the optional prerequisites, you can start by clicking on the Quick Start button in the event menu. Otherwise, you'll immediately get the Event Quest called The Most Fantastic Tournament You've Never Heard Of?
Related: Best Dori builds in Genshin Impact – weapons, Artifacts, & more!
Genshin Impact Treasures of Dream Garden guide – Fabulous Fungus Frenzy event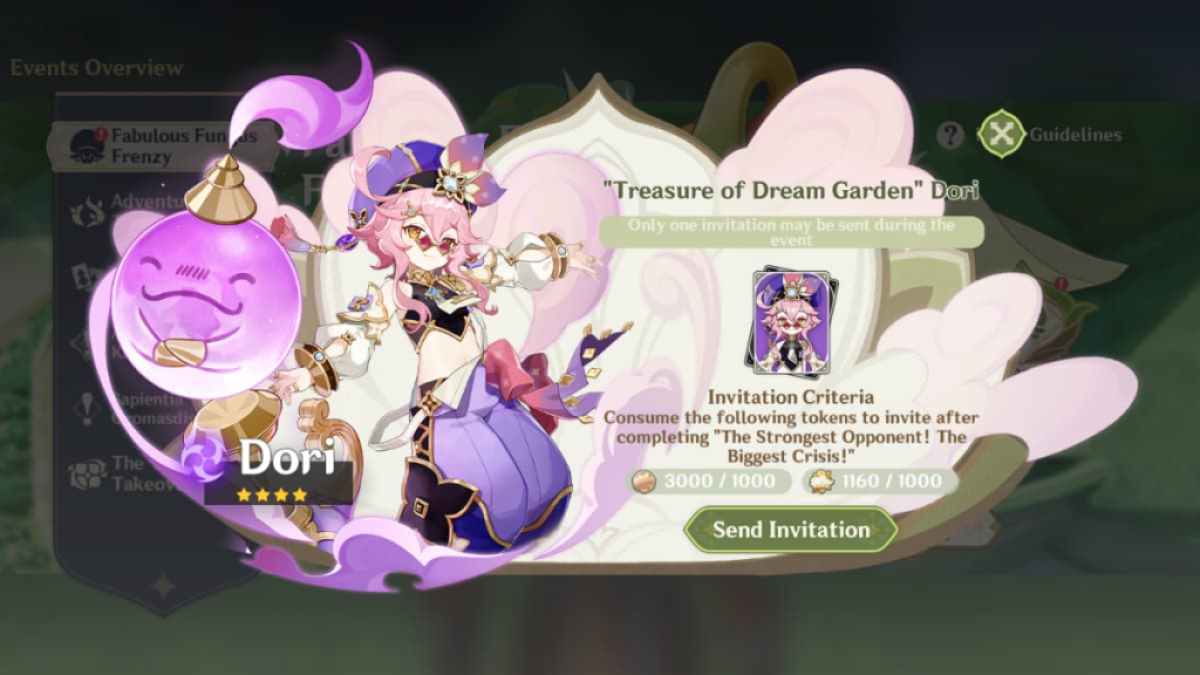 After unlocking the Fabulous Fungus Frenzy event, you can participate in an array of activities to earn two kinds of event currencies and complete the Event Story Quests. Open the event menu and select Treasures of Dream Garden, where you can Send Invitation to Dori after doing the following:
Complete all the Event Quests until The Strongest Opponent! The Biggest Crisis! (including the final battle with Hanniyah).
Collect x1,000 Mushroom Currency and x1,000 Fungus Medal.
Don't be confused by the in-game instructions—Dori is not a reward for spending the specified currencies in the event shop. You essentially need to "purchase" her with 1,000 Mushroom Currencies and 1,000 Fungus Medals. However, you don't have to worry as you can farm enough event currencies to clear out the event shop and get Dori, assuming you play through all the activities.
How to get Mushroom Currency in Genshin Impact
You can farm Mushroom Currency by doing the following:
Train fungi (scroll to the bottom of the linked page for a full list of Floral Jelly recipe guides)
Once you've done the above, claim Mushroom Currency rewards by heading to the event menu, selecting Prepare for Tournament, and switching between the Fungus Capture and Coruscating Potential at the top of the screen.
How to get Fungus Medal in Genshin Impact
You can farm Fungus Medals by completing fungi battle stages in the Nilotpala Cup Special Training Grounds, located southwest of Port Ormos. The event shop also sells a Crown of Insight for 500 Fungus Medals, which we recommend prioritizing over Dori as it's an extremely rare resource.
Speaking of fungi battles, check out our guide on How to get the Opportunistic Gain Sumeru Hidden Achievement in Genshin Impact on Pro Game Guides.