If she isn't singing about Mora, Genshin Impact's Dori is probably collecting it. She can become one of your companions in Teyvat, bringing her Jinni along with her. Read on to learn how to make use of her in combat and on your teams.
Dori's Playstyle
The most important part of Dori's kit is her Elemental Burst: Alcazarzaray's Exactitude. This summons the Jinni's lamp that heals and regenerates energy for the on-field character, as well as occasionally dealing damage and applying Electro in a line between the lamp and the on-field character. She has a lot of potential as a support unit in Electro-Charged, Spread, and Aggravate teams.
Best weapons for Dori in Genshin Impact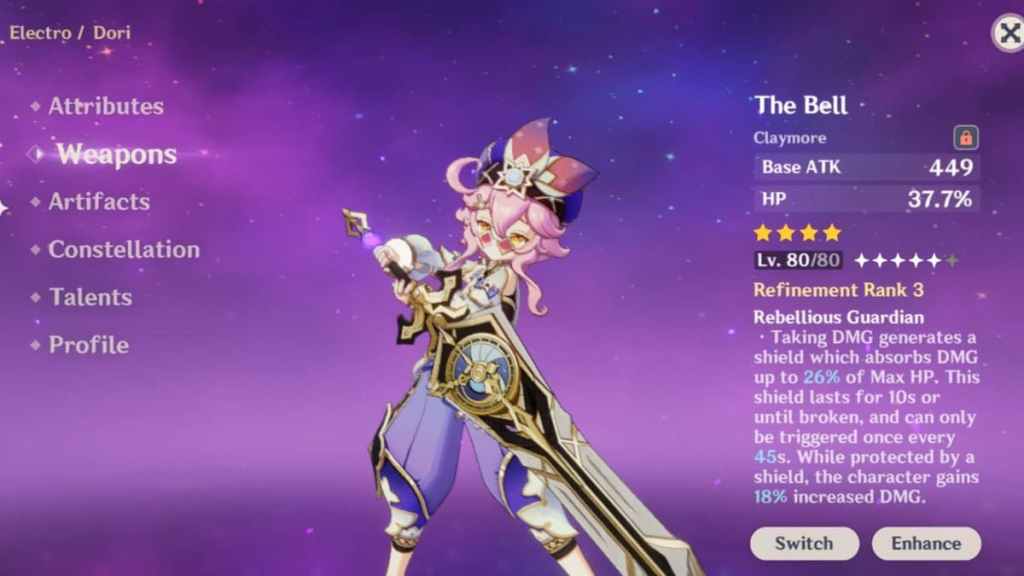 Ring out, The Bell has finally seen its day. Dori can make good use of its HP sub-stat since her Elemental Burst's healing scales on her max HP. The weapon skill doesn't add as much to her kit, but the shield it can generate may be able to help you out in a pinch. Other weapons you could use are the Favonius Greatsword or the Sacrificial Greatsword. They both have an Energy Recharge sub-stat to help with her high Elemental Burst Energy cost at 80. If you plan to use her on an Spread or Aggravate team, the new Sumeru craftable Claymore, Forest Regalia, is an excellent choice as well. It doesn't add to her capability as a healer, but significantly increases her capability as a battery.
Best Artifacts for Dori in Genshin Impact
Since Dori's healing scales on HP, the Tenacity of the Millelith Artifact set will boost that healing significantly. She can also take advantage of the four piece bonus, particularly at higher constellations that boost her Elemental Skill. If you prefer to focus solely on Dori's Elemental Burst, combining the two piece Emblem of Severed Fate set with a two piece Tenacity of the Millelith set will work as well.
Dori needs about 150% to 200% Energy Recharge for optimal Elemental Burst uptime. So, when thinking about main stats for your artifact pieces, take into account your weapon choice. If you're using The Bell, pair it with an Energy Recharge Sands piece. If you're using a weapon with an Energy Recharge sub stat, you may want an HP% Sands instead, as long as you have enough Energy Recharge from your weapon and Artifact sub stats. This will net you more healing overall. She doesn't do much damage, so an HP% Goblet is best. For her Circlet, you can use either HP% or Healing Bonus.
Related: How to unlock Old Vanarana in Sumeru in Genshin Impact
Dori's skills in Genshin Impact
Normal Attack: Marvelous Sword-Dance (Modified)
Normal Attack

Perform up to three consecutive strikes.

Charged Attack

Drains Stamina over time to perform continuous spinning attacks against all nearby opponents. At the end of the sequence, performs a more powerful slash.

Plunging Attack

Plunges from mid-air to strike the ground below, damaging opponents along the path and dealing AoE damage upon impact.
Elemental Skill: Spirt-Warding Lamp: Troubleshooter Cannon
Directs a Spirit-Warding Lamp to fire off a Troubleshooter Shot at opponents, dealing Electro damage.
After the Troubleshooter Shot hits, it will create two After-Sales Service Rounds that will automatically track opponents and deal Electro damage.
Elemental Burst: Alcazarzaray's Exactitude
Summons forth the Jinni within the lamp to give the client various kinds of aid.
Jinni - Connects to a nearby character. The connected character will:

Continuously restore HP based on Dori's Max HP.
Continuously regenerate Energy.
Be affected by Electro.

When the connector between the Jinni and the character touches opponents, it will deal one instance of Electro damage to them every 0.4 seconds.
Only one Jinni can exist at one time.
Passive Skills:
Unexpected Order

Has a 25% chance to recover some of the materials used when crafting Character and Weapon Materials.

An Eye for Gold

After a character connected to the Jinni triggers an Electro-Charged, Superconduct, Overloaded, Quicken, Aggravate, Hyperbloom, or an Electro Swirl or Crystallize reaction, the Cool Down of Spirit-Warding Lamp: Troubleshooter Cannon is decreased by one second.
This effect can be triggered once every three seconds

Compound Interest

When the Troubleshooter Shots or After-Sales Service Rounds from Spirit-Warding Lamp: Troubleshooter Cannon hit opponents, Dori will restore 5 Elemental Energy for every 100% Energy Recharge possessed.
Per Spirit-Warding Lamp: Troubleshooter Cannon, only one instance of Energy restoration can be triggered and a maximum of 15 Energy can be restored this way.
Related: How to find the bad guys hiding in Vimara Village in Genshin Impact
Dori's constellations in Genshin Impact
Additional Investment: Constellation Level One.

The number of After-Sales Service Rounds created by Troubleshooter Shots is increased by one.

Special Franchise: Constellation Level Two.

When you are in combat and the Jinni heals the character it is connected to, it will fire a Jinni Toop from that character's position that deals 50% of Dori's attack damage.

Wonders Never Cease: Constellation Level Three.

Increases the Level of Alcazarzaray's Exactitude by three.
Maximum upgrade level is 15.

Discretionary Supplement: Constellation Level Four.

The character connected to the Jinni will obtain the following buffs based on their current HP and Energy:

When their HP is lower than 50%, they gain 50% Incoming Healing Bonus.
When their Energy is less than 50%, they gain 30% Energy Recharge.

Value for Mora: Constellation Level Five.

Increases the Level of Spirit-Warding Lamp: Troubleshooter Cannon by three.
Maximum upgrade level is 15.

Sprinkling Weight: Constellation Level Six.

Dori gains the following effects for three seconds after using Spirit-Warding Lamp: Troubleshooter Cannon:

Electro Infusion.
When Normal Attacks hit opponents, all nearby party members will heal HP equivalent to 4% of Dori's Max HP. This type of healing can occur once every 0.1 seconds.
What you need to ascend Dori in Genshin Impact
Aside from the standard amounts of experience books and Mora, Dori needs Vajrada Amethyst pieces, Red Satin pieces, Kalpalata Lotuses, and Thunderclap Fruitcores, dropped by the Electro Regisvine. To level her talents you'll need even more Mora and Red Satin pieces, as well as Ingenuity Talent Level-Up Materials found in the Steeple of Ignorance Domain, Bloodjade Branches dropped by Azhdaha, and Crowns of Enlightenment if you want to max out a skill. We can only recommend using a Crown on her Elemental Burst.
Best Teammates for Dori in Genshin Impact
Dori pairs really well with other Electro and Dendro DPS characters: Keqing, Raiden Shogun, Cyno, and Tighnari are just the start. You can also use her to supplement other Dendro and Electro support characters that don't have access to healing, such as Fischl, the Dendro Traveler, or Kujou Sara.
Need more help building characters in Genshin Impact? Check out Best Tighnari build in Genshin Impact – weapons, Artifacts, & more! and Best Kokomi Builds in Genshin Impact here at Pro Game Guides.