At the heart of Musoujin Gorge, players will find a clearing containing a Luxurious Chest surrounded by six swords and one Electro Seelie. Solve this puzzle, and the coveted Chest is all yours!
Start by heading to Musoujin Gorge, which is located right under Fort Fujitou. The puzzle's exact location is circled in the map below.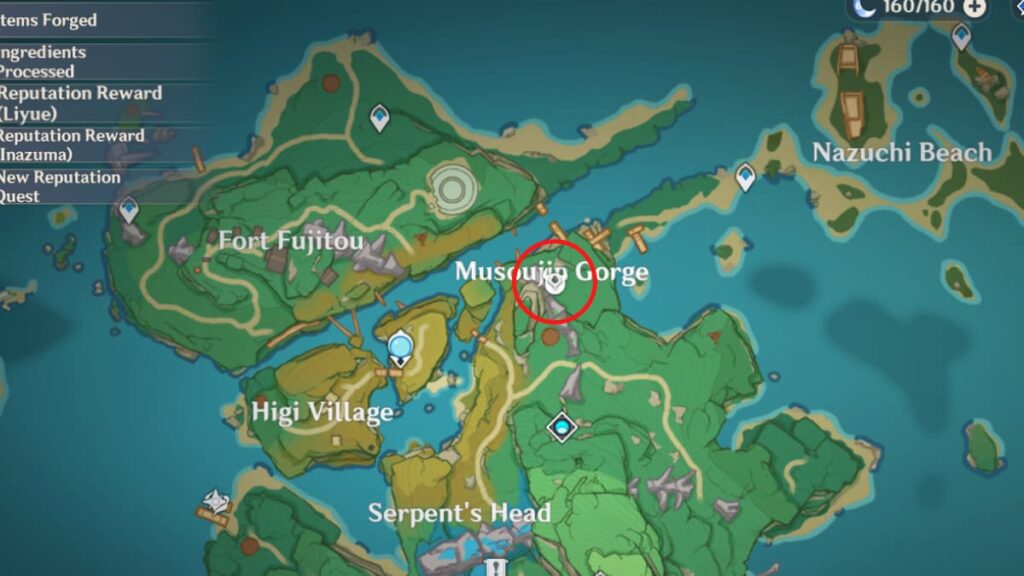 There, you'll immediately spot the puzzle, which you can solve by touching the Sword Hilts in the correct order. However, touching a Sword Hilt will summon a blast of lightning to fall upon you, dealing massive Electro damage.
Related: How to use Electrograna in Genshin Impact: Inazuma Guide
Mitigate this by picking up an Electrograna from the nearby Thunder Sakura Bough. Keep in mind that the Electrograna expires after touching three Sword Hilts. There are a total of six, so after the first three, pick up another Electrograna to safely touch the rest.
Touch the Sword Hilts in the exact order in the image above. Keep in mind that the first Sword Hilt is the one where the Electro Seelie is by default.
After solving the puzzle, a Cankered Flame Ochimusha and Ensorcelled Thunder Ochimusha will spawn. Defeat them to complete the puzzle and unlock the Luxurious Chest in the center.
This puzzle is also part of a 10-part Touch the Sword Hilt Hidden Exploration Objective that can unlock the Achievement Rest in Peace.
Check out our guide on How to solve all Tsurumi Island Relay Stone puzzles in Genshin Impact to help you get a 100 percent Inazuma completion rate.