Smoldering Pearl is a Character Ascension material that was added to Genshin Impact in the Version 2.0 Inazuma update. Smoldering Pearl is needed to ascend Yoimiya, a Pyro 5-star upcoming character.
You can only obtain Smoldering Pearl by defeating the Pyro Hypostasis boss in Inazuma. You'll need to spend 40 Original Resin to receive Smoldering Pearl and other rewards.
Where to find Pyro Hypostasis
Pyro Hypostasis is located northwest of Kujou Encampment, on Kannazuka Island.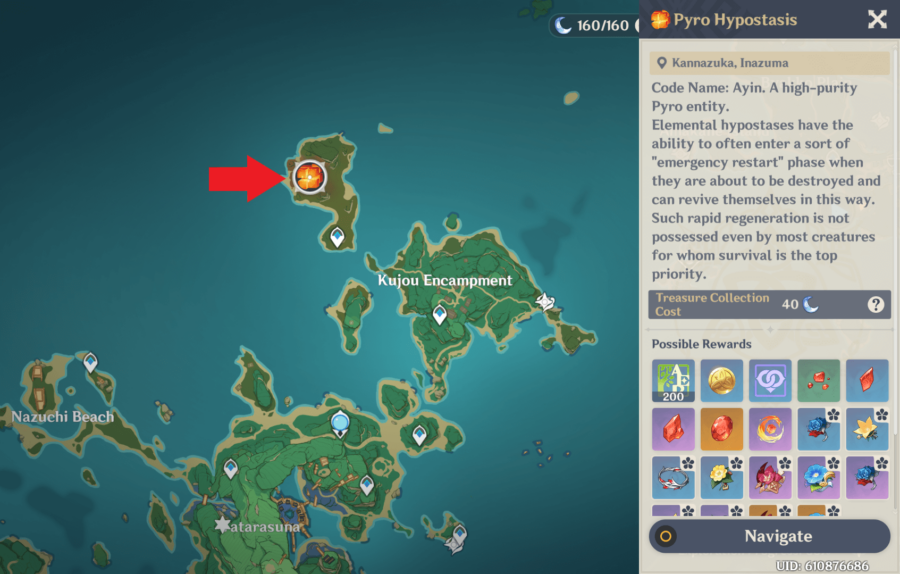 Pyro Hypostasis has two active states: Ignited and Extinguished.
While Ignited, its core is hidden and it will continuously restore its HP. You can Extinguish the Pyro Hypostasis by attacking with the right elemental skills (no fighting fire with fire here). While in Extinguished mode, you can strike at the Pyro Hypostasis, but it will try to fight back by creating a Fire Seed. Dodge the fiery missiles it launches and keep chipping away at its vulnerable core.
If you're as excited as we are about The Heron's Court, check out our guide on Ayaka Best Build, Team, and More. We've also got you covered on the next Genshin Impact banner and codes to redeem for in-game freebies!