A Sobriquet Under Shade is a four-star skin for Genshin Impact's sultry librarian, Lisa. The outfit is Sumeru-themed—a nod to the two years she spent studying in the Akademiya's Spantamad Darshan. Being a four-star skin, it's a simple outfit change that doesn't employ special attack animations, similar to Ningguang's Orchid Evening Gown.
How to get Lisa's A Sobriquet Under Shade skin for free in Genshin Impact
A Sobriquet Under Shade can be obtained for free from the Second Blooming event, which runs from January 31, 2023, to February 13, 2023. You must complete the following objectives to get it as a reward:
Complete all five challenges.
Score a total of 10,000 for all challenges (cumulative).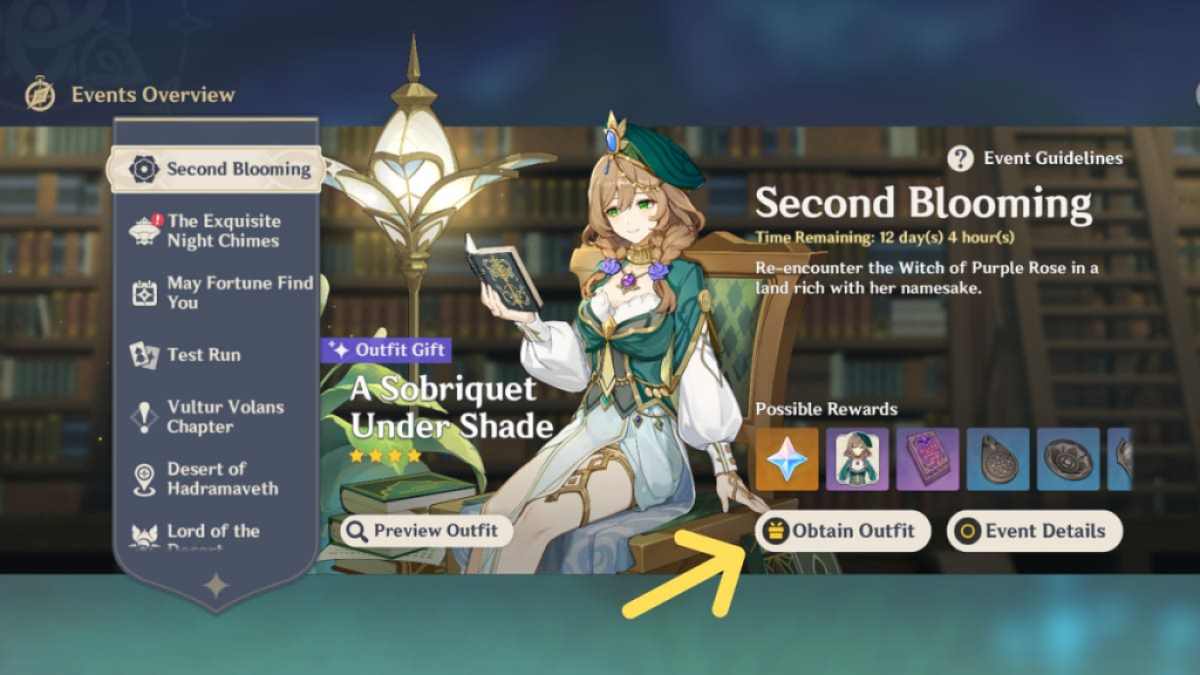 Once you meet the objectives, head to the event menu and click Obtain Outfit to claim your reward. You can only get the skin for free during the event period. If you missed out, you'll need to shell out Genesis Crystals to purchase it from the shop.
Related: How to get Ayaka's Springbloom Missive skin in Genshin Impact
Where to get Lisa's A Sobriquet Under Shade skin in Genshin Impact
Lisa's outfit can be purchased from the Character Outfits section of Paimon's Bargains from Version 3.5 onwards (approximately March 1, 2023). It costs 1,680 Genesis Crystals, which can be obtained by purchasing Crystal Top-Ups or the monthly card (Blessing of the Welkin Moon).
You can't convert Primogems into Genesis Crystals, so there's no way for free-to-players to get Lisa's skin after the event ends. A Sobriquet Under Shade will remain in the shop for an indefinite period, as with all other Genshin Impact skins.
To get all Sumeru collectibles, check out our guide on All A Thousand Nights (VI) torn page locations in Genshin Impact here on Pro Game Guides.